Shrimp fra diavolo and grits is an Italian take on a classic Southern dish. This spicy shrimp and grits recipe features bacon and quick-cooking shrimp in an easy tomato sauce, all served over Parmesan grits for an updated version of comfort food.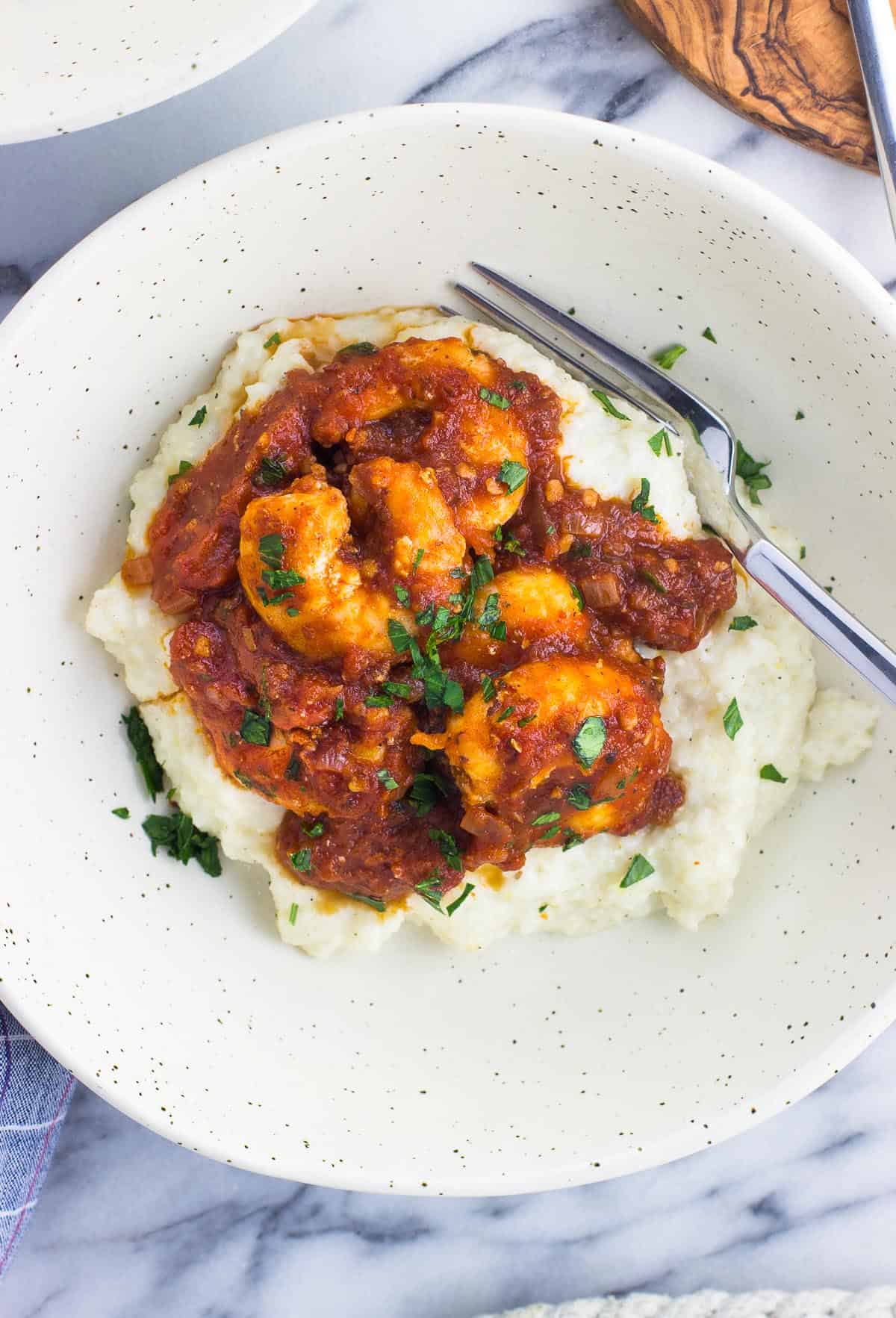 Much like dairy-free banana pudding, shrimp and grits was not a meal I ate growing up. Not once. Better late than never I suppose, because shrimp and grits was one of those meals that wowed me when I got around to trying it down here in the south. Creamy grits, perfectly sauteed shrimp, bacon…what's not to like?
Since I rarely leave well enough alone when it comes to classic dishes, I started amping up the spice when I made it at home, which soon transformed into this shrimp fra diavolo and grits recipe.
You have a just-spicy-enough tomato sauce that's easy to make from scratch, but tastes fancier than you might think. Then there's the shrimp that cook in bacon grease, which is equal parts efficient and delicious. And then the grits, with their hefty dose of Parmesan. Italian meats Southern comfort food. I'm here for it.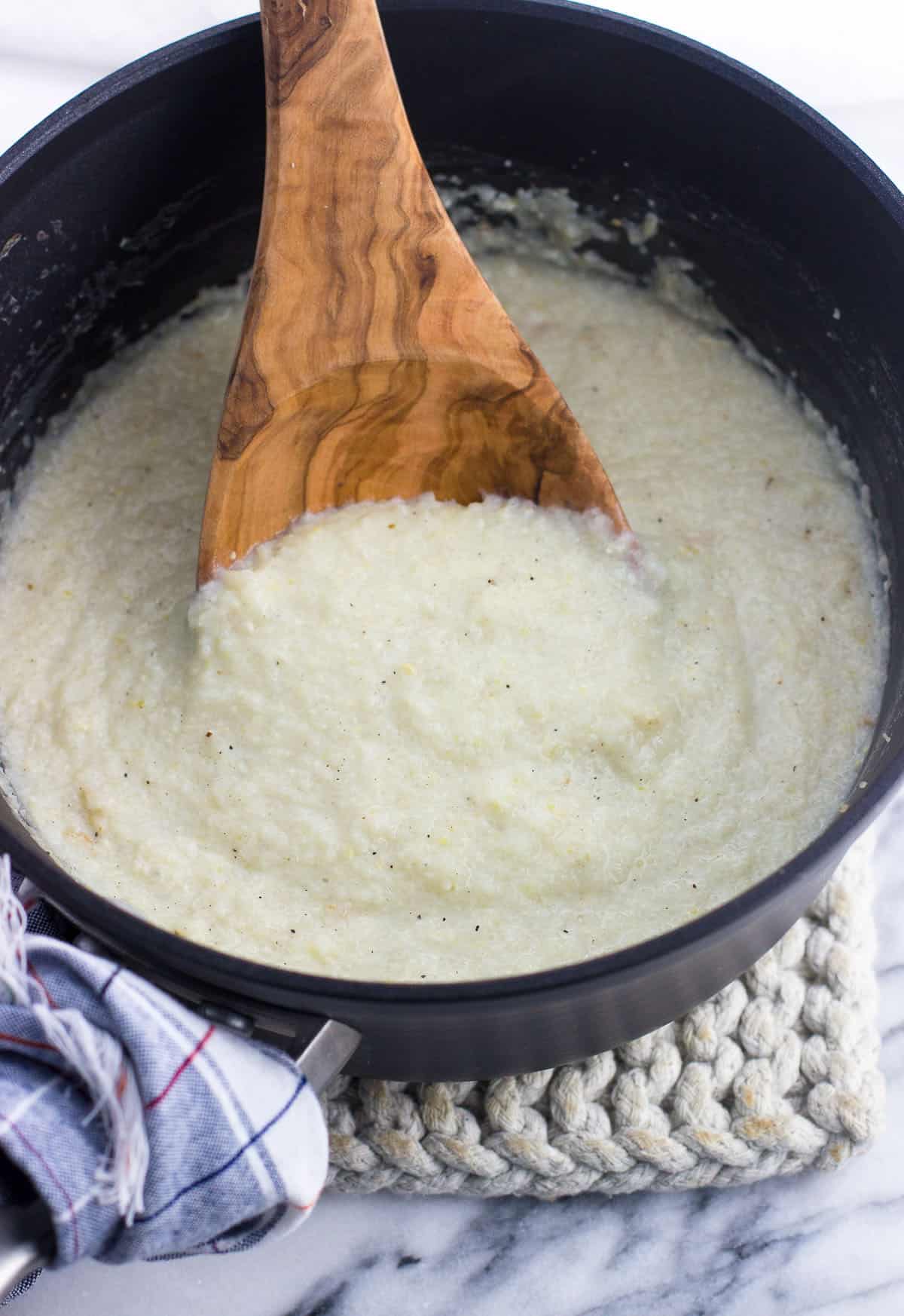 Recipe ingredients
One of my favorite tips when it comes to this dish to use quick grits. They're not the pre-cooked instant grits (which I don't recommend using for flavor and texture's sake), but are instead a more finely-ground version of stone-ground grits. They just cook in less time, which can be time-saving strategy that comes in handy at mealtime.
Grits on their own can be pretty bland, so this recipe leans into the Italian theme by adding three-quarters of a cup of grated Parmesan. You can use another hard cheese if you'd rather, such as Parmigiano-Reggiano or Pecorino Romano. These grits really shine when using freshly-grated cheese, too…not the pre-grated kind available in a plastic tub with a green lid. 😐
All the classic fra diavolo sauce ingredients are here, including onion, lots of garlic, wine, and crushed tomatoes. I usually go with a white wine when it comes to shrimp fra diavolo, but I have subbed in a dry red and love it just the same. Red is my go-to when making smoked sausage pasta fra diavolo after all.
Popular white wines on the drier side are Sauvignon Blanc, Chardonnay, and Pinot Grigio, while drier reds are Cabernet Sauvignon, Merlot, and Pinot Noir.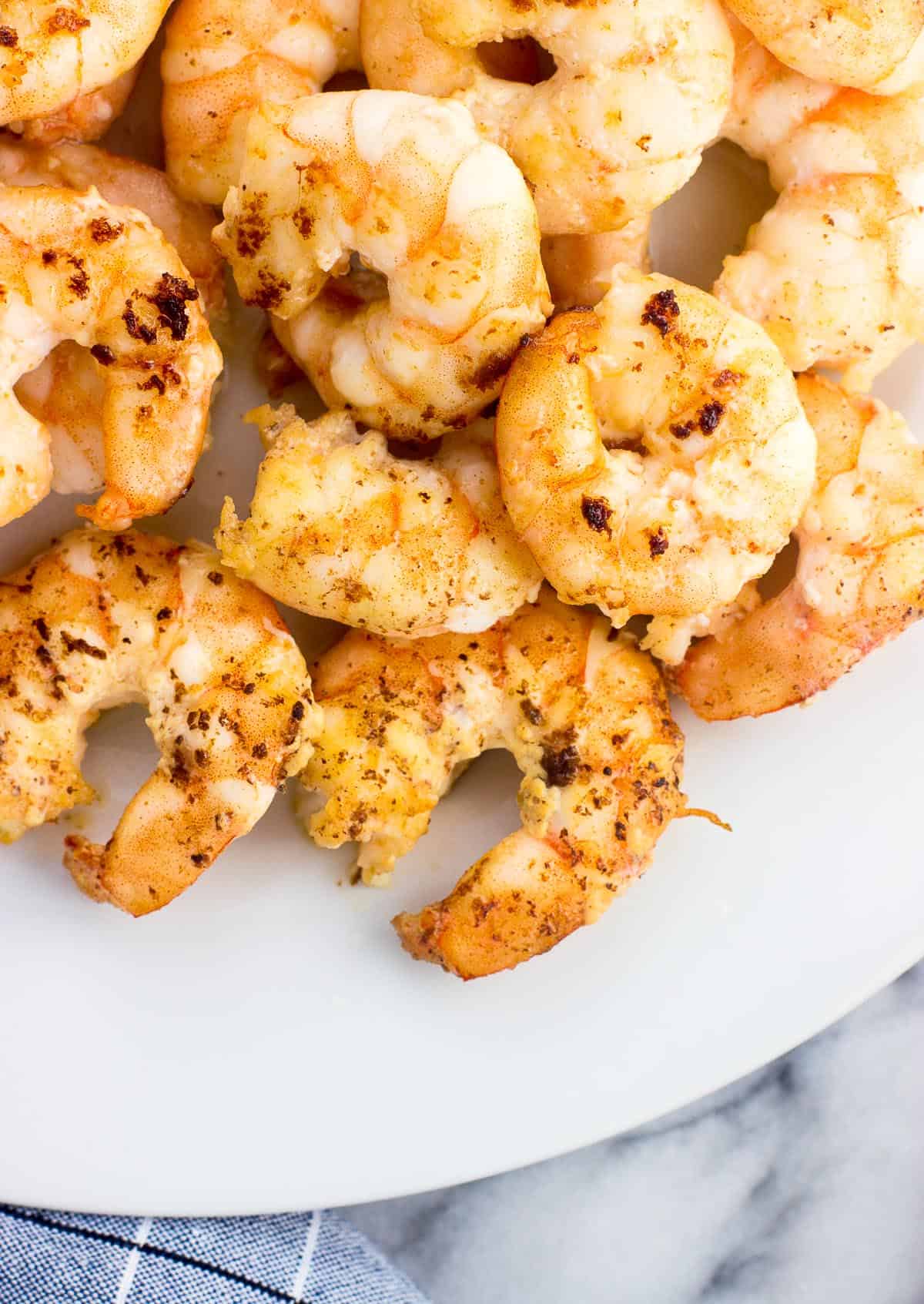 And as for the shrimp, I'd be remiss if I didn't include my usual seafood PSA: buy frozen!
Most of the seafood in the supermarket seafood department was previously frozen and allowed to thaw in the case. While this means you don't have to go through the thawing process at home, you're forced to make whatever it is that day. That may not be an issue, but for someone like me who has a tendency for making last-minute meal changes, it throws a wrench in that free and easy mindset. Plus you can buy them on sale and save them for when you're ready.
I go with jumbo, peeled, deveined shrimp for this shrimp fra diavolo. Either shell-on or shell-off works, and large shrimp will also work. They don't take long at all to thaw, either overnight in the fridge, or by placing them in a large colander set over a bowl in the sink and running cold water over them for five or so minutes.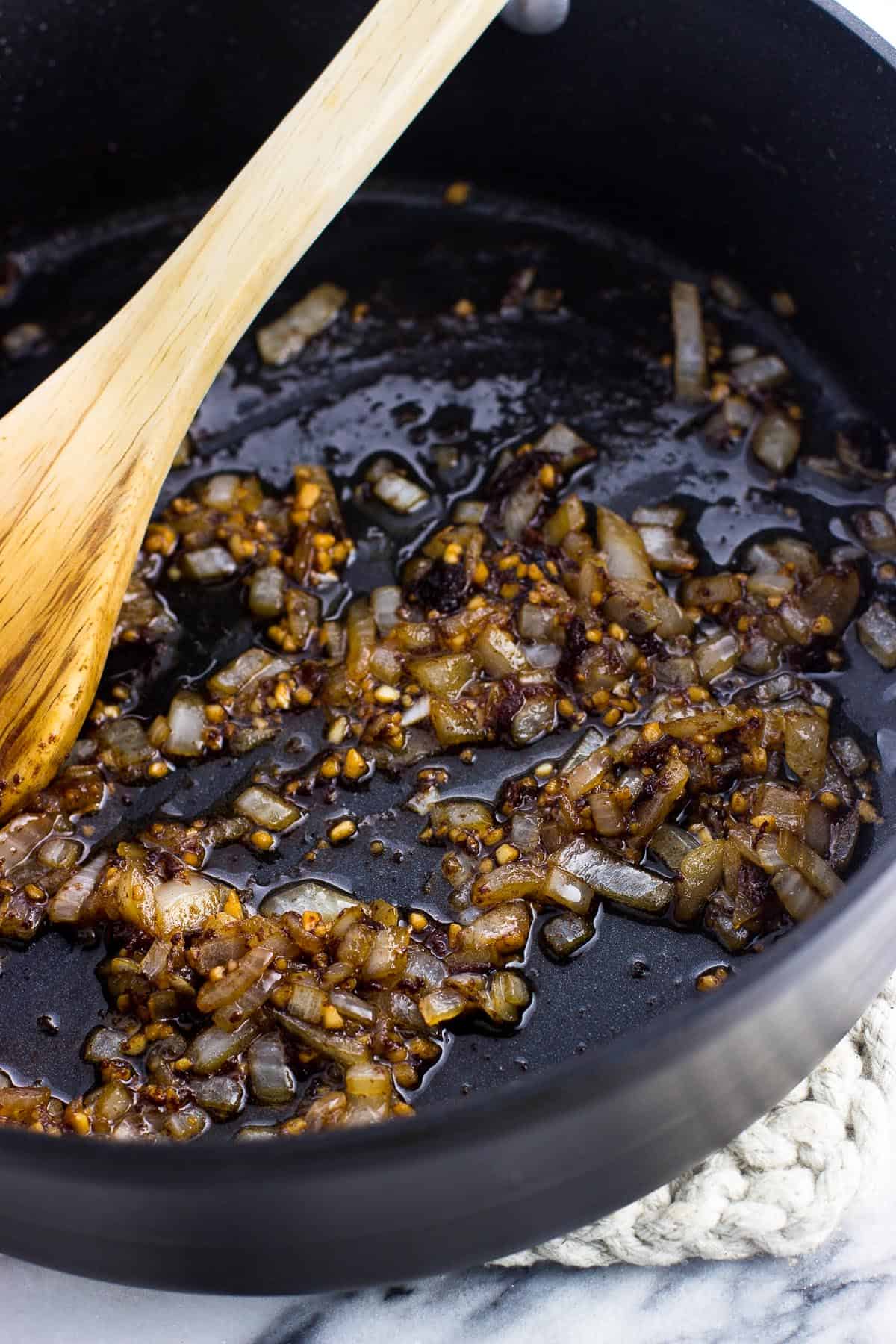 Step-by-step instructions
Start by thawing your shrimp, if necessary. Then fry the bacon slices in a large skillet, one big enough for the shrimp fra diavolo sauce to come together in at the end.
Once the bacon is cooked, remove it to a paper towel-lined plate and (carefully!) remove all but around two tablespoons of the bacon grease from the pan. We'll be using the bacon grease to cook the shrimp and saute the onion/garlic. Mmmm.
Cook the thawed shrimp in a single layer for somewhere between 1-2 minutes per side. They're done when they curl up and turn pink and opaque. Remove the cooked shrimp to a separate plate, then saute the onion and garlic.
After 3-4 minutes, deglaze the pan with wine. Scrape up all the stuck-on bits from the bottom of the pan and stir them into the mixture. Those bits bring lots of flavor. Next in go the crushed tomatoes, crushed red pepper, oregano, salt, and pepper. The sauce will need a short time to reduce and thicken.
Once thickened to your liking, add back the shrimp and stir to heat and coat. Serve the shrimp and fra diavolo sauce over top of the Parmesan grits, along with the cooked and crumbled bacon and fresh parsley.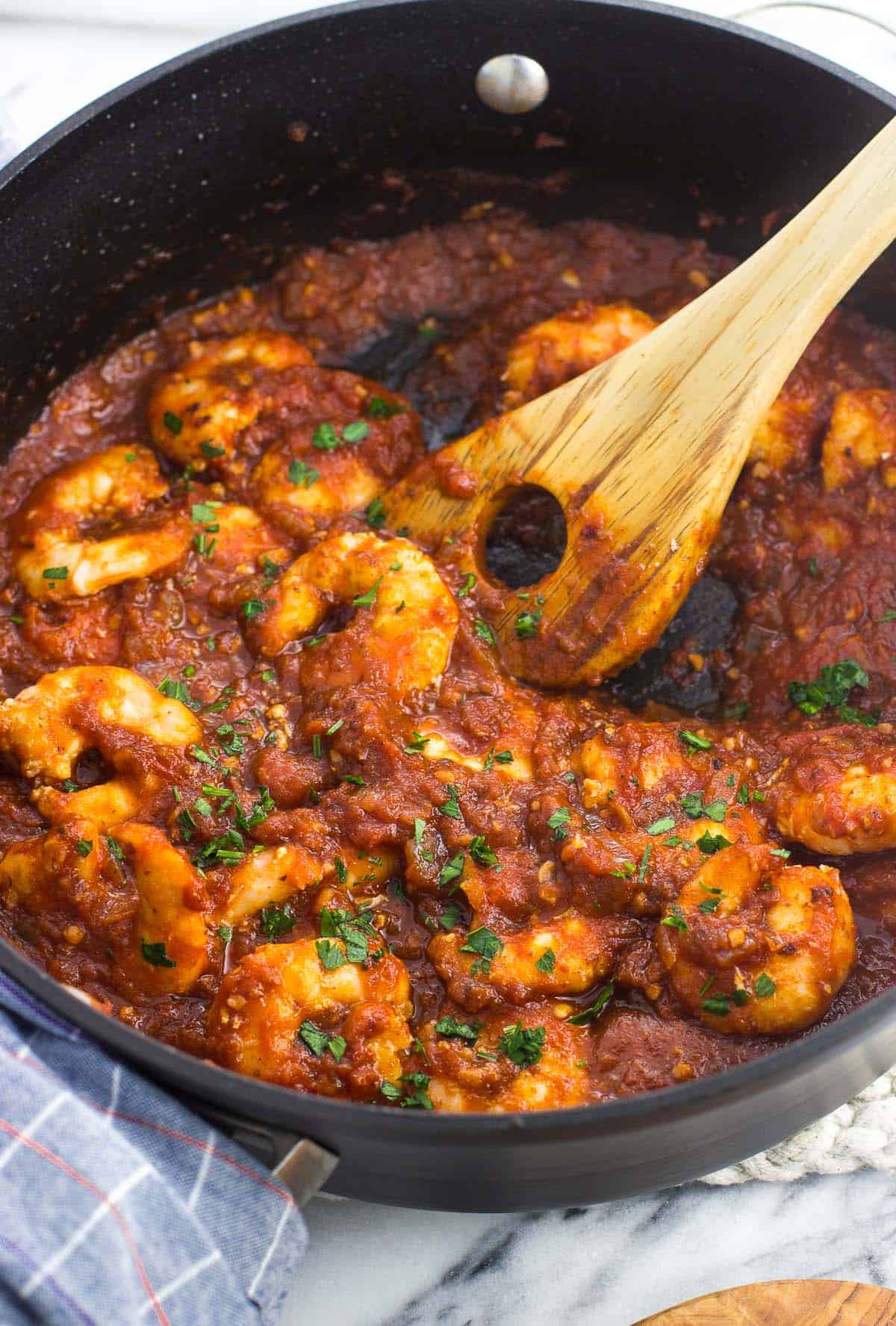 Related recipes
These peel and eat Old Bay shrimp are a family favorite. They're super easy, quick, and use just four ingredients. They're great as an appetizer, or as part of a light meal with bread and a nice side salad.
If you're into jammy saucepan red sauces to accompany meat, this recipe for Italian sausage and peppers might be for you. It's classic comfort food that can also be served over pasta (or grits, even), in sandwiches, or however you like it. Using hot sausage will bring the zip!
For those who balk at the mishmash of cuisines here, no worries! Instead of grits, you can just as well serve this shrimp over top of simple and creamy pastina. I've eaten my smoked sausage fra diavolo (linked in the recipe ingredients section above) over pastina and LOVED it.
Recipe notes
You can prepare the grits any way you wish – using all water, all broth, half broth/half milk, etc. I prefer half broth/half milk as the broth gives them a little extra flavor while being creamy (but not too creamy) from the milk.
Jumbo or large shrimp work, either tail-on or tail-off. If peel-on shrimp is all you have they'd be fine, though you'd have extra prep work in removing the peels.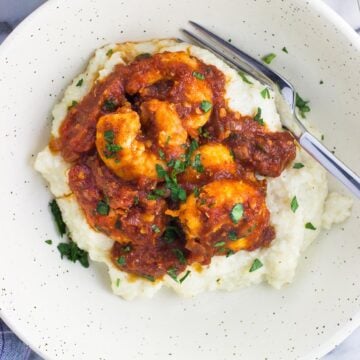 Shrimp Fra Diavolo and Grits
Shrimp fra diavolo and grits is an Italian take on a classic Southern dish. This spicy shrimp and grits recipe features bacon and quick-cooking shrimp in an easy sauce, all served over Parmesan grits for an updated version of comfort food.
Print
Pin
Rate
Ingredients
For the grits:
1 1/2

cups

reduced-sodium chicken broth

1 1/2

cups

milk

(I use 2%)

3/4

cup

quick grits

(see note)

1/2

tsp

kosher salt

more to taste

1/4

tsp

ground black pepper

more to taste

3/4

cup

grated Parmesan cheese,

more or less to taste
For the shrimp and sauce:
4

slices

bacon

1

lb

jumbo peeled and deveined shrimp,

thawed

1/2

large

onion,

diced

6

garlic cloves,

minced or pressed

1/4

cup

dry white wine

(see note)

1

15-oz can

crushed tomatoes

1

tsp

crushed red pepper

more or less to taste

3/4

tsp

kosher salt

3/4

tsp

dried oregano

1/8

tsp

ground black pepper

3

tbsp

chopped fresh parsley
Instructions
For the grits:
Add chicken broth and milk to a medium saucepan and bring to a low boil. Add grits, salt, and pepper and stir.

Once the mixture comes back to a boil, reduce heat to low and cover. Cook for five minutes, stirring every now and then, and then add Parmesan. Stir until it's melted and combined. Keep warm while you prepare the shrimp and stir occasionally.
For the shrimp and sauce:
Add bacon to a large skillet set over low-medium heat. Let the bacon cook, flipping the slices as needed, until fully cooked. Remove bacon to a separate, paper towel-lined plate.

Remove all but about 2 tablespoons of the bacon grease from the skillet and set it over medium to medium-high heat. Add the shrimp in a single layer, cooking 1-2 minutes on each side, until the shrimp is pink, no longer translucent, and curled. Remove cooked shrimp to a separate plate.

Next add onion to the skillet set over medium heat and cook in the remaining bacon grease for 3-4 minutes, stirring around regularly. Add the garlic and cook for an additional 1 minute.

Pour wine into the skillet and scrape up all of the onion and garlic from the bottom of the pan. Let cook for a minute, and then add crushed tomatoes, crushed red pepper, salt, oregano, and pepper. Stir and reduce heat to low-medium. Let sauce simmer for 8-10 minutes, or until thickened until your liking.

Once thickened, add shrimp to the sauce and stir to coat. Cook for a few minutes to heat shrimp.

Serve the shrimp fra diavolo over grits and garnish with fresh parsley and crumbled bacon.
Notes
Grits: Quick grits are not the same as instant! Quick grits takes a few minutes to cook and (in my opinion) taste better than instant. Wine: Use a drier white wine here such as Sauvignon Blanc, Chardonnay, or Pinot Grigio. Bacon: The bacon isn't 100% necessary if you're not a fan. If not using bacon, use olive oil or your preferred neutral cooking oil for cooking the shrimp, onion, garlic, etc.
Nutrition
Calories:
498
kcal
|
Carbohydrates:
39.7
g
|
Protein:
44
g
|
Fat:
17.1
g
|
Saturated Fat:
6.8
g
|
Cholesterol:
192
mg
|
Sodium:
1364
mg
|
Potassium:
464
mg
|
Fiber:
2.8
g
|
Sugar:
4.9
g
|
Calcium:
400
mg
|
Iron:
5
mg
Nutritional information is provided as an estimate. As it can vary due to many factors (brands used, quantities, etc.), we cannot guarantee its accuracy.
Food Safety and Nutrition Disclaimer