+ big news! Perfect timing for a Life on Wednesdays post, buuut this breakfast was too good to wait another day. So ta-da! Blueberry chai french toast with a slice of big news on the side (big news is calorie-free, btw).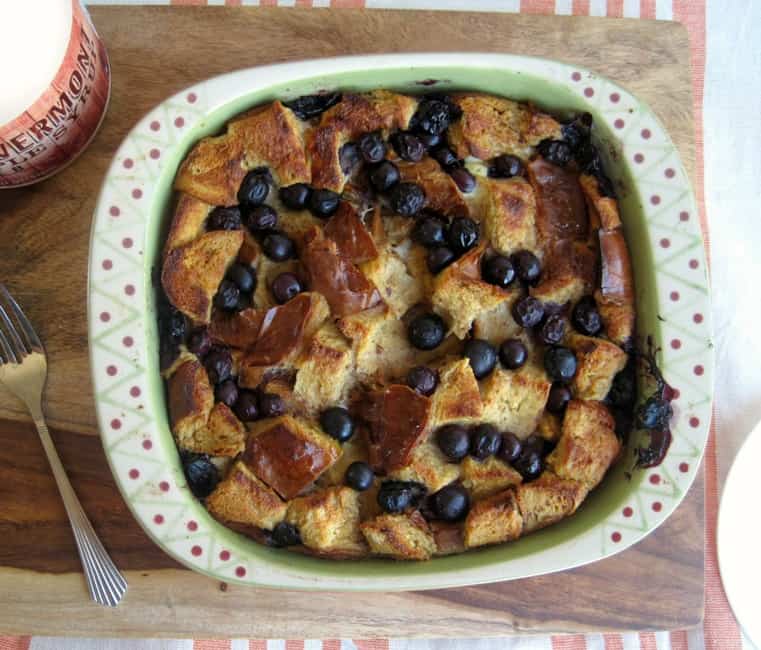 My mom makes a killer french toast bake which was the inspiration for this version. When she's expecting a crowd she makes two 9″ x 13″ trays of it, which makes it look like there'll be leftovers for days. Sure enough though, all but a tiny corner is left of both trays afterwards. It's that good. I ate more than my fair share this past Mother's Day (definitely a "loosen the proverbial belt buckle" sort of occasion), and was jazzed when I discovered an extra half of a challah loaf left over. What better way to use it than making…more french toast! 🙂
Here's the low down. This french toast is dotted throughout with fresh blueberries just like my mom's version, but I added the warm spice of chai, which is becoming one of my favorite new flavors to experiment with. This recipe requires very little inactive time, as the bread soaks up the liquid mixture during the time it takes for the oven to preheat. That means you can start this french toast in the morning and still eat it for breakfast. Nice!
As the french toast bakes, the blueberries heat and pucker. This allows them to burst with warm blueberry juice when they're pierced with a fork. Gaaah, aren't they pretty?!
I used two-day-old challah bread (slightly stale) for this recipe, as it's a rich bread that doesn't mush up when it's soaked in the egg mixture and baked. If you can't find challah bread, I suggest using a bread that's dense, versus the type that's lighter or has air pocket holes. I also used chai tea latte concentrate, plus added spices, for the fab chai flavor. While I'm in the throes of a sugar-free chai tea latte concentrate obsession and have plenty on hand, you can whip up an equivalent for this recipe without making a Target run:
Pour 3/4 cup (6 oz.) boiling water over 1 chai black tea bag, and let steep for a few minutes. Remove tea bag, and add:
3 tsp granulated sugar
1/8 tsp cinnamon
1/16 tsp ground ginger
1/16 tsp ground cloves
1/16 tsp ground nutmeg
1/8 tsp vanilla extract
1 tsp milk
1 ice cube (optional, to dilute slightly)
Stir all until sugar has dissolved and all ingredients are mixed. Let cool until room temperature (or refrigerate). Yields enough liquid to use in place of chai tea latte concentrate in recipe below.
This french toast bake serves a lot less servings than its gargantuan inspiration so I'm going to call it good at yielding six breakfast-sized servings. If you're like me though and can't be trusted around french toast…I'd decrease that number. Up to you.
Blueberry Chai French Toast Bake
Ingredients
8

oz.

challah bread

cubed into 1" pieces (about half of one large loaf)

4

eggs

1 1/4

cups

milk

I used 1%

3/4

cup

chai tea latte concentrate*

1/2

cup

maple syrup

plus approx. 2 tbsp for drizzle

1/2

tsp

ground cinnamon

1/8

tsp

ground cloves

1/8

tsp

ground nutmeg

1/8

tsp

ground ginger

1/2

cup

fresh blueberries

Maple syrup

for serving
Instructions
Grease an 8" x 8" baking dish and set aside. Using a serrated knife, cut challah bread into 1"-sized cubes and place bread cubes into baking dish.

In a separate bowl, whisk together eggs, milk, chai tea latte concentrate, 1/2 cup maple syrup, cinnamon, cloves, nutmeg, and ginger. Pour egg mixture into baking dish over top of the bread cubes, and press down slightly with a spatula or spoon to submerge the bread.

Scatter blueberries over top of the french toast, the drizzle approx. 2 tbsp of maple syrup over top.

At this point, preheat oven to 350°F. I let the french toast sit for 5-10 minutes while the oven preheats so the challah absorbs the egg mixture.

Once oven has preheated, bake french toast for 20-23 minutes, or until a toothpick inserted in the highest part comes out clean and no liquid remains.

Switch oven to the broil setting and broil for 10-15 minutes longer, or until top has crisped.

Once the top layer of the bake has crisped to your liking, remove from oven and let sit for a few minutes before serving. Top with a drizzle of maple syrup if you prefer.
Notes
*or use homemade substitute listed in post above
Nutritional information is provided as an estimate. As it can vary due to many factors (brands used, quantities, etc.), we cannot guarantee its accuracy.
…so, big news! Are you ready? I hope I am. B and I are packing our bags and kissing the palm trees goodbye because we're moving to Nashville, TN! It's a big change, but one that we're SO looking forward to! We just got back from our second trip to Music City in the past few months to apartment search (and enjoy the sights and delish food and drink), so ye old blog was feeling kind of neglected. But her and I have reconciled, because I finally learned what a favicon was and snazzed up My Sequined Life with one, so she's sitting pretty at the moment.
I haven't dug too into my off-blog life here on MSL, mainly because you'd all be snoozing foreheads-down on your keyboards if I did. 🙂 BUT, a short synopsis for ya. Since the week after I graduated college, I've been neck-deep in accounting (public, private, audit – you name it!)…aaand not much else. When I had a job where I worked crazy long hours, any time spent not at work was reserved for a) sleeping, b) doing laundry, and c) hanging with B and my family. Couple long hours at my job in NJ with moving cross country to work long hours in CA, my social life was largely virtual (in the form of texts, Facebook likes, and the occasional FaceTime with my buds!).
So, let's find a job with less crazy hours, huh? I did that, I slept a lot more, I started this blog, and I hung out with B and my family a lot more. All great things, don't get me wrong, but with my new found free time, B and I realized San Diego wasn't the city for us. Love the weather and love the beach, but deep down we couldn't see ourselves putting down roots way down here in Southern California. After a lot of thought (and I mean a LOT – you know how I'm an overthinker), we've decided to be loads more adventurous than we've been, well, ever, and road trip out to Nashville. To stay. On our visits we've fallen in love with the culture, and would be tickled pink to call it "home".
*Fingers crossed* we've found our apartment, and then we can plan out our road trip (which I'm also super excited for!). If you've got any suggestions for places to stop between San Diego and Nashville, please send them my way! Beyond Nashville and Dallas (which was solely for work), I've exclusively stuck to the coasts, so I'm woefully uneducated with the awesome sights and bites in the middle. We're eager both to explore as we mosey out to Tennessee and to begin the next chapter in our lives!
Celebratory YAY cookie recipe here – orange chocolate chip sugar cookies.