Food nostalgia is hitting pretty hard around here lately.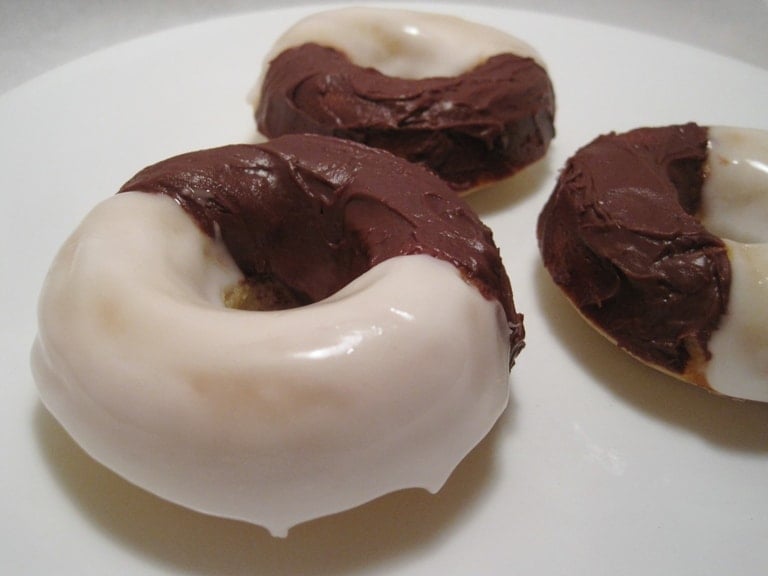 Having lived my whole life in New Jersey (except for college in Pennsylvania – yeah, I went really far), I had no clue what to expect when I moved cross-country to San Diego in 2012. I knew I could probably ditch my winter coat and had prepared myself for Dunkin Donuts-withdrawal, but as far as the small stuff? I figured it couldn't be that different. I mean, it was the same country after all.
But beyond the obvious lack-of-snow and lack-of-DD, over time I've realized there are a lot of little things I took for granted living in the NYC-metro area. Diners! Jersey bagels! Italian bakeries! Autumn leaves! Feeling a chill in the air! Of course I'd be foolish to ignore the wonderful attributes that Southern California has to offer – I wore a t-shirt and flip flops yesterday – but sometimes you just yearn for a taste of "home", in the regional sense.
Einstein Bagels are good, Jersey bagels are in-freakin'-credible. Crisp outsides, super soft and chewy centers. Especially the cinnamon raisin ones. Typing this out just made me crave them BIG TIME. Bagels from Long Island (NY) also rank highly in the upper echelon of bagels as far as I'm concerned.
"Breakfast cafes" are nice, Jersey diners are better. Zero pretension, zero thought given to ambiance, zero qualms about ordering a turkey dinner with a cup of coffee for breakfast.
68°F in January is great, 27°F in January is…well, 68°F is just great, period. Moving on…
Italian bakeries. Cookies covered in chocolate chips that are as big as your head. Freshly-made cannoli shells (can we talk about how WordPress doesn't think "cannoli" is a word?! For shame). Rainbow cookies (my ultimate, hands-down favorite). White cardboard boxes with red-and-white striped twine. Black-and-white cookies. Love.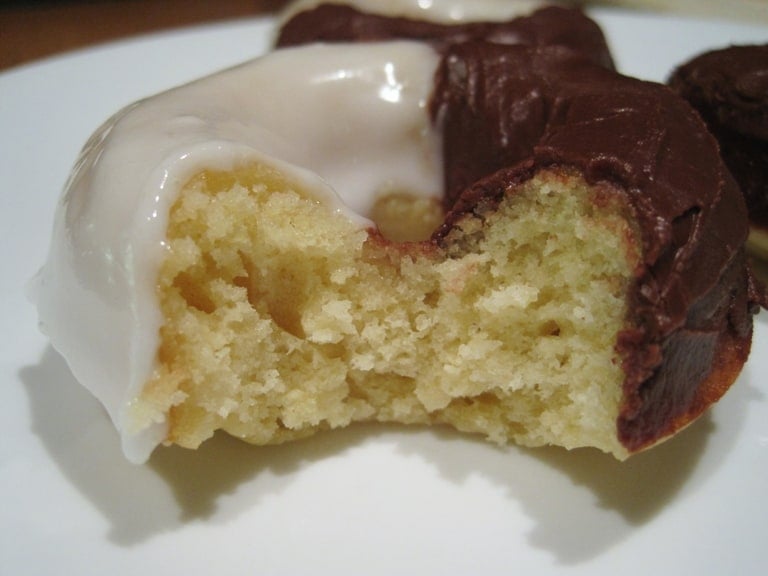 For those in the know, you know why the list above is so special. Yes, everything is delicious, there's no denying that. But looking back, I can remember that quintessential white bakery box in so many of my childhood memories. It was sitting beside me in the backseat of the car while we traveled to visit relatives on Christmas morning, it attended all of my birthday parties, it even received prime placement on our Thanksgiving table year after year. You know it has to be something special.
It's been too long since I've had any of the above bakery treats, so I decided to satisfy my hankering for donuts by making a batch inspired by the black and white cookie. Like its namesake, these black and white cookie donuts have a pillowy-soft body with a crisp layer of icing – half black and half white. The cookies (and so, the donuts) taste ever-so-slightly of lemon, although the flavor is not an obvious lemon. No lip puckering here. And it's January, and you know, resolutions… so they're baked. While these didn't come from a white box with red-and-white twine, they certainly taste like they would.
**Traditionally, you'll see light corn syrup used in icing recipes. However I was already elbows deep in making the donuts when I realized that we were out, so I improvised by making a homemade simple syrup. I simmered 1 part water to 3 parts granulated sugar in a small saucepan over medium-low heat until bubbles formed, then reduced heat to low for about 15 minutes until mixture had boiled down and thickened. I was very happy with the results, but if you have light corn syrup, feel free to save a few steps and use it instead.