This foodie gift guide contains forty gift ideas all under $50 for the fun-loving and colorful foodies in your life. Lots of ideas here – not just for the winter holidays!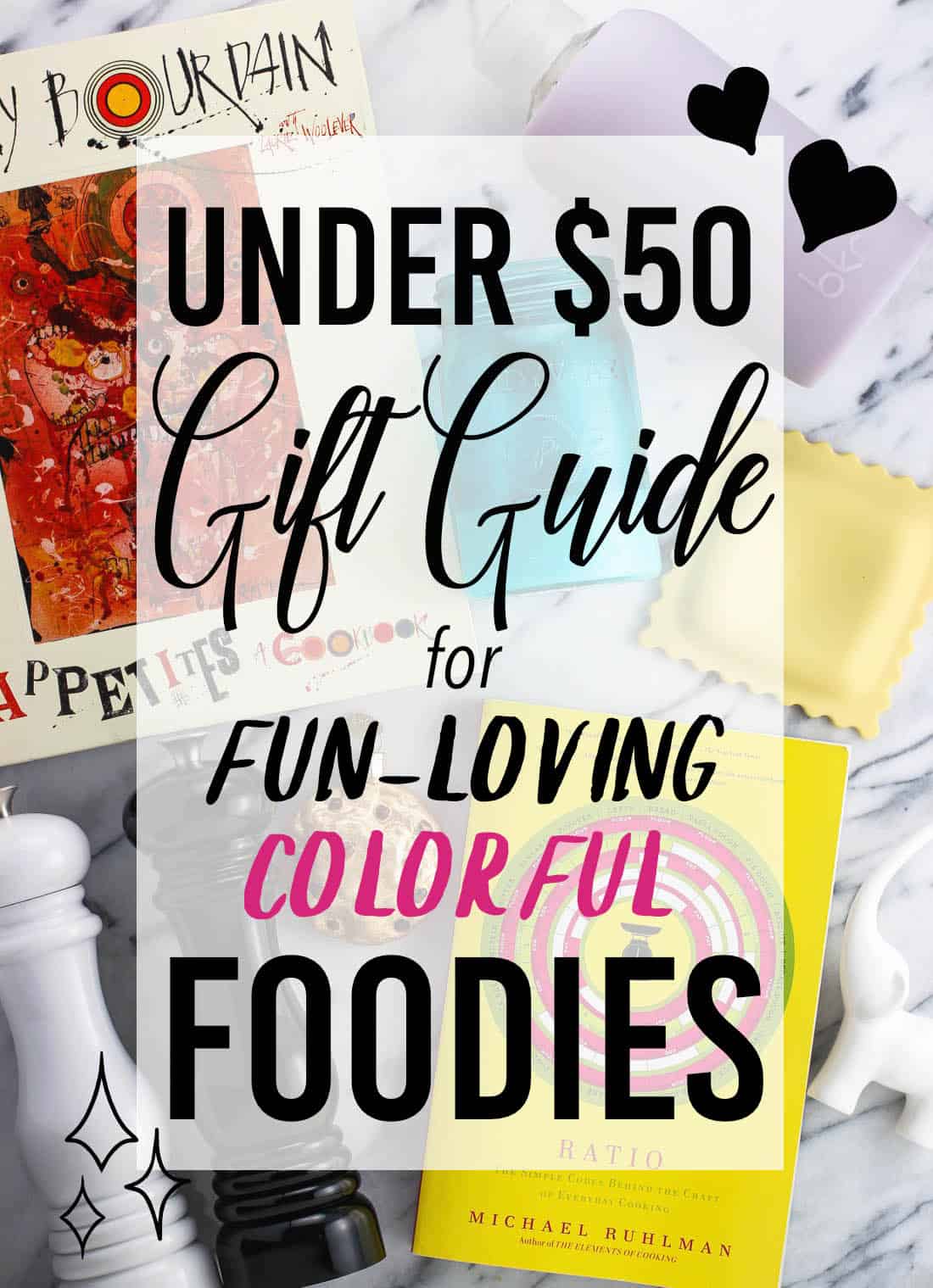 The holiday season is quickly picking up steam, and that brings us to the topic of gifts. I love the feeling you get when you find the perfect gift for someone. Like, LOVE love. Probably more so than receiving a gift myself.
Because I lean toward being overly practical when it comes to my own gifts (case in point: adding a paper shredder to my wedding registry and asking my parents to get me steroid injections for an old scar for Christmas), this list is focused on FUN gifts. Not boring household management or dermatological treatments. Gifts that will facilitate inviting friends over, outdoor entertaining, making/drinking coffee in style, adding a pop of color to your kitchen, and more.
In doing my own gift-buying research this year, I've compiled this list of forty gifts that caught my eye as I browsed that are 1) fun/funny/colorful/happy/goofy 2) under $50, and 3) would be perfect for a certain type of person. Such as a Chip + Joanna devotee, a pumpkin spice freak, a food science nerd, a pasta lover, etc. Know any of those? 🙋🏻
Since #AmazonPrimeislife, I've (affiliate) linked everything to Amazon and tried to find a Prime listing as that's usually what I set the criteria on when I buy things. None of the below items are sponsored or recommended to me from any brand.


1 – Anyone nostalgic for college: Red solo cup? Classic, but this rainbow party cup is certainly more festive. (And environmentally-friendly as it's reusable!)
2 – Home bakers: How fun is this deluxe rainbow sprinkle mix? They'd be an easy way to expertly decorate baked goods for the cake decorating-challenged (hi, hello: me). Plus they're fruit-flavored!
3 – Iced coffee year-rounder: These rainbow reusable drinking straws make another fun and environmentally-friendly gift for iced coffee/smoothie lovers. Plus they're BPA-free and come with skinny minny brushes to help with cleaning (a lifesaver!).
4 – Outdoor entertainers and campers: These unbreakable silicone wine glasses are perfect for outdoor entertaining. I bought "glassware" (siliconeware?) from this brand for my outdoor-enthusiast in-laws, and I think I need to add these fun tie-dye wine glasses to my own backyard soirée collection.
5 – Caffeine aficionados: I can't even count how many coffee/espresso-making apparatuses I have in my kitchen, but that's not stopping me from pining for this colorful espresso maker.
6 – Artsy folks: Know anyone who looks forward to the Pantone color of the year announcement? Brighten up their fridge with this color magnet set.
7 – The Walking Dead fans: These zombie popsicle molds crack me up every time I see them. Sure beats boring old popsicles! I've bought silicone ice cube molds from this brand and they work like a charm. Plus…their legs sticking out of the molds. 😂
8 – Slightly type-A home decorator: Hello, me. Talking about myself. I freak out if someone's drinking something cold or with ice and condensation gets on the table. But I also hate when that condensation just pools on the coaster and decides to release ten drops in my lap as I go to take a sip. These ceramic drink coasters ABSORB condensation eliminating all of that agita. And look quite nice while doing so.
9 – Elf devotees: "Bye Buddy, hope you find your dad"…I saw Elf three times in the theaters in 2003, and I'm certainly not as festive if I don't watch it at least a few times each holiday season. This narwhal tea infuser hangs out on the side of your tea mug for loose tea infusing/Elf movie quoting.
10 – Fixer Upper fanatics: It may not be shiplap, but these mini mason jar salt and pepper shakers definitely up the farmhouse element in any kitchen.
11 – Beach bums: This ocean + sea salt candle brings the perfect beach-y vibe to even chilly winter days. I start craving fruity drinks and boardwalk food every time I light it.
12 – "Keep it real" cooks: Because let's face it – we've all had those days. Love this snarky oven mitt!
13 – Millennials: This avocado ornament would be perfect the avo-obsessed among us (me included).
14 – Hulk fans: Hulk smash a beverage in style with the hulk coozie hand. (how fun for a party!?)
15 – La Croix lovers: Make your own citrus-flavored sparkling water on the fly with this bottle citrus juicer. This would make a great stocking stocker (hint hint). 😉
16 – Ross Geller: Well, or any dinosaur enthusiasts who also happen to love pasta. How fun is this dinosaur pasta server?
17 – Vintage VW admirers: More coffee I know, but this VW bus coffee mug is definitely going to be someone's future favorite mug, right?
18 – Party people: How fun would mini margaritas be served in these himalayan salt shot glasses?! Himalayan salt is naturally anti-bacterial so maintenance isn't a pain.
19 – Very good boys and girls (so, all of them): Sushi for you, this sushi dog toy for your doggo pals.
20 – Pumpkin spice freaks: Why not keep that pumpkin obsession going all year round with this pumpkin baking dish? The size is great for serving hot dips and side dishes.
21 – Food science nerds: Ratio: The Simple Codes Behind the Craft of Everyday Cooking is a book I reach to ALL the time. It gets down to the basics of a ton of recipes like breads, sauces, doughs, etc. as far as the ratio of flour/liquid/egg/sugar/fat required. Once you learn the "why" behind the fundamentals of these recipes you'll feel empowered to add your own flavors and variations with a tried and true recipe structure backing you up.
22 – Super Mario fans: How fun are these Super Mario ice cube trays? Silicone ice cube molds make it SO easy to get the ice cubes out. They're also relatively cheap (under $10) and come in lots of fun shapes!
23 – Colorful cooks: Fresh cracked pepper is an easy way to make everyday eats more fancy, and this ombre pepper mill (available in a TON of colors) looks nice while doing it. I own a black (for pepper) and white (for salt) set that are equally functional and stylish sitting out on my kitchen counter.
24 – Serious Taco Tuesday'ers: Every day can be Taco Tuesday with this taco ornament hanging on the tree.
25 – On-the-go hydrator: I bought this bkr glass water bottle a year or so ago and can't run errands without it. The protective sleeve is extra sturdy so I've never worried about it breaking. Plus the bottle itself is dishwasher-safe.
26 – Yogi wannabes: I'm constantly aspiring to become a yogi, but just can't get over that hump. Considering during the last formal yoga class I took I fell asleep for about ten minutes (in corpse pose and the instructor had to tap me awake!), the words on this after this we're getting pizza yoga mat ring true.
27 – That person we know who just loves these things: Sometimes I feel like those circus animal cookies rank up there with Nutella and Dole Whips with how people obsess over them. All those are good but what I really obsess over are Philosophy products (senorita margarita 4 life). Here's pink frosted animal cracker shower gel…they make everything! (…except Nutella and Dole Whip)
28 – Engaged/married/general ring-wearers: Maybe I'm just different but I CANNOT cook with my ring on. I have a fun ring holder set by the kitchen sink so I can keep it both clean and located in a safe place while I cook, wash dishes, etc. Mine is quite literally a white elephant but this copper cat (more shapes available) is super cute.
29 – Those with an adventurous palate: Anthony Bourdain's Appetites: A Cookbook features a host of innovative recipes with bold ingredients (and bold language to match). I bought this book last Christmas for Brian, and we've spent the year happily cooking our way through (the Korean fried chicken is SO worth the delayed gratification).
30 – Shark Week fans: This handmade Shark Week Cookie Dunk Mug will keep their cookies melty warm while they 'live every week like it's Shark Week'.
31 – Pasta lovers: It's no secret I'm all about Italian food, so this ravioli spoon rest was a must-buy as soon as I saw it. It's easy to wipe clean and adds a fun element to any Italian foodie's kitchen. Just don't try and throw it in the pot with your real pasta.
32 – Next level bar cart owners: Get a laugh when guests refill their glasses with this spirits decanter (more phrases available, too).
33 – Cozy homebodies: I'm a big candle fan, but there are two candles in particular that I love – one with a wooden wick that crackles as it burns and another that's espresso-scented. This wooden wick espresso-scented candle combines BOTH in one. Ugh, putting in a good word with Santa that this one lands under the tree for me.
34 – Pretend gal pals of Leslie Knope: Every day can be Galentine's Day with heart-shaped waffles made in this fun waffle iron.
35 – Proud cat ladies (or men!): I think we all know someone who would appreciate this cat butt wine stopper. I'll be gifting this as a stocking stuffer this year!
36 – Photography enthusiasts: Talk about an affordable camera lens. 😉 This camera lens coffee mug features a stainless steel insert and fits in standard-sized car cup holders (my biggest complaint with travel mugs).
37 –  Someone trying to break their Starbucks habit: Making homemade lattes and specialty drinks at home doesn't require fancy pants machines or gadgets. I own a hand-held milk frother from this brand and find it works like a champ. Wish mine was this fun print, though!
38 – Golden Girls fans: Say "thank you for being a friend" with this Sophia-centered Golden Girls coffee mug.
39 – Broccoli haters: Silly tea towels are a staple in my kitchen to liven up the decor. Lots of funny sayings available but this one probably hits home for many people!
40 – Someone who wants to say "hands off my lunch" to coworkers: No one likes people poking around their lunches in the work fridge. This take-out reusable lunch bag is insulated and sure to set apart the lunch of the lucky recipient.
The gifts above are affiliate links to Amazon, with no brand sponsoring any of the items included. At the time this foodie gift guide was published all items were less than $50, but sometimes prices on Amazon fluctuate (in case you're seeing something over $50).