Let's all have muffin tops! …the good kind, that is.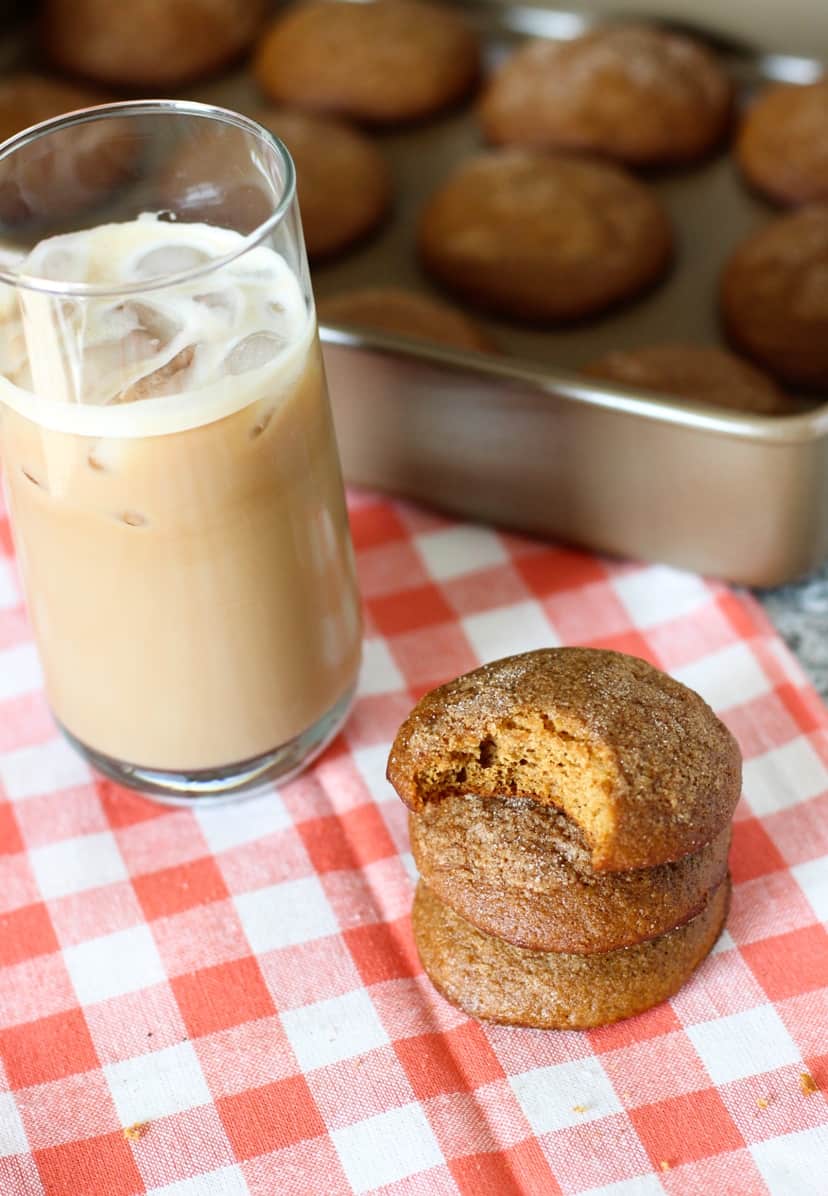 I've got a burning question here, guys: how do you eat a muffin? Do you cut it into halves, or quarters? Do you take a big bite indiscriminately? Is a fork and/or knife involved? I may be in the minority here, but I start by grabbing a piece of muffin top and ripping it off with my hands. Then I proceed to make my way around the muffin, leaving an oddly whittled and balding-around-the-edges muffin in my wake. Not for long though, because muffins = <3 and the rest is soon to follow. But muffin tops? My FAVE.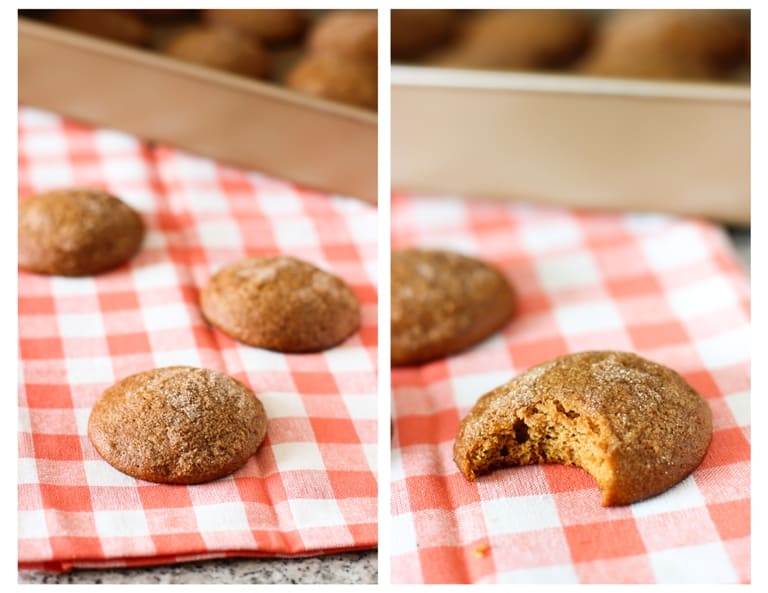 So imagine my surprise when my doctored up gingersnap cookie recipe ended up so light and fluffy, I couldn't stop myself from yelling "I MADE MUFFIN TOPS!!!" the minute they came out of the oven. I'm sure my new neighbors appreciated that weekend wake-up call. 😉
These gingersnap muffin tops are exactly that – muffin tops only! These whip up in a snap and there's no special pan required. Just your regular baking sheets! They're fluffy soft from the addition of Greek yogurt and cornstarch, and packed full of warm gingersnap spice. All good things, right? Before baking I sprinkled a mixture of cinnamon and sugar over top, which adds a slightly crisp, sugar-raised top. And do I even need to tell you how amazing your kitchen will smell as these are baking?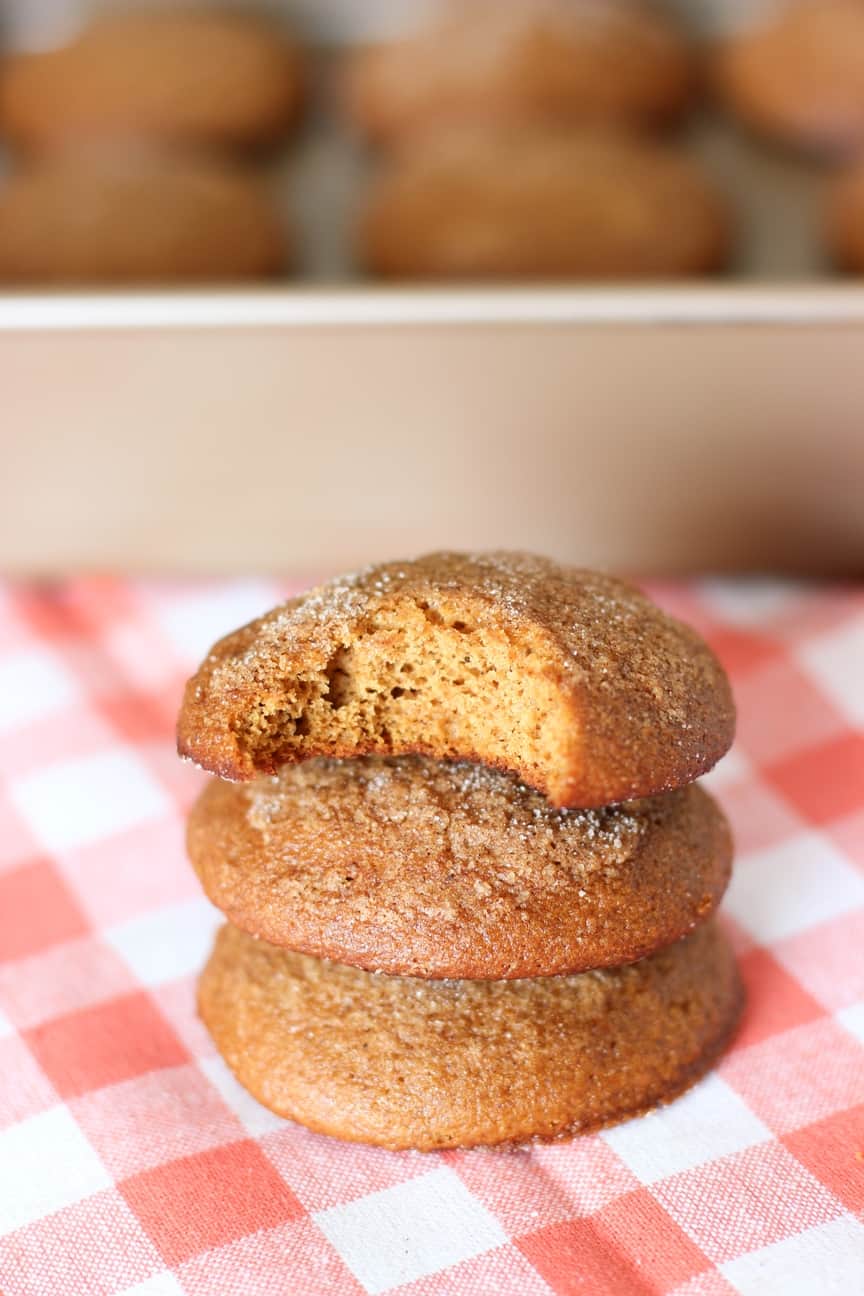 These muffin tops would be the perfect addition to your breakfast or brunch table, even if you slept through your alarm and forget you needed to run out and buy eggs. And milk. With friends coming over in an hour. Eeep! As long as you have twenty minutes, these gingersnap muffin tops are yours!
Soft Gingersnap Muffin Tops
Servings
17
3"-wide muffin tops
Ingredients
For the Muffin Tops:
1

cup

all-purpose flour

1

tsp

baking soda

1/4

tsp

salt

1

tsp

cornstarch

2

tsp

ground ginger

3/4

tsp

ground cinnamon

1/4

tsp

ground cloves

1/4

cup

unsalted butter

softened

1/4

cup

yogurt

plain or vanilla

1/4

cup

granulated sugar

1/4

cup

brown sugar

1

egg

2 1/2

tbsp

molasses
For the Cinnamon Sugar Topping:
1

tbsp

granulated sugar

1/4

tsp

ground cinnamon
Instructions
Preheat oven to 350°F. Grease baking sheet(s) and set aside.

In a medium-sized mixing bowl, stir together flour, baking soda, salt, cornstarch, ginger, 3/4 tsp cinnamon, and cloves. In a separate large mixing bowl, cream together butter, yogurt, 1/4 cup granulated sugar, and brown sugar until ingredients are well mixed. It's okay if the butter isn't perfectly smooth.

Add egg and molasses, and mix on medium speed until blended. Reduce speed to low-medium and gradually add flour mixture, scraping down sides periodically, until flour is just blended.

Using a medium-sized cookie scoop (or a spoon), place rounded muffin tops onto prepared baking sheet(s), taking care to leave 1 1/2-2" between scoops. In a small bowl, mix together remaining 1 tbsp of granulated sugar and 1/4 tsp cinnamon. Sprinkle cinnamon sugar topping over top of each muffin top (there may be some extra).

Bake for 8-9 minutes, or until tops are golden brown and spring back when pressed lightly. Transfer muffin tops to a wire rack to cool completely.
Nutritional information is provided as an estimate. As it can vary due to many factors (brands used, quantities, etc.), we cannot guarantee its accuracy.