Slow cooker white beans are cooked in a whole grain mustard beer sauce for a flavorful and healthy side dish. This is a hearty crock pot recipe with easy prep!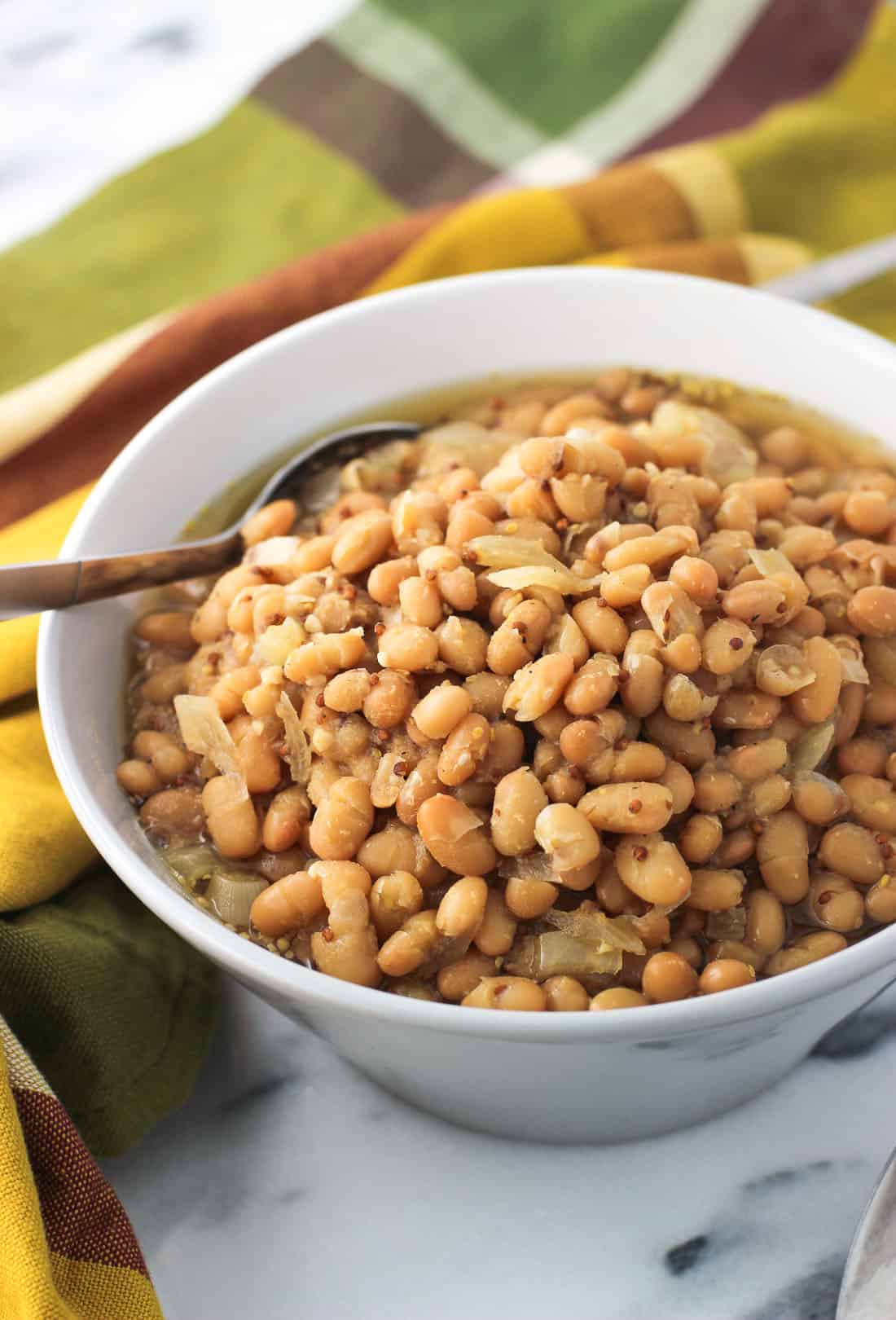 It's a little weird how silly nuances of being a food blogger (instead of just a food eater) worm their way into your everyday thinking. Besides brainstorming, prepping, cooking, and tweaking a recipe, you start worrying about things beyond producing a clearly written recipe and a tasty final product. For instance, sometimes you find yourself stuck in a quandary focused on how to make a bowl of beans look 'pretty'.
Have you ever thought to yourself, "oh wow, that's a pretty bowl of beans"? I didn't think so. They're usually some shade of brown, in some sort of sauce, and can't benefit from a fun component like piped buttercream or sprinkles. They're just beans. In a bowl.
I never really came up with a good answer to the whole beautifying beans thing, so I took the requisite pictures and guess what? They look just like beans in a bowl. Accurately-depicted, delicious, slow cooker white beans with a whole grain mustard beer sauce. That's good enough for me!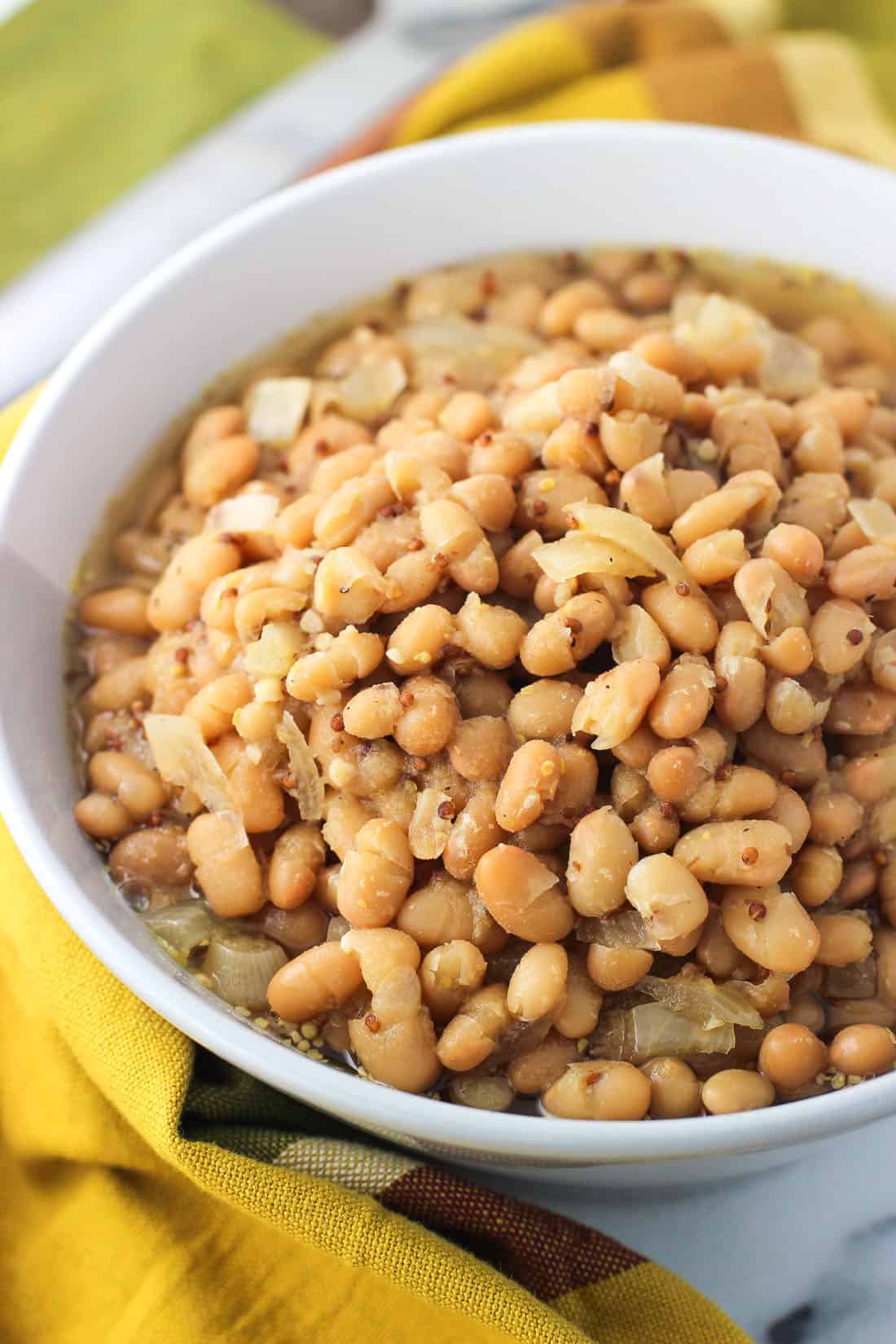 These slow cooker white beans began as an attempt to copycat restaurant beans, but much like the game of telephone, morphed into something great yet totally unlike the original.
We've got a lot of flavors going on here: honey for sweetness, apple cider vinegar for some tang, a smidge of hot sauce for a (very conservative) bit of heat, and a full tablespoon of minced garlic. You know how I feel about garlic. ♥
The major players going on here are whole grain mustard and beer, hence the kinda wordy "slow cooker white beans with whole grain mustard beer sauce" title up there at the top. Whole grain mustard is one of my favorite types of mustard to use as I love the extra bit of texture the mustard seeds give. As these beans heat, the mustard seeds will disperse and coat the beans spreading that flavor around. And lastly we have beer! It adds an extra layer of flavor and plays nicely with mustard, honey, and vinegar, rounding out this hearty slow cooker side dish recipe.

Slow Cooker White Beans with Whole Grain Mustard Beer Sauce
Ingredients
3 16-oz cans white beans, drained and rinsed
1 medium onion, diced
6 cloves garlic, minced (about 1 tbsp)
1/4 cup apple cider vinegar
1/4 cup honey
1/4 cup whole grain mustard
2 tsp hot sauce, or more to taste
1/4 tsp salt
1/4 tsp ground pepper
1 12-oz can or bottle of beer, see note
Instructions
Add all ingredients except the beer to a slow cooker and stir to evenly combine everything. Add enough beer to comfortably submerge the beans - this may take a little less than the full 12 ounces of beer.
Cover and cook on low heat for 4-5 hours, or until the beans and onions have softened to your liking. The beans and onions will have absorbed some of the cooking liquid, but not all.
Notes
I suggest using an ale here, but feel free to get creative and use something darker like a stout if you like!
Here are some more cold weather slow cooker recipes to check out!