Slow cooker enchilada chicken and potatoes makes an easy and hearty dinner! Throw just about everything in the crock pot to cook, then add a simple slurry and shredded cheese to thicken the sauce shortly before serving. Serve over rice, quinoa, or couscous.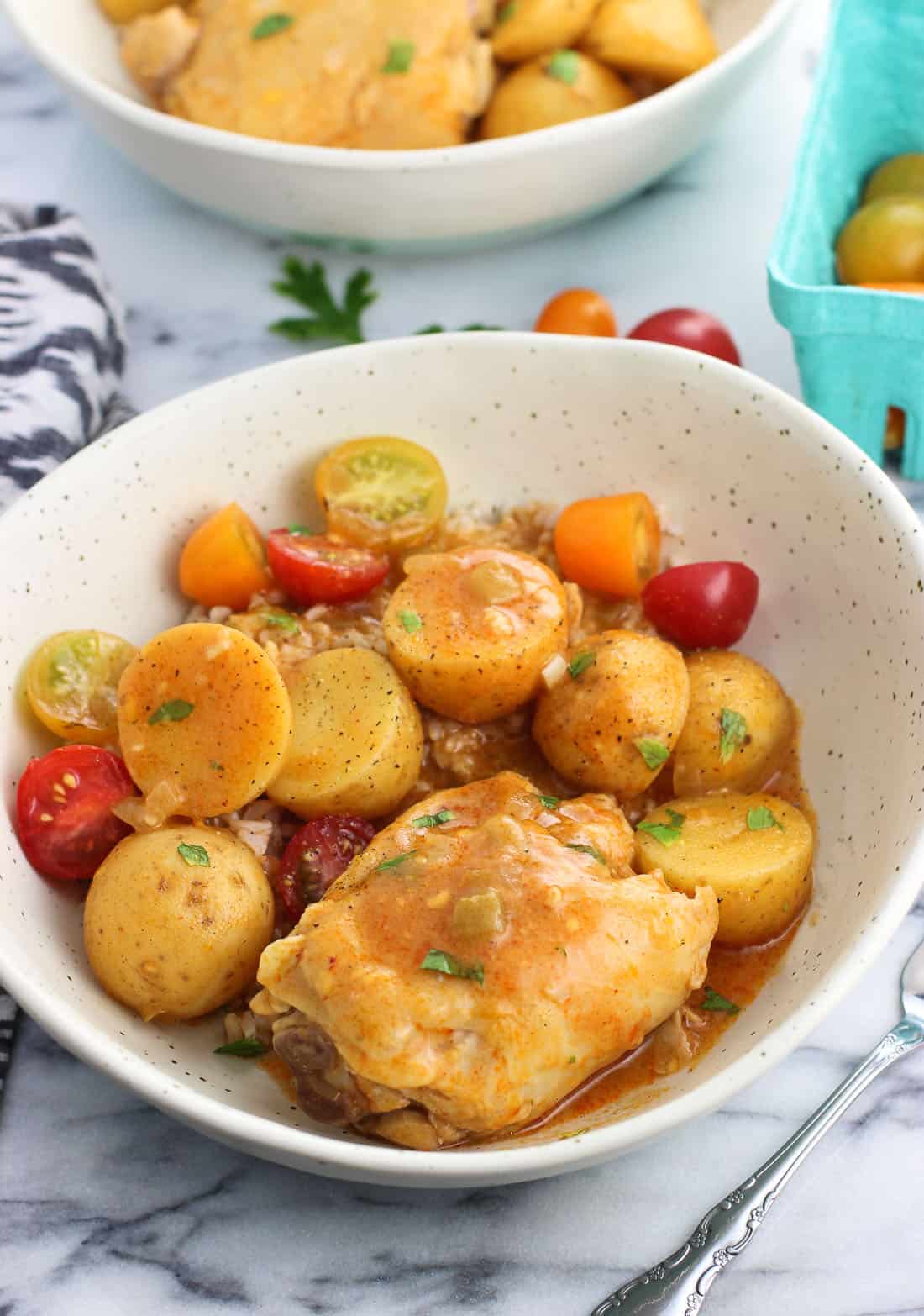 Now tell me, are you a year-round slow cooker kind of person, or do you use it more heavily in the colder months? I cook something in mine about once a week year-round, but I get why some people lean on it more so in the fall/winter. After all, it simplifies the process of making a roast, a huge batch of chili, all kinds of soups, and more. Not exactly the type of food you might crave when it's warm outside.
But I mean, the slow cooker works away on the countertop and alleviates the need for you to heat up the house by turning on the oven. SUCH a helpful tool to use in the summer!
This recipe for slow cooker enchilada chicken and potatoes operates as a perfect in-between dish. It's got juicy chicken thighs and tender baby potatoes in a slightly thickened, slightly cheesy sauce that tastes like comfort food without with a whole lot of work. It's warm and comforting without being too heavy, making it suitable for winter, spring, summer, or fall.
(All you have to do is calllllll…🎶)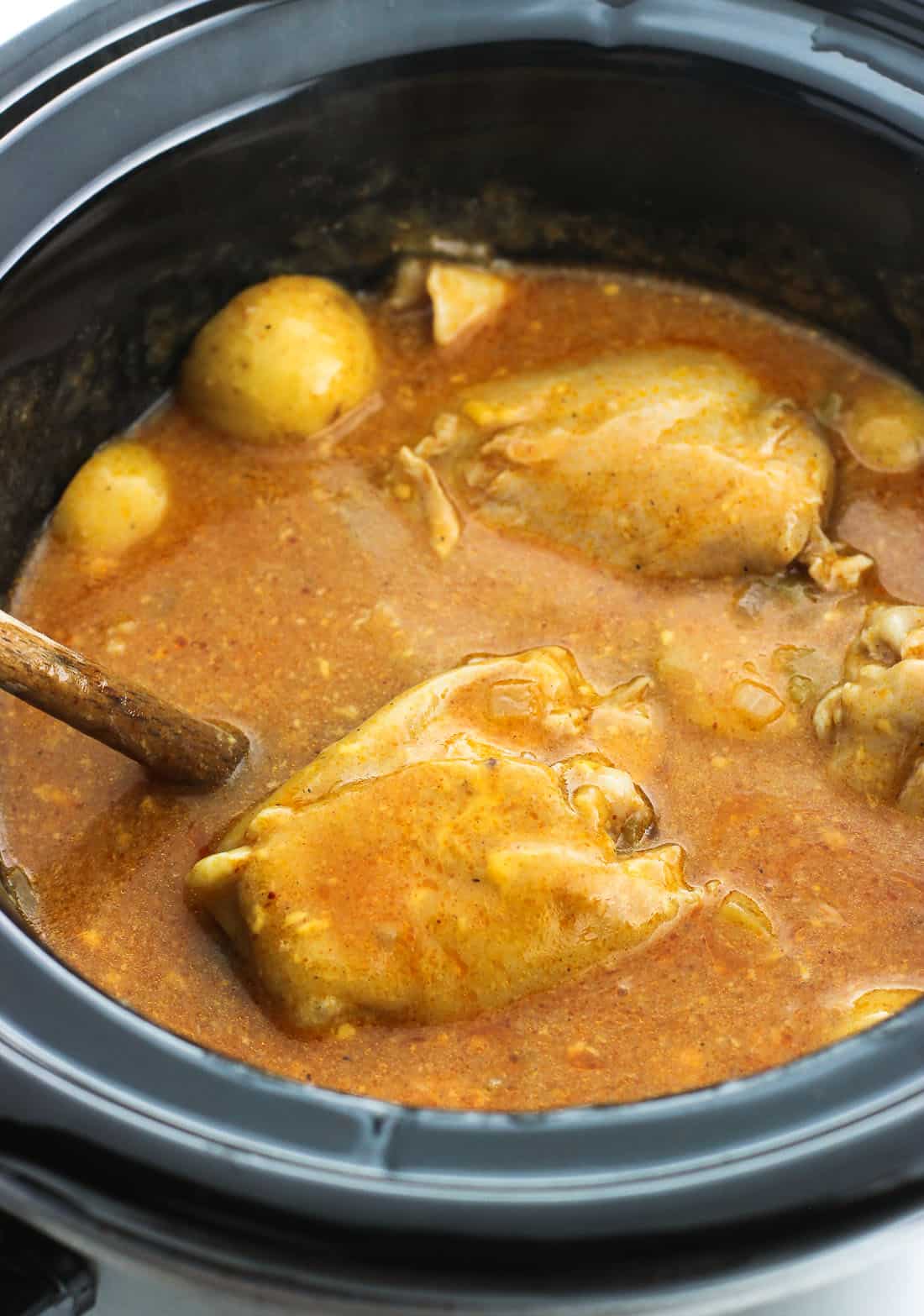 I used to be a boneless skinless chicken breast die-hard, but lately chicken thighs have been making their way into my cart at the grocery store. The dark meat adds extra flavor and they tend to be cheaper than breasts. Plus I've found they're harder to mess up, or really 'dry up' as tends to be the worry when it comes to chicken.
This recipe for slow cooker enchilada chicken calls for skin-on, bone-in chicken thighs, but feel free to use skinless and/or boneless if you like. Same goes for the potatoes – any variety of baby potatoes will work, as will chopping regular potatoes into smaller pieces.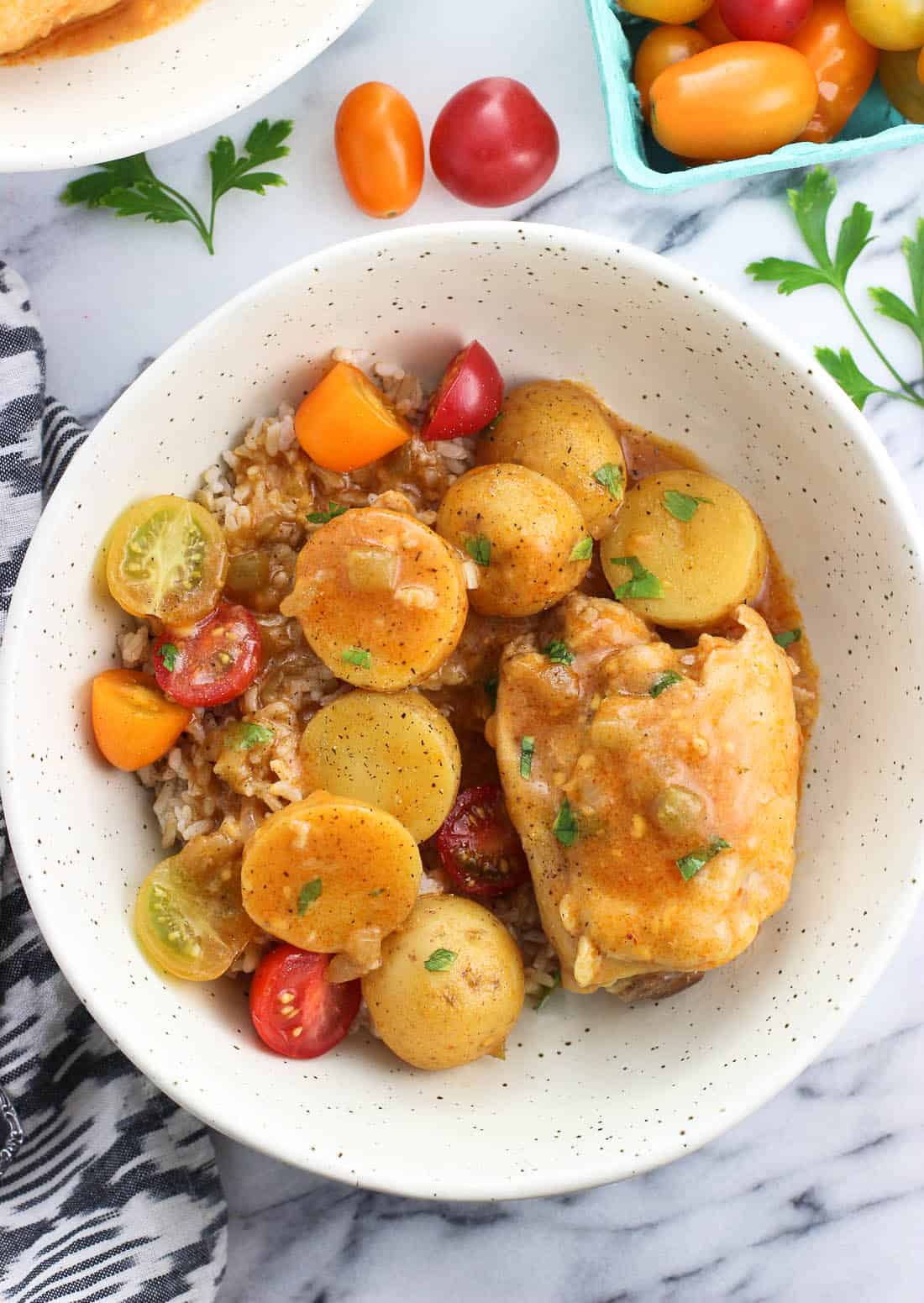 The cooking liquid here is responsible for the "enchilada" portion of the recipe title, consisting primarily of red enchilada sauce with a little bit of water or broth to thin it out. Once the chicken is fully cooked, I make a slurry of flour and hot cooking liquid, whisk to combine, and then add it back to the crock pot and stir. Wait about twenty minutes (or until the sauce has thickened to your preferred consistency) and add cheese. It'll melt very quickly and add a hint of cheesy flavor and help the sauce become even thicker. Add extra cheese, chopped cilantro, fresh from the garden tomatoes, or your favorite veggies and you're all set!
Tools used:
5 qt. slow cooker

– this is the kind I have. Nothing fancy but it's dependable and does the trick! I've found it's very consistent with the cook times listed on slow cooker recipes.

Instant-read thermometer

– so helpful when it comes to meat (especially chicken). You'll want chicken to reach 165°F, but don't worry if the temperature registers way over in this recipe when you check it – it'll still be juicy.
(This post contains affiliate links).

Slow Cooker Enchilada Chicken and Potatoes
Ingredients
1 lb baby potatoes, cut in half or smaller [see note]
1 small yellow onion, diced
4 cloves garlic, minced
2.5-3 lbs chicken thighs, bone-in
1 4.5-oz can chopped green chiles
1/2 tsp salt
1/2 tsp ground black pepper
1/2 tsp chili powder
1/2 tsp ground cumin
1/4 tsp smoked paprika
1 10-oz can red enchilada sauce
6 oz chicken broth or water
1/4 cup all-purpose flour
4 oz cheddar cheese, shredded, plus more for serving
Cooked rice or quinoa, for serving
Chopped cilantro, for serving
Instructions
Add potatoes, onion, and garlic to the slow cooker. Place chicken thighs in an even layer over top.
Pour green chiles over the chicken, and then sprinkle salt, pepper, chili powder, cumin, and smoked paprika over top.
Pour in enchilada sauce and chicken broth/water.
Set slow cooker to HIGH heat and cook for 3-4 hours, or until the chicken is fully-cooked and the potatoes have softened. Chicken is cooked when the temperature of the thickest part reaches 165°F.
About 20 minutes before serving, add flour and about 1 cup of the cooking liquid to a small bowl. Whisk until the flour has dissolved, then pour slurry into the slow cooker and stir.
When the mixture has thickened to your desired consistency, add shredded cheese and stir. Serve alongside cooked rice/quinoa, a salad, your favorite side dish vegetables, etc. and top with chopped cilantro, if you like.
Notes
You'll want to cut the potatoes into chunks of the same size so that they cook evenly. Small baby potatoes I cut in half once, but larger ones I cut into quarters.