True life: I've never had sweet tea.
Secret's out! I've also never added sugar or other sweetener to my coffee. I guess by nature I tend not to gravitate towards overly sweet beverages.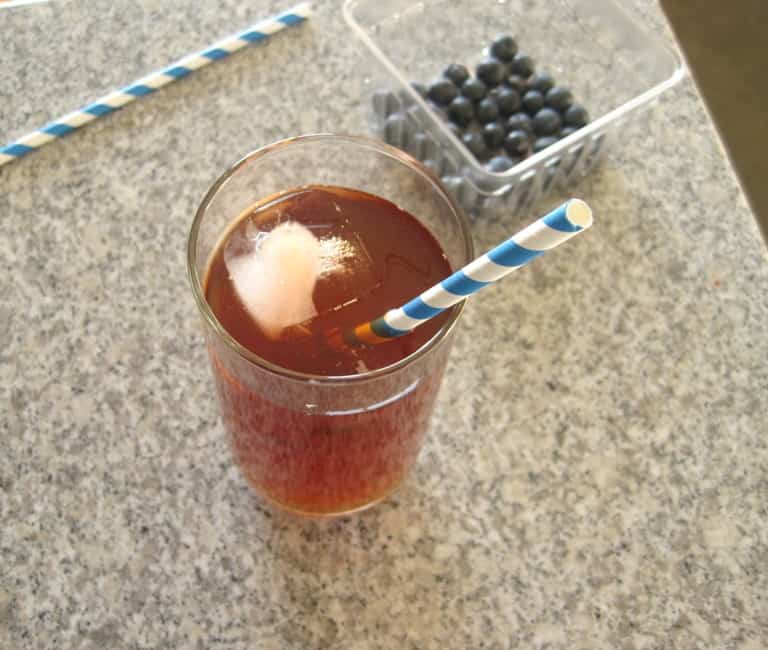 Now that I live in the south, though…everywhere I look is sweet tea. If you even have to ask, yes, that pitcher of iced tea is pre-sweetened. Enough to make my lips pucker sometimes! Maybe I was just oblivious beforehand, but I don't remember sweet tea gracing tables in New Jersey or California with the frequency it does here.
I know I'm never going to give up a secret excitement when a Bon Jovi song comes on (so many secrets today, guys) or lose my ever-so-slight twinge of a Jersey accent (per me; per B – it's more than slight), but I'm meeting iced tea somewhere in the middle with this slightly sweet pineapple mint iced tea.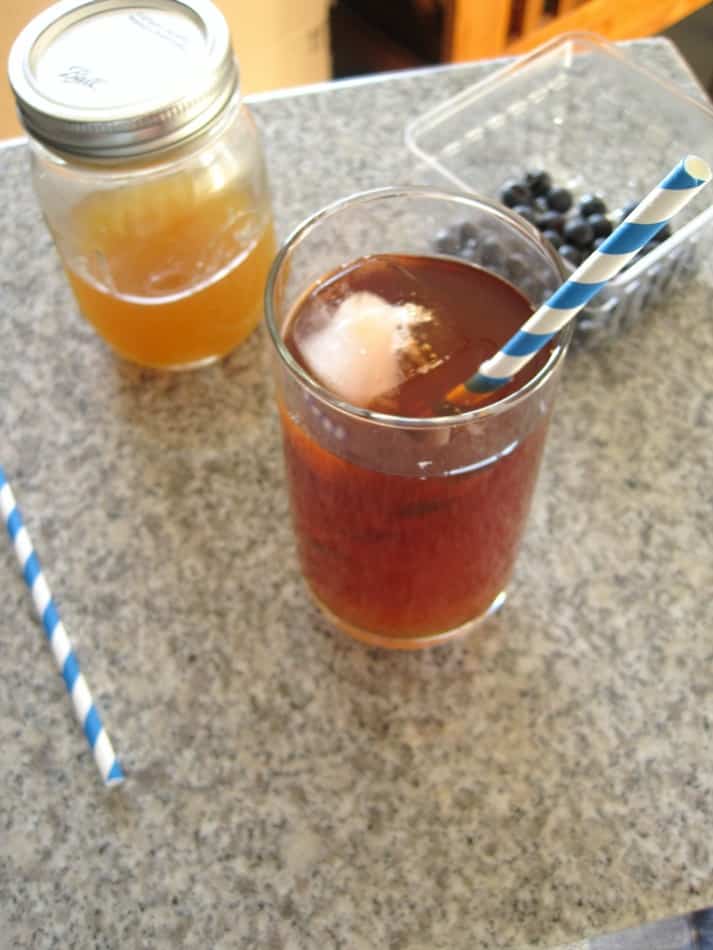 This iced tea is fruity, slightly sweet, and super refreshing for the summertime. It's also incredibly easy! You'll need to make two things – iced tea and the pineapple syrup. You can make iced tea any way you prefer – I simply added fresh mint leaves to the tea once it was brewed and stuck the pitcher in the fridge to cool.
Then it's time for the pineapple syrup. I used two tablespoons of brown sugar to sweeten it up, but if you're wholeheartedly into sweet tea, then by all means please add more. Once the syrup has been cooled and stored in the fridge, I've been adding it to individual glasses of iced tea by the tablespoonful. That way every person can add the fruity sweetness to their liking. The next time I make this syrup, I will most definitely be experimenting with cocktail recipes. Can I interest anyone in a pineapple brown sugar martini? 🙂
Ingredients
5

black tea bags

for 2 quarts water

1/2

bunch fresh mint leaves

1

cup

pineapple chunks

drained

Water

enough to cover pineapple in saucepan

2

tbsp

brown sugar

or more to taste
Instructions
For the Iced Tea:
Boil 2 quarts of water and pour over five tea bags set in a pitcher to steep. Add fresh mint to pitcher and refrigerate until cold. Once chilled, remove mint leaves.
For the Pineapple Syrup:
Add pineapple to a small saucepan. Add just enough water to saucepan to cover pineapple. Set saucepan over high heat to boil. Once boiling, stir and reduce heat to low-medium. Cover and let simmer 20-25 minutes.

Remove saucepan from heat and press pineapple chunks against sides of saucepan with back of a wooden spoon to release juices. Pour pineapple mixture through a strainer into another saucepan and discard pineapple chunks.

Add brown sugar to saucepan with the pineapple juice and stir to dissolve. Set saucepan over high heat and bring to a boil. Once mixture is boiling, reduce heat to medium and let cook for five or so additional minutes. Remove from heat to cool completely, then store in an airtight container in the refrigerator.

To serve, pour 2 tbsp (or more, to taste) of pineapple syrup into iced tea and stir to combine.
Nutritional information is provided as an estimate. As it can vary due to many factors (brands used, quantities, etc.), we cannot guarantee its accuracy.
Food Safety and Nutrition Disclaimer
P.S. Have you seen Chef John's videos before? I love them! They're informative and quick. Years ago my mom made a fab chicken parm dish that was out of our usual repertoire. I asked where she got the recipe from, and she replied 'Chef John '. I said who?? Chef John runs the Food Wishes blog, and I can honestly say that this has become a regular dish in our house. Here's the link to his Chicken Parm Casserole recipe, if you're interested! Mmmm.