This recipe for prosciutto-wrapped avocado crostini is your next favorite appetizer dish just waiting to happen. Lightly toasted baguette slices are topped with an avocado slice wrapped in prosciutto and drizzled with balsamic glaze. These crostini are crunchy, creamy, salty, and tangy all in one!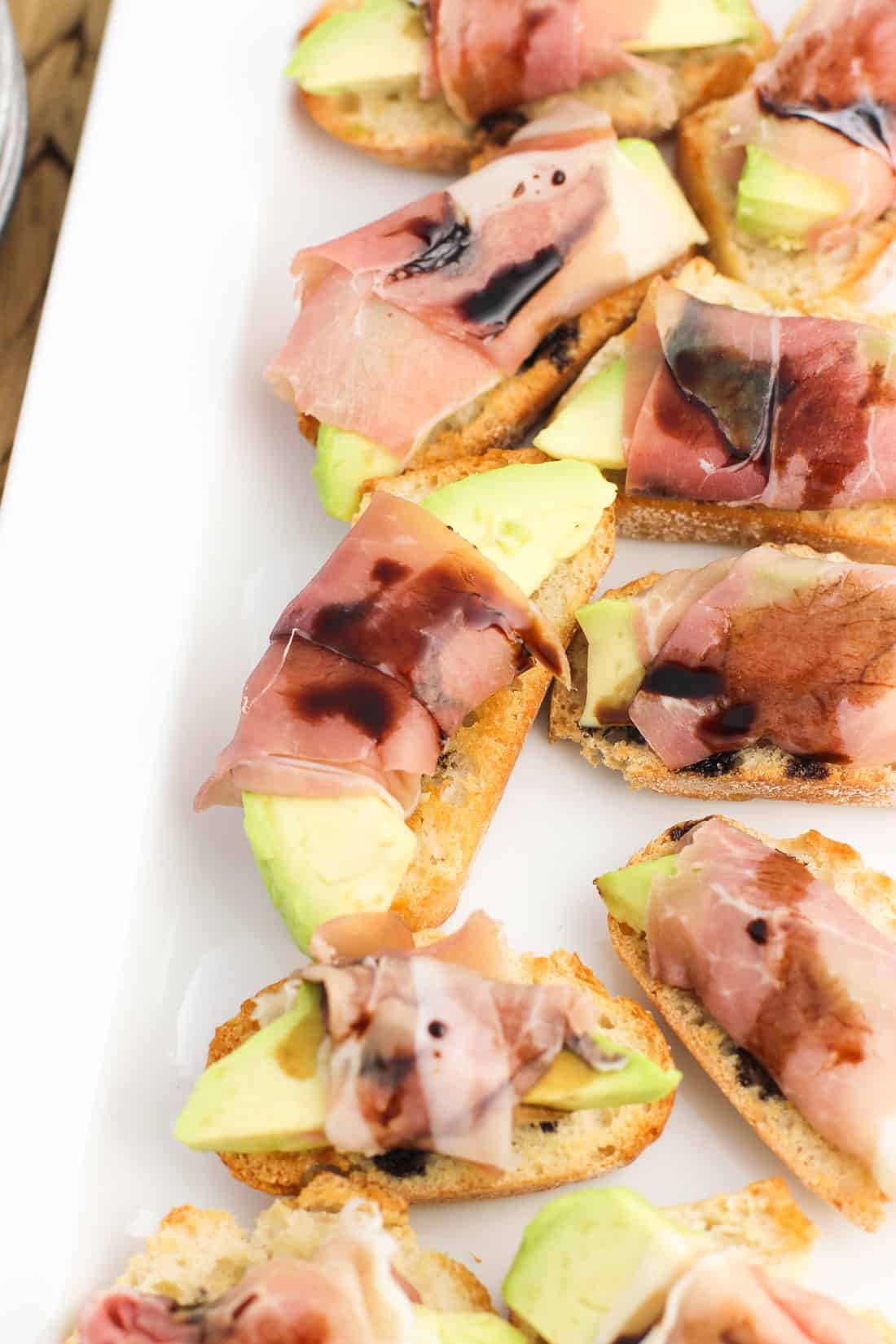 Crostini make wonderful appetizers — this we know. But they also make the best dinner with a side salad (and a glass of wine). I can personally vouch for the second scenario as we don't host that many dinner parties in our two-room apartment, so crostini for dinner is a thing I'm familiar with. Who can wait for entertaining for bite-sized appetizers that include all your favorite flavors?
Not me.
These prosciutto-wrapped avocado crostini are super simple to make. First you toast baguette slices brushed with a little bit of olive oil, and then slice your avocado into thin wedges and slice your prosciutto into strips. Wrap your avocado in a strip of prosciutto and place on crostini, then drizzle balsamic glaze over top for serving. That simple! Prosciutto is one of those foods I've designated as a special occasion ingredient, so I can wholeheartedly get behind an excuse to use it with these crostini. I don't know, something about it just seems more luxurious than normal. Fancy ham. 🙂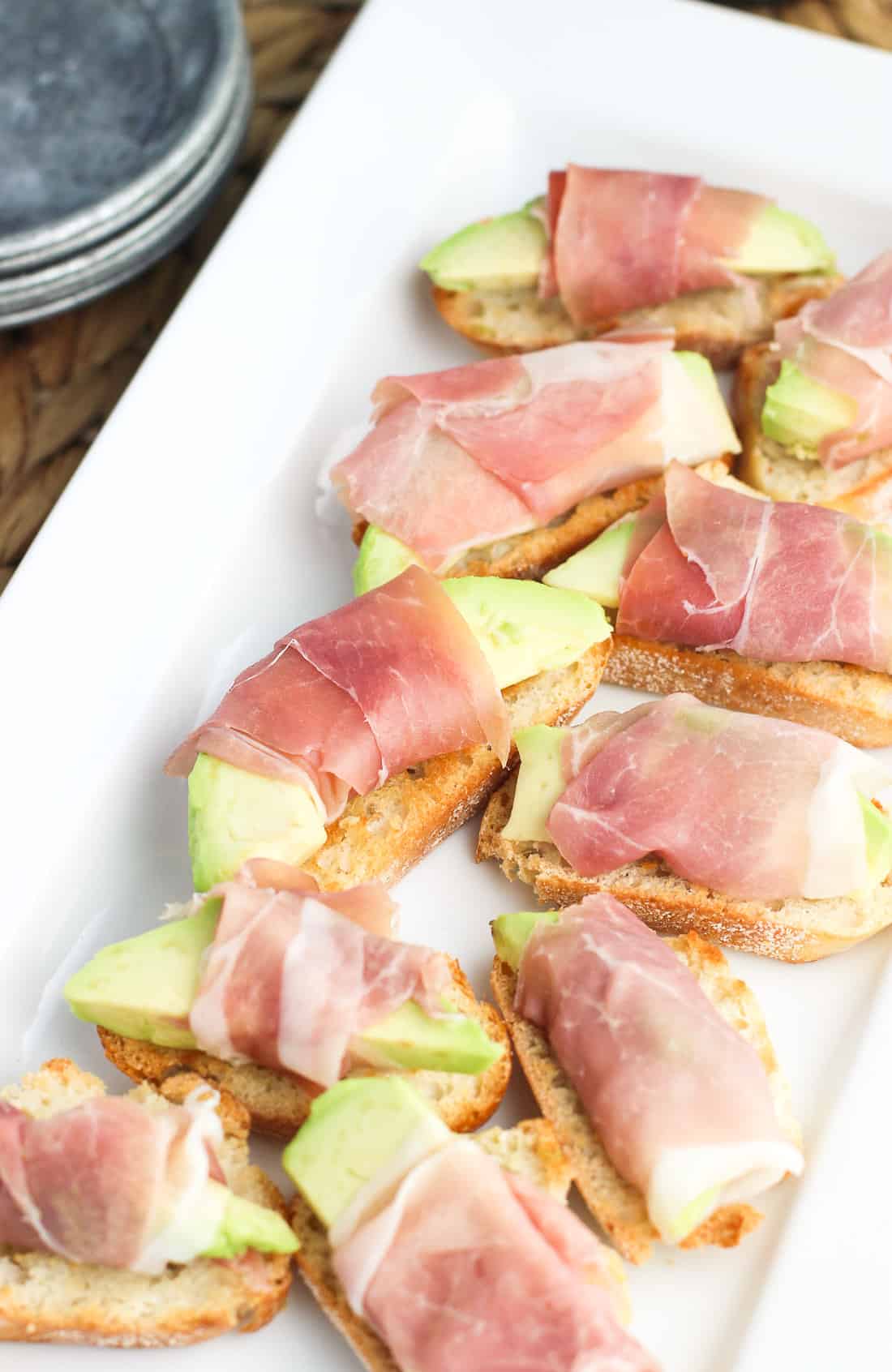 As the finishing touch you can use store-bought balsamic glaze, or you can make your own! I never thought to make my own before reading my friend Ashley's post on how to make balsamic glaze. Uhh guys, it's one ingredient – balsamic vinegar! I'm so glad to have a batch sitting in my fridge ready to roll for bread dipping and the occasional crostini-for-dinner situation, like these babies.
And speaking of babies…
Some of my closest blogging friends and I have gotten together to celebrate one new mama and two mamas to be – Natalie, Isadora, and Jess. ♥♥♥ Besides warm wishes, hugs, and inevitably a cake inscribed with "showers of happiness", what better way to mark the occasion than throwing a virtual baby shower! Below the recipe for these prosciutto-wrapped avocado crostini, check out the other bite-sized appetizers and desserts my blogging friends have shared today!

Prosciutto-Wrapped Avocado Crostini with Balsamic Glaze
Yield:
4-5 appetizer servings
Ingredients
Half of a large baguette loaf
2 tbsp olive oil, for brushing
1 ripe avocado, cut into slices
3-4 prosciutto slices, cut into 1 1/2"-wide strips
Balsamic glaze (store-bought or homemade)
Instructions
Situate an oven rack near the top of your oven, leaving 4-5 inches from the top. Set oven to broil (see note) and let it heat for a few minutes.
Slice baguette on the diagonal in slices about 1/2" thick and brush both sides of each slice with olive oil. Place baguette slices on a baking sheet lined with foil in a single layer. Place sheet in the oven and let the baguette slices toast for 2-3 minutes, watching carefully as they can burn very quickly. Remove the sheet from the oven when the edges are browned and the tops of the baguette slices are golden, but still a little bit soft to the touch. Let cool as you prep the rest of the ingredients.
Slice avocado into thin wedges and slice each piece of prosciutto into three equally-sized strips, length-wise. Wrap each avocado wedge with a strip of prosciutto. Place prosciutto-wrapped avocado wedge on a piece of toasted bread.
Before serving, drizzle balsamic glaze over top of each crostini.
Notes
My oven gives me the option to select a broil temperature. In this case I set it at 500 degrees F.

This recipe is certainly adaptable to serving size. Feel free to increase the quantity of ingredients to feed your crowd!
Caprese Cups – Pumpkin 'N Spice
Almost No Bake Pineapple Squares – The Recipe Rebel
Key Lime Cheesecake Bars with Coconut Macadamia Crust – Flavor the Moments
Lemon Macarons – Life Made Sweeter
Lemon Lime Bars – Bake. Eat. Repeat.
Chocolate and Salted Caramel Swirled Meringues – Floating Kitchen
Mediterranean Stuffed Mini Peppers – Kristine's Kitchen
Mini Chocolate Bundt Cakes – My Kitchen Craze
Pepper Jack and Bacon Stuffed Cherry Tomatoes – A Latte Food
No Bake Baileys Smores Mousse Cups – With Salt and Wit
Strawberry Shortcake Bread – Maebells
Banana Cream Pie Dessert Nachos – Whole and Heavenly Oven
Lemon Cream Pie Bites – Bakerita
Balsamic Strawberry Wonton Bites – Sweet Peas & Saffron