As an accountant, it's no surprise that I think about numbers, a lot. Even in my personal life, I'm a unit-price-calculating, Excel-formula-using machine. There's a picture floating around of four-year-old me sitting at the kitchen table with a calculator and a bank statement (doing my first bank reconciliation, I'm sure), and at roughly the same age I proudly declared while at the bank that interest is "when your money makes money".
I don't think my future career path shocked anyone. Sometimes though I'll just be wowed by the artistic prowess of others, their ability to debate philosophical issues, and other right-brained talents and wish for a moment my brain dabbled in those waters. Then I'll snap out of it, probably resuming my thoughts on how I'd go about quantifying the number of pizza slices I've eaten in my life or something like that.
That calculation may take awhile, but here's an easy one: How many times have I eaten homemade pretzel crust pizza, brushed with olive oil, piled high with garlic, fresh basil, bacon, thinly-sliced potatoes, and parmesan cheese?
None, before this baby! And I sure am making up for lost time.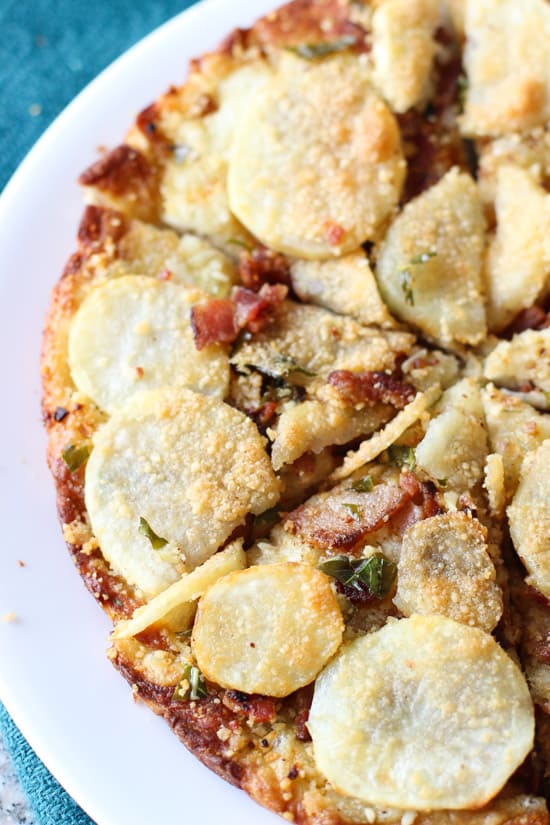 Let's talk about the pretzel crust going on with this pizza. I mean, as if I couldn't love pizza crust more. With each bite you can taste the signature soft pretzel flavor shining through. Adding this whole new dimension to your homemade pizza isn't difficult, and only takes two ingredients I'm betting you already have in your kitchen - baking soda and water. You mix the two together in a large sauce pan (large so that it doesn't bubble up) and bring to a boil. Then you dip your uncooked dough for 15-20 seconds per side, let drain and cool off for a sec, then press into the pan as usual. It won't look like anything has happened right off the bat, but after a few minutes in the oven you'll begin to notice the pretzeling (is that a word?).
Crisp, crunchy, and pretzel-y - just how I like it!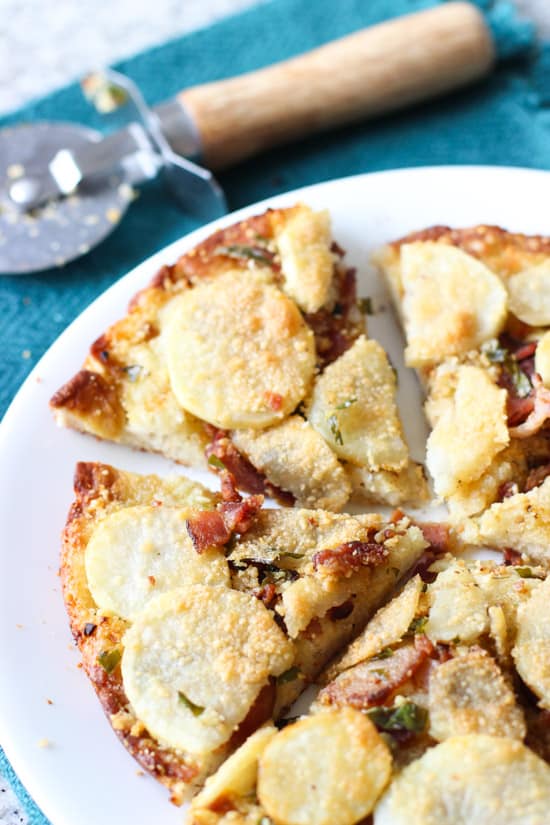 Besides being a crust girl, I'm also a sauce girl, which makes this sauce-less pizza a little bit atypical for my saucy taste buds. With all of the great flavors going on here, you won't miss it though - I promise! The brush of olive oil prevents the crust from being dry, so I suggest not being stingy with it. I mean, it's heart-healthy and all that, right? 🙂 Garlic and basil are also on the more traditional side as far as pizza toppings go for good reason (I mean hello, delicious!), and then there's bacon, which really doesn't need any praise because if ya know, ya know.
Topping the pizza are thinly-sliced potato slices, more olive oil (because), and a heavy sprinkle of Parmesan. Thankfully this pizza is baked in a 9" round baking pan, so the odds of scarfing down a much larger quantity than intended because it tastes too good are diminished. B and I split one of these pizzas and with a side salad, were optimally content for dinner. Though note that the crust recipe yields enough for two of these pizzas. If you have two 9" baking pans, two potatoes, and six slices of bacon...willpower be warned.
Perfectly portioned, pretzel crust pizza with potato, (bacon), and Parmesan. Om and nom. Hope you enjoy a delicious dose of alliteration soon. 🙂
Pretzel Crust Pizza with Potato, Bacon, and Parmesan
Print
Pin
Rate
Servings:
1
9" pizza, see note for crust servings
Ingredients
For the crust:
2

cups

all-purpose flour

or half whole wheat if you prefer

½

teaspoon

sugar

2 ¼

teaspoon

active dry yeast or

1 envelope instant yeast

1

teaspoon

salt

¾

cup

warm water

approx. 110-115°F

1

tablespoon

olive oil

plus additional for coating bowl

5

cups

water

⅓

cup

baking soda
For the toppings:
1

potato

peeled and very thinly sliced

1

teaspoon

salt

1 ½

tablespoon

olive oil

approx.

3

teaspoon

minced garlic

3

slices

bacon

cooked and crumbled

10-12

fresh basil leaves

chopped

¼

cup

Parmesan cheese

or to taste

Olive oil

for drizzling
Instructions
Add flour, sugar, yeast, and salt to a mixing bowl and stir to combine. You may also use a stand mixer. Pour in ¾ cup warm water and 1 tablespoon olive oil while stirring (or while the stand mixer is running), until dough becomes cohesive. If dough is too crumbly and dry, add additional warm water about 1 tablespoon at a time until dough reaches the desired consistency. If dough is too wet, add extra flour a small amount at a time.

Work dough into a ball and turn out onto a work surface that has been dusted with flour. Lightly knead the dough, then add to a clean bowl that has been coated with olive oil. Cover, and let dough rise in a warm area for about one hour.

Once dough has doubled in size, turn out dough and divide into two equally-sized, round portions.

In a large saucepan, add 5 cups of water and ⅓ cup baking soda and stir to combine. Bring mixture to a boil. Dunk one dough section in boiling water mixture , flipping after 15-20 seconds and allowing the other side to boil for another 15-20 seconds. Remove dough from water and allow to drain and cool on a wire rack for a minute or two.

Grease a 9" round baking pan with olive oil or cooking spray and add the dough portion to it, pressing dough evenly along bottom of baking pan.

Peel and thinly slice potato, sprinkle 1 teaspoon of salt over slices, and let slices sit while you prepare the rest of the toppings.

Preheat oven to 475°F. Over top of the pizza dough, brush about 1 ½ tablespoon of olive oil. Add minced garlic and spread evenly over dough surface. Sprinkle bacon crumbles and basil, then arrange potato slices in as close to a single layer as you can over the pizza surface, then drizzle some olive oil over potato slices. Sprinkle Parmesan cheese over top of potatoes.

Bake pizza for approx. 15-20 minutes, until the Parmesan and potato edges brown, and the crust has firmed.
Notes
Crust recipe yields enough dough for two pizzas cooked in a 9" round baking pan. If only cooking one, you can wrap one in plastic wrap and freeze.
Nutritional information is provided as an estimate. As it can vary due to many factors (brands used, quantities, etc.), we cannot guarantee its accuracy.
Food Safety and Nutrition Disclaimer