Guys, I'm deep in the throes of a snack attack. A serious snack attack. We made quick work of our trail mix, so we've moved on to these peanut butter chocolate chip pretzel twists, drizzled with a vanilla icing.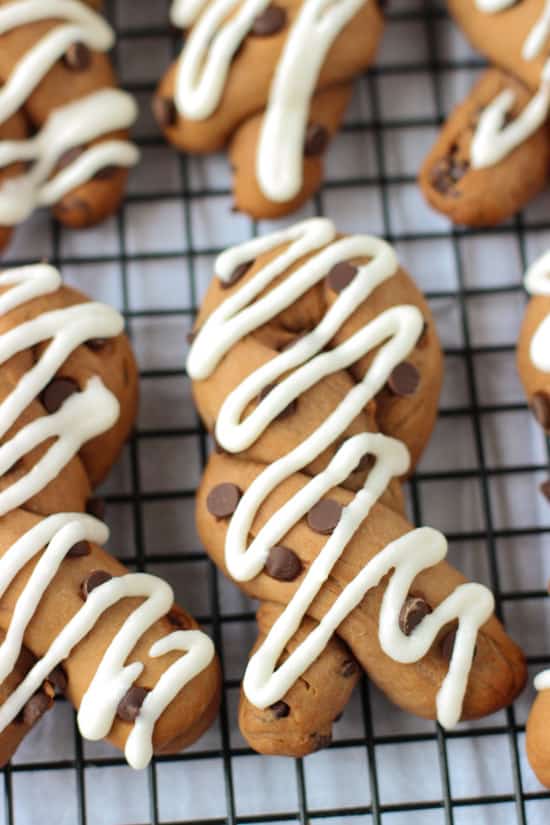 We loved all those we've been shoving in our faces eating, buuuut no one's complaining about having these soft pretzel twists hanging around.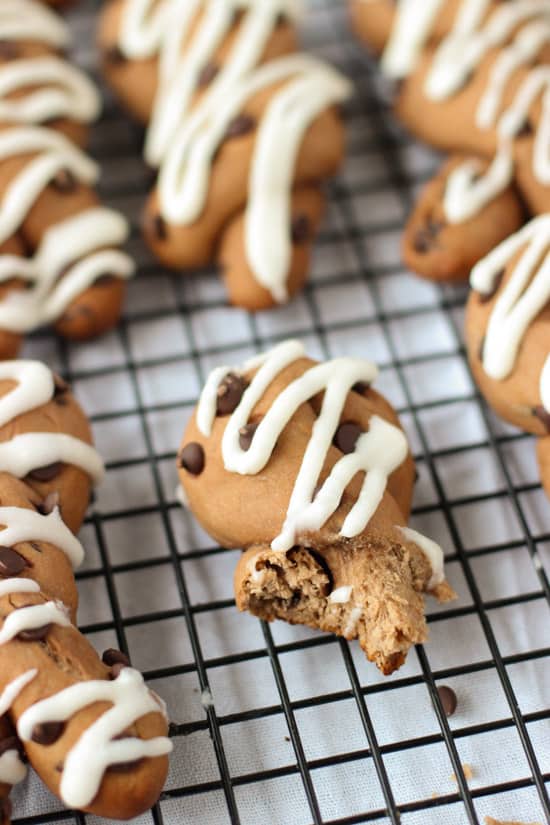 These twists feature a peanut butter dough and mini chocolate chips, which is a pretty irresistible flavor combo if I do say. I think you could spread PB and chocolate on a plank of wood and I'd eye it up for a sec or two before walking away.
I hope I'd walk away.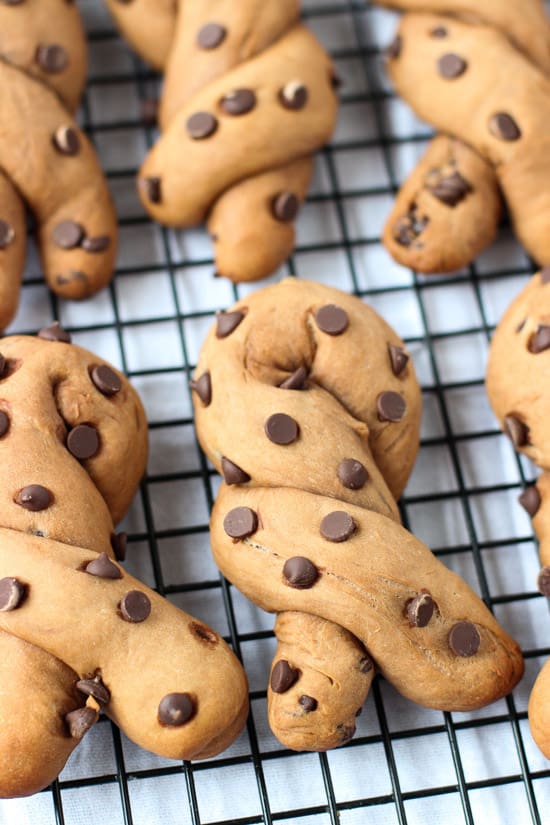 Thankfully we don't need to contemplate the wood splinter potential with these babies. They're soft and chewy to make for a satisfying snack, and the peanut butter flavor shines through just the right amount!
I will say that while the icing sweetens these pretzels up a great deal, they aren't exceedingly sweet on their own. Instead of snacking on sugary treats anytime through the day (aka my whole month of December), I'm attempting to reserve desserts and snacks heavier on the sugar for an after dinner treat. A few weeks in and I'm sticking to it! To compromise here I kept a few pretzels without icing, iced a portion of the batch with a smaller, more conservative amount of icing, and really let loose icing-wise on the rest.
Some pretzels for breakfast (delish smothered with extra PB might I add), some for midday snacking, and some for dessert. You know, just like that Bagels Bites commercial –"Pretzels in the morning, pretzels in the evening, pretzels at after suppertime.." 🙂
Ingredients
For the Pretzels:
1 1/4

cup

warm water

110°F

4

tsp

active dry yeast

1

tsp

granulated sugar

3-4

cups

all-purpose flour

see note

1/2

cup

brown sugar

1 1/2

tsp

salt

1

tbsp

canola oil

1 1/4

tsp

vanilla extract

1/2

cup

creamy peanut butter

1

cup

mini chocolate chips

plus more for decoration
For the Icing:
3

tbsp

unsalted butter

at room temperature

1 1/2

cup

confectioners' sugar

1/4

tsp

+ 1/8 tsp vanilla extract

2-3

tbsp

milk

or just enough to provide desired icing consistency
Instructions
To a bowl, add warm water, then yeast and granulated sugar. Stir, then let sit so the yeast can activate and become frothy (approx. ten minutes).

In a separate, large bowl, stir together 3 cups of flour, brown sugar, and salt. Pour yeast mixture into flour mixture, along with canola oil, vanilla extract, and peanut butter. Stir and mix together until ingredients form a cohesive dough, adding additional flour by the tablespoonful as needed (see note). Mix in mini chocolate chips. Knead for a few minutes until dough is smooth (or use dough hook attachment on stand mixer) and forms a ball.

Spray another bowl with cooking spray and place dough in it, turning dough ball a few times so that it's evenly coated. Cover bowl snugly with plastic wrap and let dough rise for approx. one hour in a warm place.

Preheat oven to 400°F. Spray baking sheets with cooking spray and set aside. Portion out dough into sixteen evenly-sized sections. Roll each section into a long cylinder approximately 1/2" - 3/4" thick. Fold the middle of each pretzel rope in half and twist once or twice to create the twist shape.

Place pretzel twists on prepared baking sheets and press additional chocolate chips into top of pretzels. Bake 8-10 minutes, or until bottoms of pretzels have browned and tops have crisped. Let cool on wire rack.

Once pretzels have cooled, cream together butter, confectioners' sugar, vanilla extract, and milk for the icing. Transfer icing to a plastic bag and snip off the corner. Pipe icing in your preferred pattern over top of pretzels and let harden before serving (or don't!).
Notes
Begin with 3 cups of flour and add additional flour, by the tablespoonful, until dough reaches your desired consistency.
Nutritional information is provided as an estimate. As it can vary due to many factors (brands used, quantities, etc.), we cannot guarantee its accuracy.
Food Safety and Nutrition Disclaimer
Pretzel recipe adapted from Allrecipes
Icing recipe by Allrecipes