A few simple ingredients take Parmesan Marsala Sauteed Kale to the next level. Kale sautés in a Marsala wine and Parmesan mixture with a little bit of cream for a flavorful, ultra satisfying side dish.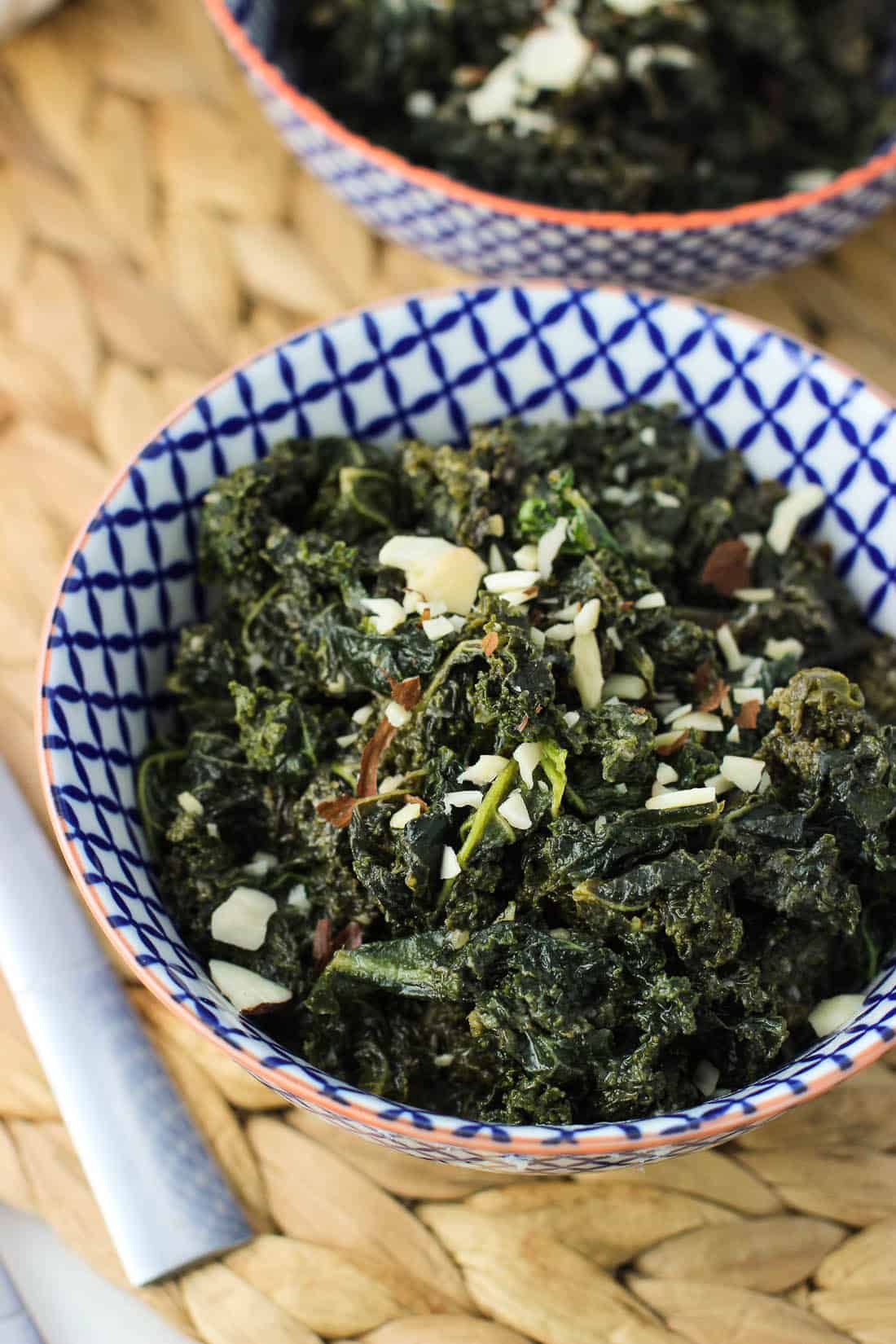 I can't remember a time in which I've been so excited to talk about a leafy green vegetable. Kale is one of those foods I want to high-five myself after eating because 'yes! that was healthy'. Typically I keep it simple with kale - sauté with a little garlic and olive oil and call it good - but adding a few ingredients transformed a pretty good side into an OMG GREAT side that was too good not to share.
This kale will be in both my regular dinner side dish rotation and my holiday menus, and it's not off the table that it could make an appearance as a part of my lunches, too.
Recipe ingredients
Surely these photos don't do this kale justice. I'm well aware they just look like kale...in a bowl. But what these photos don't convey is the bold Marsala flavor absorbed by the kale, made velvety smooth by a hint of cream and grated Parmesan cheese.
You can use whichever type of kale greens you like to cook with, but standard curly kale is my pick. Bonus that it's the easiest variety to find in the grocery store, too.
Now this may be controversial on some corners of the foodie Internet, but (at least of the date of this writing) I don't have big opinions on which kind of marsala cooking wine to use for this sauteed kale recipe. I go for whatever's on the cheaper end at the grocery store and have no complaints. While I see the argument for avoiding cooking wine entirely and using instead drinking wine in some recipes (like in Italian sausage and peppers - yum), this fairly basic kale recipe isn't one where I'd go that route.
The rest of the ingredients are basic basic, including olive oil, garlic, salt and pepper, cream, and Parmesan cheese. Other hard Italian cheese varieties, such as Pecorino Romano, would work just fine, too. Top it all off with crunchy almond pieces (optional, but recommended) and you have yourself a crave-worthy, healthy side dish.
(To be honest, every time I've made it I've wolfed it down before even glancing at the main dish.)
Easy recipe steps
You know the drill if you've cooked with kale before, but the size of the bunch is deceptive. It looks huge! But kale reduces significantly as it cooks, so a skillet will be able to handle a whole bunch. Just add the kale in 3-4 batches, filling up the skillet initially but adding more as the kale wilts down in the olive oil and garlic and room opens up.
Once all of the kale has made it into the skillet, season it with salt and pepper and start adding the cooking liquid. In first goes the marsala, the flavor of which shines prominently throughout. After several minutes of cooking down, reduce the heat to low and add the cream and Parmesan.
While there's a bit of cream involved, the sauce won't be creamy. In fact, there's really no sauce here at all, rather a highly flavored cooking liquid that gets absorbed by the kale as it cooks. I have to resist the urge to drink the leftover cooking liquid straight up.
Every time I've made this sauteed kale with garlic and Parmesan, we've polished off the entire recipe as a side dish to dinner. I realize our voracity for kale might be greater than average, so in the recipe card below I have the serving size listed as 2-4 side dishes, but that may vary depending on your crowd.
See the notes below the recipe for a tip on how to prep the kale, and a few substitutions I've made in case you run out of something or want to use up ingredients you have on hand. As with many recipes on this site, there's some wiggle room here!
Related recipes
Another kale side dish we can't get enough of? This Greek yogurt kale caesar salad. The dressing is made healthier and there aren't any raw eggs to mess around with. It's SO great as a base for the protein of your choice in a main dish recipe, too.
Kale makes a wonderfully hearty addition to potato and white bean soup, as well. A better-for-you healthy ingredient sneaks into this one to make it extra filling.
Parmesan Marsala Sauteed Kale
A few simple ingredients take Parmesan Marsala Sauteed Kale to the next level. Kale sautés in a Marsala wine and Parmesan mixture with a little bit of cream for a flavorful, ultra satisfying side dish.
Print
Pin
Rate
Ingredients
1

bunch

kale,

stems removed and sliced into pieces

3

tablespoon

olive oil

plus more if needed

4

cloves

garlic

minced or pressed

Salt and pepper

¾

cup

Marsala cooking wine

2

tablespoon

heavy cream

3

tablespoon

grated Parmesan cheese
Instructions
Rinse and prep kale. Add 3 tablespoon olive oil to a large skillet and heat over medium to medium-high heat.

When the oil is hot, add minced garlic and saute for 2 minutes, or until garlic is turning golden.

Add as much kale as can fit in the skillet comfortably. Stir the kale around as it wilts. When more room frees up in the skillet, add additional kale in batches, adding a little drizzle of olive oil additionally if needed. Continue until all kale is in the skillet.

Season kale with salt and pepper.

Once all of the kale is in the process of wilting, add Marsala to the skillet and stir, scraping up any bits of garlic that may be stuck to the bottom of the skillet. Let kale cook for 3-4 minutes as the Marsala begins to reduce.

Reduce heat to low and add the cream and Parmesan cheese. Stir. Let kale cook for an additional 5-6 minutes (or longer) to absorb the flavor, stirring occasionally, until all kale is soft and wilted.

Serve as it is, or with almonds sprinkled over top (optional).
Notes
To prep the kale: You'll want to discard (or use in some other way) the thick, center stem from each leaf of kale. To streamline this process, I gather all of the leaves towards each other to one side, making it easy to slice away the stem. Then I give the leaves a few slices and they're ready to use. Substitutions: In a pinch I've subbed in some sherry cooking wine when I didn't have a full ¾ cup of Marsala. I've also used half-and-half instead of cream on occasion. Great either way!
Nutrition
Calories:
242
kcal
|
Carbohydrates:
6.6
g
|
Protein:
3
g
|
Fat:
18.9
g
|
Saturated Fat:
5
g
|
Cholesterol:
17
mg
|
Sodium:
65
mg
|
Potassium:
248
mg
|
Fiber:
0.8
g
|
Sugar:
1.1
g
|
Calcium:
80
mg
|
Iron:
0.9
mg
Nutritional information is provided as an estimate. As it can vary due to many factors (brands used, quantities, etc.), we cannot guarantee its accuracy.
Food Safety and Nutrition Disclaimer