In an alternate universe, I'd be telling you about how deceptively lightened up and delicious this *huge* cookie is. How it's chock full of healthful ingredients. How it tastes sinful but is mid-afternoon hunger pang satisfying all the same. How you can, in fact, have your cake big healthy cookie and eat it, too.
This is not that cookie. My first thought upon biting into that cookie was, "Now I know what a rubber chicken tastes like." Nuh uh. Blegh. Whomp.
This cookie though. This is one big chocolate coconut cookie.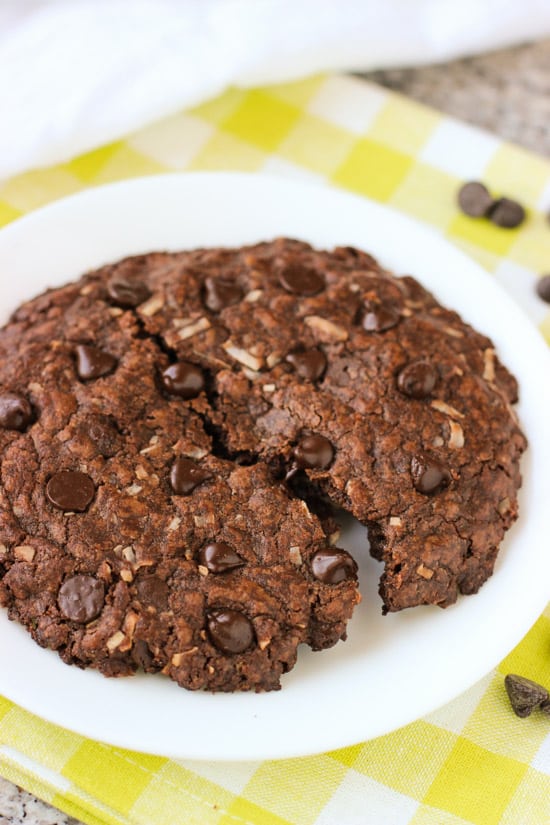 Rich and super chocolatey, this cookie has crisp edges and an ultra chewy middle made even chewier by coconut flakes. It's not exactly health food, but this recipe yields exactly ONE cookie, six inches across. Perfect for splitting with your +1 and not having to deal with the inevitable temptations to eat the rest of a huge batch. Yesssss!
After my healthy cookie flop, I was in serious need of something tried and true. And chocolate – I'm pretty much always in need of chocolate. So I scaled down my favorite chocolate cookie recipe, which first appeared on the blog with these chewy chocolate peanut butter chip cookies, and all my less-than-stellar-rubber-chicken cookie memories faded away.
This cookie base will please anyone in your crowd. It results in cookies (or in this case, a cookie) with crisp edges for your crust-lovers and a soft and gooey middle for your 'please-underbake-those-cookies' friends and fam. FYI, I'm in both camps.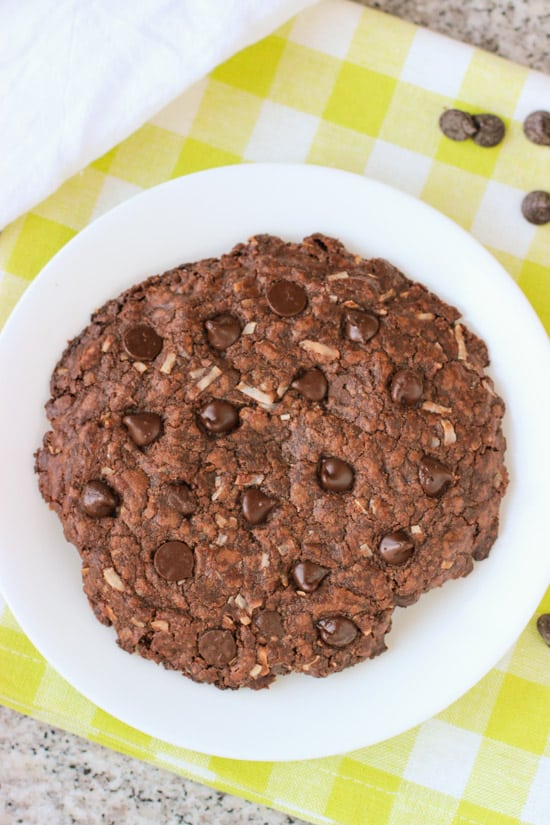 To jazz up the chocolate base, I added one-and-a-half tablespoons of coconut flakes for extra chewiness and flavor. I used unsweetened coconut flakes and was happy with the sweetness level, but feel free to use sweetened coconut if you prefer even more decadence.  And the chocolate chips? They were definitely getting added to the mix. I used semi-sweet but again – any and all would do here. Throw 'em in!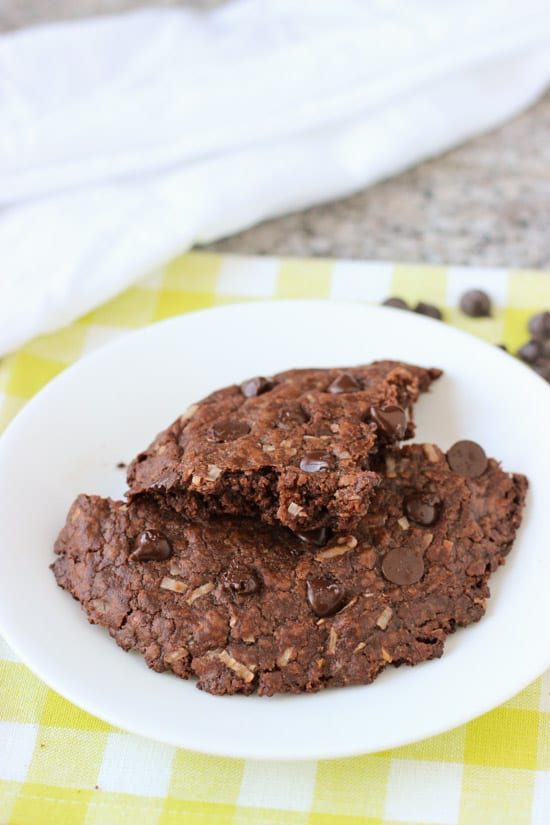 The one sort of awkward thing about scaling down a recipe? The egg situation. My cookie base calls for one egg which makes things tricky. To get out of portioning out an egg, I used a quasi-flax egg. I stirred together one teaspoon of ground flax seed and about one teaspoon of water (or enough to make it a cohesive mixture) and let it sit for a few minutes until it becomes a little bit gelatinous. This'll help bind things together sans egg (though you can use a part of an egg if you'd like – see recipe notes below).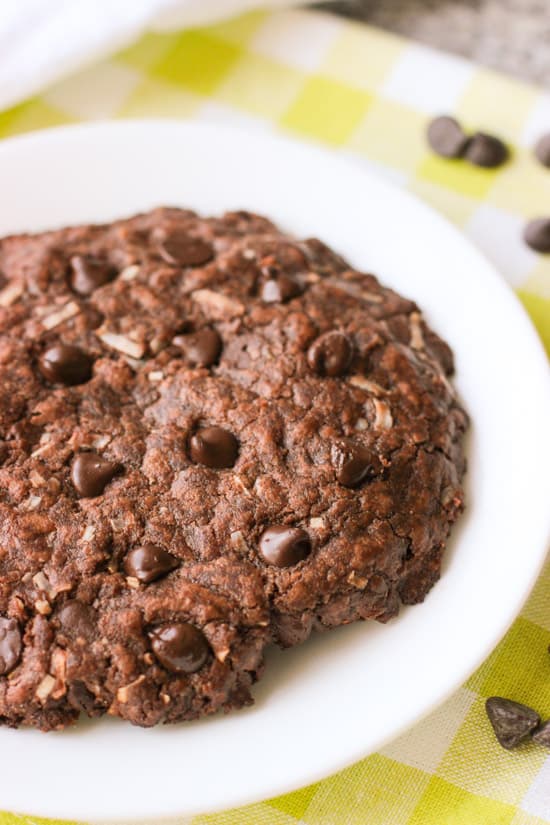 If your week is going anything like mine, this cookie is JUST what the doctor ordered. Give me allll the chocolate please (and in the form of this BIG cookie – no sharing – would be great, thanks ♥).
Oh and P.S. if you're looking for a solid rubber chicken recipe, let me know…I've got you covered.
Ingredients
2

tbsp

unsalted butter

at room temperature

2

tbsp

granulated sugar

1 1/2

tbsp

brown sugar

1

tsp

ground flaxseed

mixed with 1 tsp water and let to sit for a few minutes

1/4

tsp

vanilla extract

1/4

cup

all-purpose flour

1/16

tsp

baking powder

1

tbsp

unsweetened cocoa powder

1 1/2

tbsp

unsweetened coconut flakes

2

tbsp

semi-sweet chocolate chips
Instructions
Preheat oven to 325°F. In a small bowl, beat together butter, sugars, flax/water mixture, and vanilla extract until light and creamy. Add flour, baking powder, cocoa powder, coconut flakes, and chocolate chips and stir until ingredients are combined and form a cohesive dough, taking care not to over mix.

Press dough into a round cookie shape, approximately 1/2" tall, on an ungreased baking sheet. You may press extra chocolate chips into the top of the cookie for extra special presentation purposes, if you'd like.

Bake cookie for 18-20 minutes, or until edges have slightly crisped and the middle of the cookie is relatively firm when pressed. Let cookie cool for a few minutes on baking sheet, then transfer to a wire rack to cool completely.
Notes
*Mixing ground flax seed with water and letting mixture sit creates a flax egg, which is a technique that can be used in certain recipes in place of an egg. Because this is a small yield recipe, I used this method instead of measuring a portion of an egg. Feel free to use about one-third of an egg (approx. 1 tbsp of yolk and whites whisked together) if you don't want to go the flax route.
Nutritional information is provided as an estimate. As it can vary due to many factors (brands used, quantities, etc.), we cannot guarantee its accuracy.