Please meet my afternoon snack of choice as of late. No-bake honey maple cashew bars. Six ingredients + ten minutes = chewy and crisp, no-bake, and de-liiii-ciously flavored energy bars.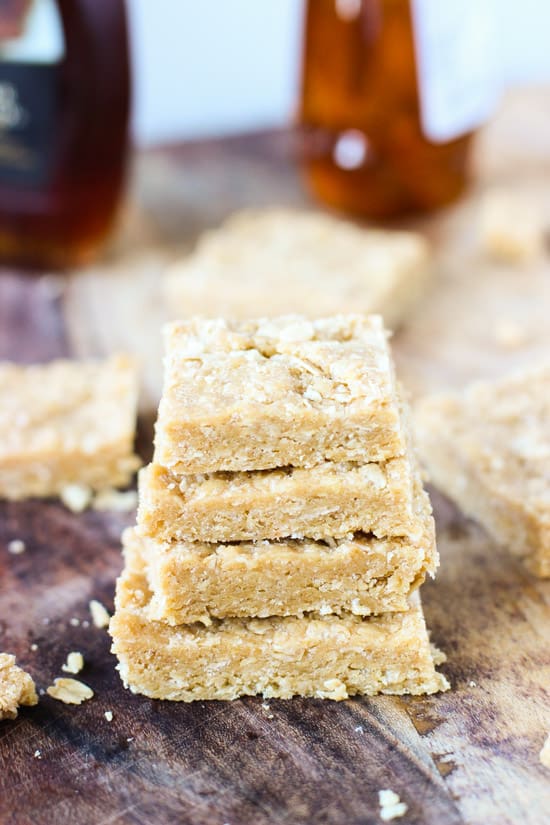 Can we talk about Starbucks for a second? And can I share a semi-embarrassing story? I work in an office building that has a Starbucks on the first floor. Temptation central. Every two weeks or so I'll treat myself to an afternoon latte, except for this week, because it was one of those that called for two.
Anyway, on this particular day the line is huge and it's really loud as I'm giving my order. I order my tall skinny vanilla latte and wait around for about ten minutes. Finally I hear them announce a tall skinny vanilla latte for "Melissa", which to be honest is usually the name the barista hears when I say "Alyssa". I pick it up and start to leave, when I get the feeling that someone's following me. There is, turns out it was Melissa wanting to know why I'm holding her tall skinny vanilla latte. Whooooops! All eyes on me, the great big coffee thief. I handed the goods over, only to pick up another tall skinny vanilla latte for – wouldn't you know it – "Melissa" a few seconds later. Sheesh.
I bolted back upstairs to my desk to drown my embarrassment in said latte and two of these fab honey maple cashew bars. Comfort snacks.
As long as you have a food processor, these bars are a cinch to make! You throw some cashews, honey, maple syrup, and a smidge of vanilla extract in there and let 'er rip! At first the cashews will be chopped into little pieces, then they'll start to combine with the wet ingredients, and within a minute or two you'll have a slightly sticky and wet cohesive mass of cashew deliciousness. All that's left is to press in the puffed rice cereal and oats so they're well integrated, press mixture into a pan, and slice!
Now that it gets dark at 4:40 pm, my stomach starts growling for dinner when I'm still at work. Not good. These bars are a perfectly tasty and nutritious snack to stave off the stomach growls. They're dense, chewy, and a little bit crisp (from the puffed rice), so you really feel like you're eating a substantial snack. I love that so much more than mindless carb grazing. If I threw my willpower out the window, I bet I could polish off a whole bag of Chex Mix and still be hungry an hour later.
Not going to happen with these bars!
Ingredients
1

cup

roasted cashews

2

tbsp

honey

2 1/2

tbsp

maple syrup

1/8

tsp

vanilla extract

1 1/2

cups

puffed rice cereal

1/2

cup

old-fashioned oats
Instructions
In a food processor, add cashews, honey, maple syrup, and vanilla extract. Process for a few minutes, until mixture becomes a cohesive, slightly sticky mass. The cashews will have very few (if any) tiny pieces remaining and the mixture might be a little warm from the processing (see note below).

Place cashew mixture into a bowl and add rice cereal and oats. Using your hands or a wooden spoon, if you prefer, work in the cereal and oats until combined evenly throughout the cashew mixture.

Press mixture into the bottom of a small pan, such as a 9" x 5" loaf pan. Depending on the consistency, you may prefer to refrigerate bars for 15-20 minutes before slicing to ensure they have solidified. Bars will hold up at room temperature, however if storing for several days, I'd keep them in the refrigerator in the meantime.
Notes
*Note: Step #2 may be easier if the cashew mixture is warm. If mixture isn't as workable as you'd like right out of the food processor, place cashew mixture in a small saucepan over low-medium heat until heated a bit. Then remove from heat and proceed with the cereal and oats.
Nutritional information is provided as an estimate. As it can vary due to many factors (brands used, quantities, etc.), we cannot guarantee its accuracy.