Dinner gets the fair share of the appetizer glory – who's to say brunch can't join in on the fun? Or breakfast for that matter. These little muffin bites are a sweet and new way to munch on muffins, cream cheese, and fruit for your A.M. meal. Crisp muffin chips are slathered with peanut butter & honey cream cheese, then topped with fresh strawberry slices. Little beauties ready to glam up your breakfast table or passed appetizer serving tray, even if you're feeling rather un-glam in your PJs and sporting wild hair precariously contained in a bun on the top of your head (or is that just me?) Oh, and can passed apps at breakfast please become a thing?
Zzzz…oh, sorry. Must have still been dreaming there. I'm pretty sure the sweet soul who would bring around passed apps for breakfast around here would be the unlucky recipient of shin splits from all the coffee refill trips.
So, let's talk about these muffin chips.
I've talked about having resilience in the face of desperation before in my how to salvage a recipe whoops post, when I butchered an experimental loaf of banana bread. Alyssa, if you throw together muffins that contain no fat whatsoever, don't be surprised if they're a bit dry. DUH. So my too-good-to-be-true muffin dreams were dashed, but I wasn't about to toss a dozen muffins. I sliced the muffins vertically into thin sections, placed them on a wire rack set over a baking sheet, then broiled them until they became crispy, flipping once mid-broil. Ta-da! Muffin chips.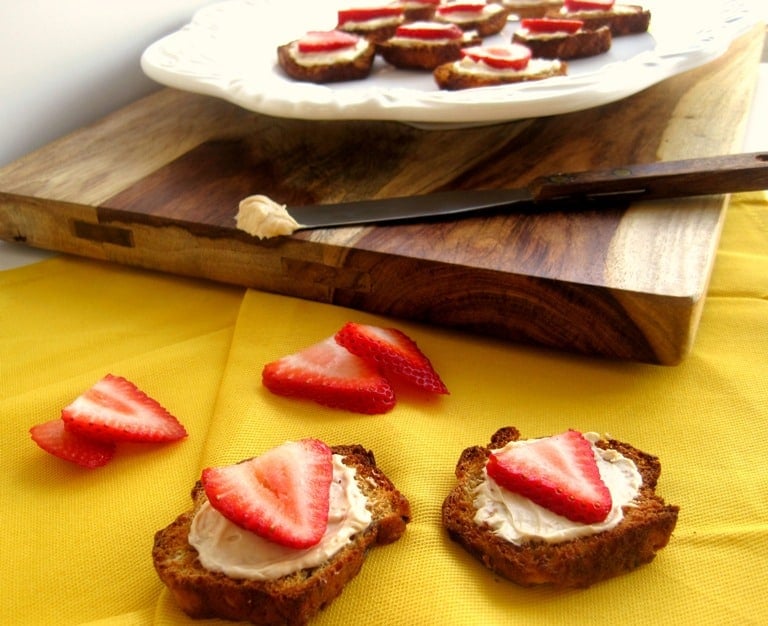 I'm certainly not suggesting you go through the trouble of baking muffins solely to slice 'em and turn them into chips. But if you have extra muffins or loaf bread hanging around that are on the verge of becoming stale, they would work perfectly. If none of the above applies, I bet cinnamon sugar pita chips would fit the bill, as well.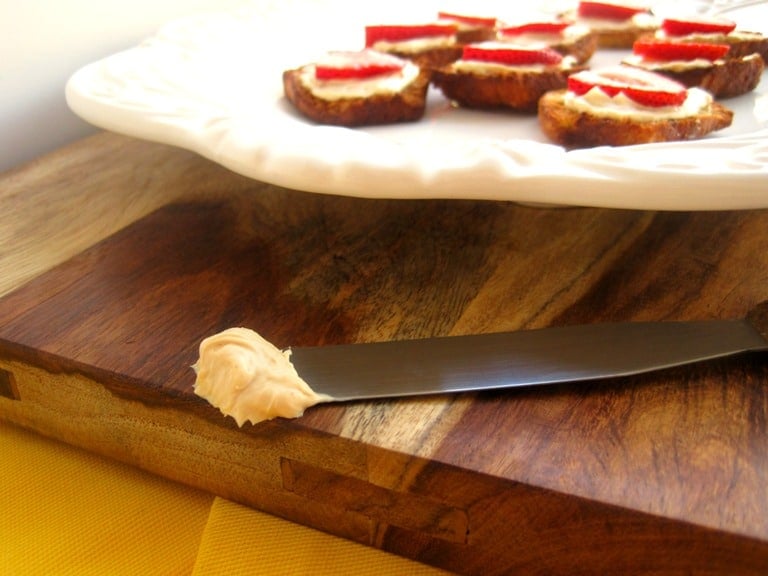 Now let's talk about this cream cheese. Super simple – peanut butter, honey, and cream cheese. Bet you couldn't have guessed. Taking those three ingredients for a spin with the electric mixer resulted in a creamy, fluffy spread that's way greater than the sum of its parts. And that's saying something, because PB = LOVE (at least now, anyway). Besides muffin chips, I'm betting this cream cheese would add pizzazz to bagels, toast, and any other vessel suitable for cream cheese you've got lying around your kitchen.
Spoonfuls straight-up? I'm not above that.
P.S. I could write volumes 2 through 10 of salvaging recipe whoops by now. Eeesh.
P.P.S. Ziplist – sigh Woohoo 2.4!
Muffin Chips with Peanut Butter & Honey Cream Cheese
Ingredients
12-15

muffin chips

bagel chips, cinnamon sugar pita chips, etc. (more or less as you see fit)

1/4

cup

cream cheese

4

tsp

creamy peanut butter

2

tsp

honey

Sliced fresh strawberries
Instructions
For the muffin chips:
Slice muffins vertically into thin slices, approx. 1/4" thick. Place muffin slices on a wire rack set over a baking sheet, and place under the broiler. Keep a close eye on the slices as they can go from perfectly crispy to waaaay too crispy in a short amount of time. Once edges are dark brown and top side of slices are crisp, flip and let other side broil until they are to the same doneness as the first side. Set aside to cool.
For the cream cheese:
Blend together cream cheese, peanut butter, and honey in a bowl with a hand mixer (or in the bowl of a stand mixer), until ingredients are mixed well and cream cheese mixture becomes whipped and fluffy.

Once muffin chips have cooled, spread cream cheese on one side and top with strawberry slices.
Nutritional information is provided as an estimate. As it can vary due to many factors (brands used, quantities, etc.), we cannot guarantee its accuracy.