This Maple Walnut Pull-Apart Bread is made with a simple homemade yeast dough and bursting with toasted walnut pieces covered in maple syrup. This pull-apart bread recipe uses coconut oil and almond milk to keep it dairy-free, and is sweetened only with maple syrup!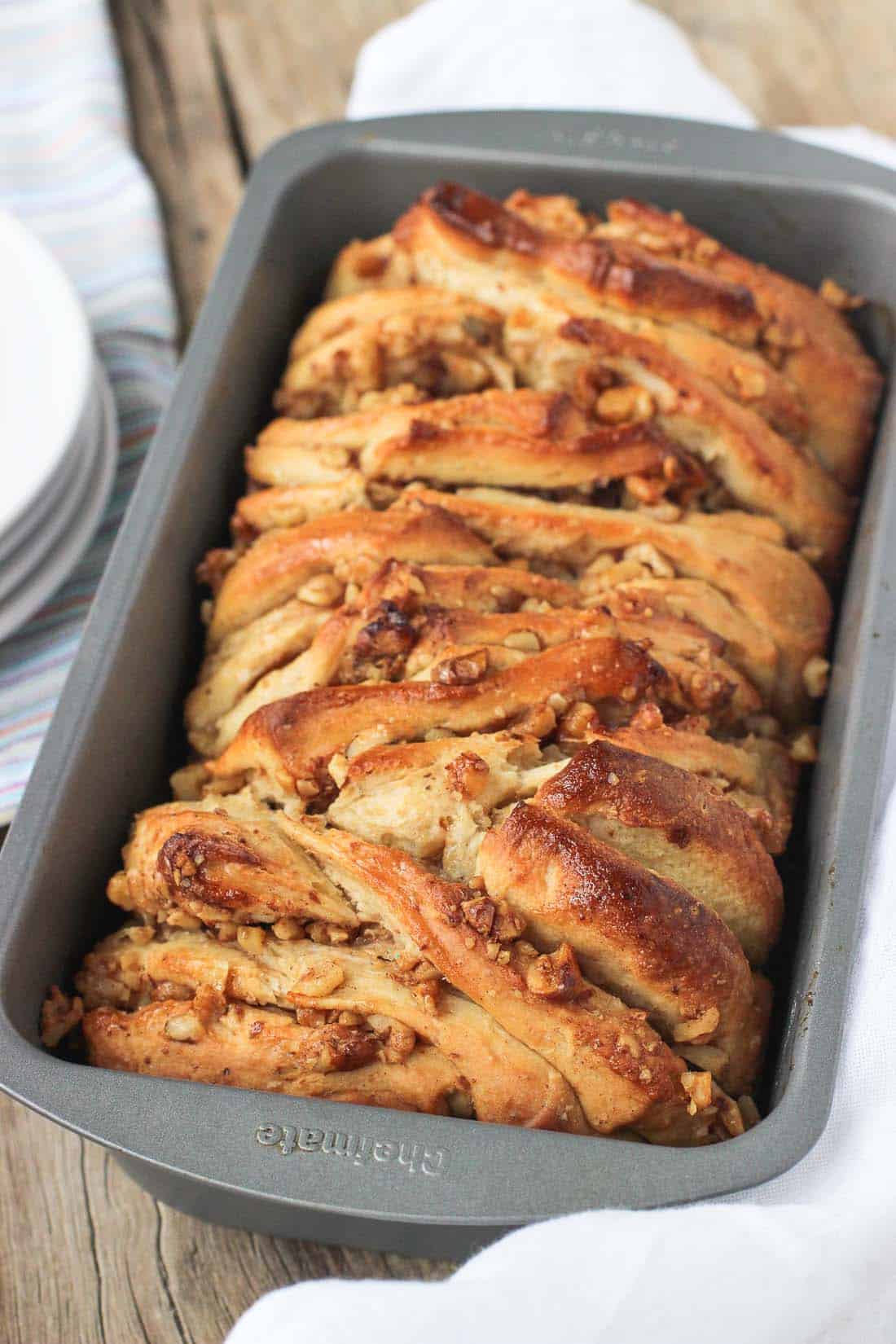 Never have I ever made (or eaten?) pull-apart bread prior to this fall. Never mind the fact that I have a serious number of amazing looking pull-apart breads on my Pinterest boards. Lately I've been trying to cross those "never I have evers" off my list (culinary ones, of course!), and pull-apart bread was the next to fall. See also slow cooker sweet potato soup and homemade pfeffernusse as others on that list!
Besides the obvious that these breads just look delicious, I love that there's a pull-apart bread recipe for everyone. Quick ones using pre-made dough or more time-intensive breads using homemade yeast-based doughs. You can lean savory (herbs! sauce! cheese!) or sweet (cinnamon! sugar!)...you name it.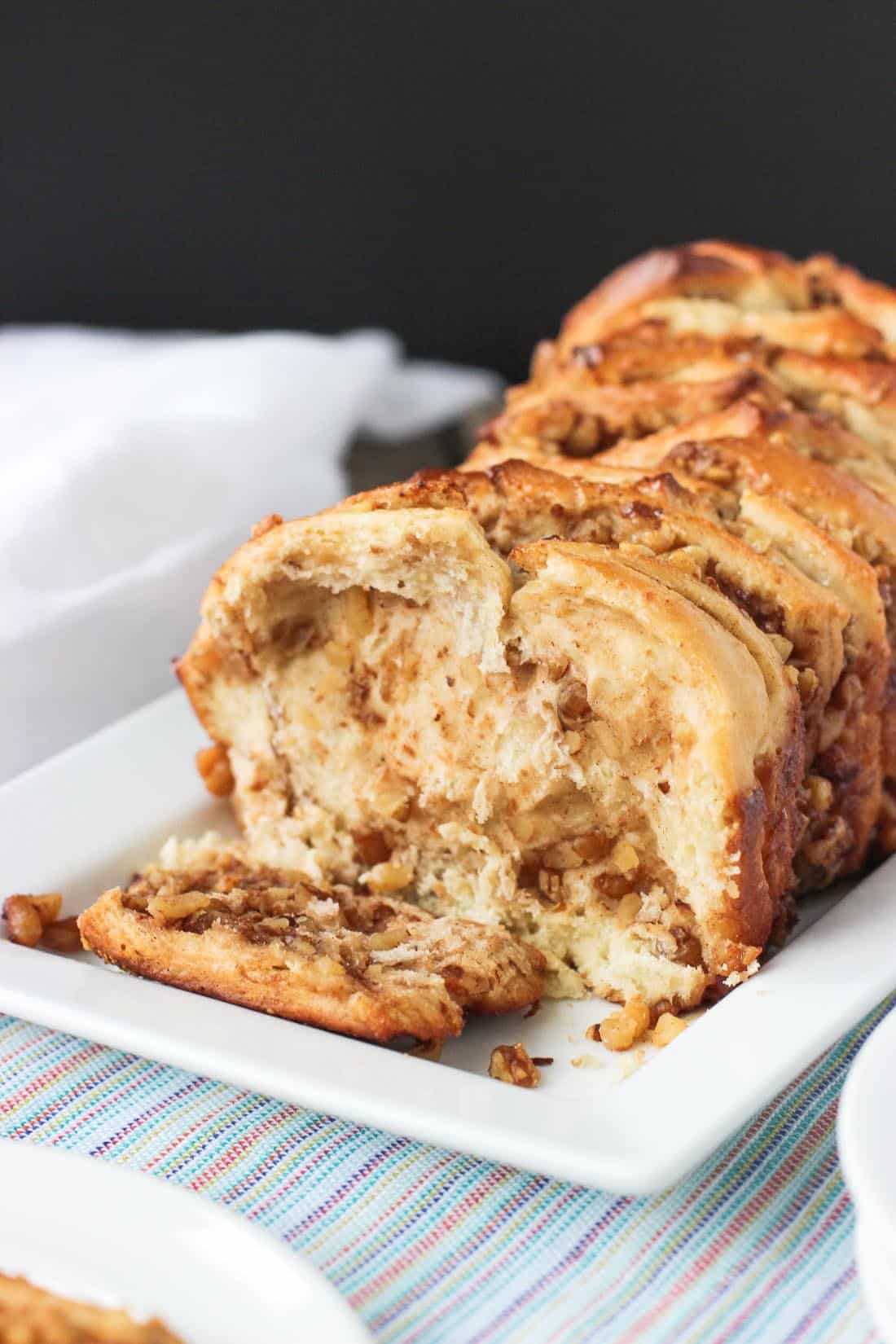 For my first foray into pull-apart land, I chose to make a sweet dough from scratch and stick with a maple walnut flavor. It's also sweetened solely with maple syrup, and coconut oil is used in place of butter making it dairy-free. Helloooooo pull-apart bread! I see you.
This dough is rich and tender, with maple-drenched toasted walnut pieces allllll over. Truly. There are about thirty pieces of dough all stacked together here, with that maple walnut mixture between each one. The magic of pull-apart bread. 🙂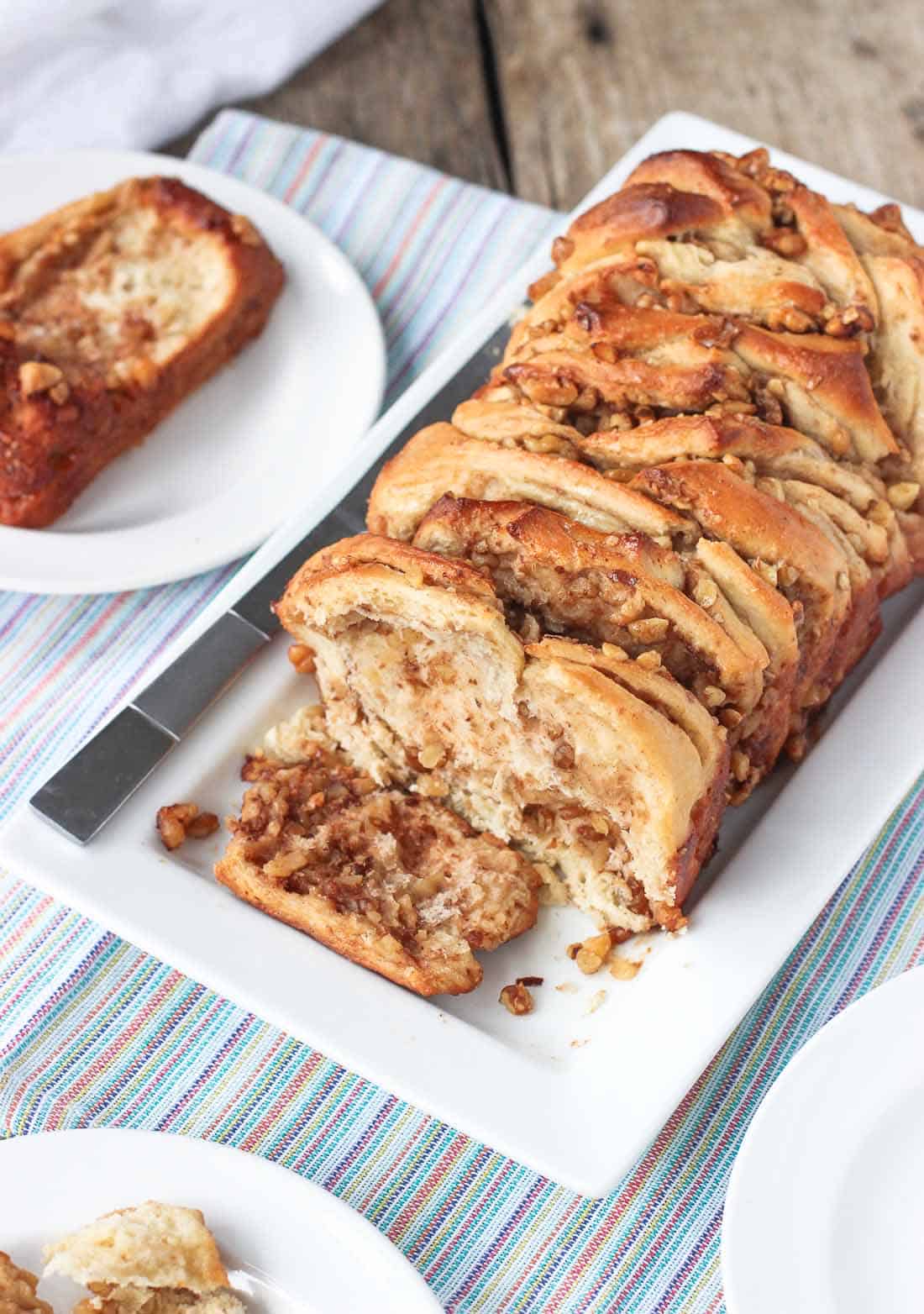 A simple yeast dough is let to rise, and then the fun begins in turning regular bread into pull-apart goodness. The dough is rolled out into a rectangle and brushed with melted coconut oil and a sprinkle or two of ground cinnamon. Then you'll spread the maple walnut mixture over top and cut the dough into four slices, length-wise. After you stack the strips on top of one another, you'll cut through them all to form roughly square slices. This'll leave you with about thirty pieces (give or take).
Now it's time to assemble everything! To make the next step easier, I tilted the (well-greased) 9" x 5" loaf pan on one of its small ends, letting it lean against the wall with a weighty bowl/candle/something in front of it to prevent it from sliding back down. Then you stack the dough pieces on top of one another in the loaf pan until it's filled. Simple enough, right? I'm already scheming how I can "pull-apart" everything.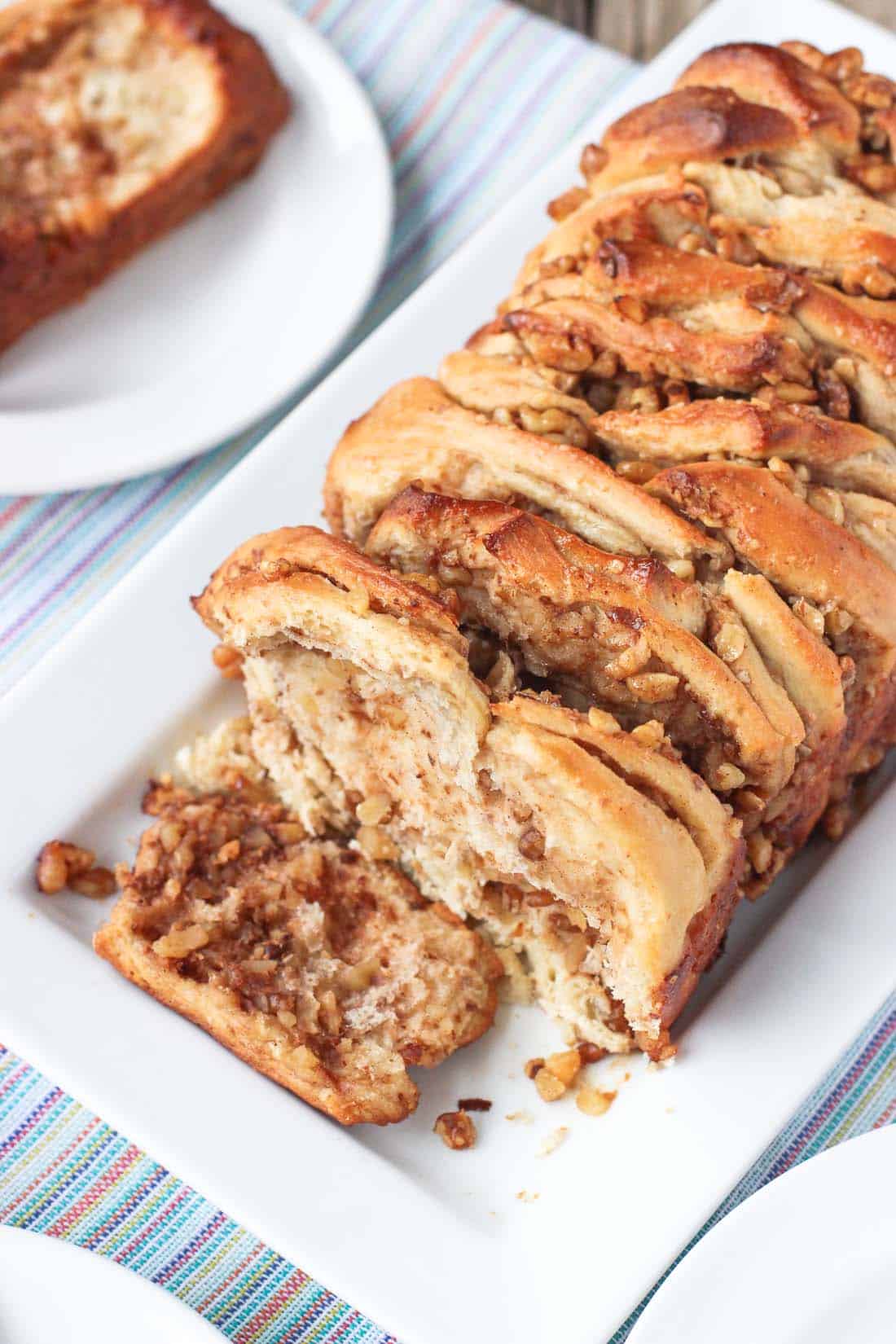 We enjoyed this bread any which way, but it's especially great when slightly warmed. This means it's go time as it cools a bit after coming out of the oven. After that, I suggest popping the pan into the oven for a few minutes to warm it. Or, let's say you're at work and only have access to a microwave. In that case you can quickly heat a slice (or two...) for a few seconds there. Either way will help bring back that flaky, just baked taste!
Recipe Notes
While this bread is on the sweet side (versus savory), it's not a super sweet, dessert-style bread. Those are obviously delicious, but I wanted to make something that wouldn't give me a sugar rush if eaten in the morning or as an anytime snack. If you'd prefer something sweet sweet, I'd suggest adding granulated sugar over top of the maple walnut filling mixture when you're spreading it on the dough.
When baking non-coconut flavored things, I typically use refined coconut oil as I've found it's flavorless - no coconut flavor will come through in the finished product. I'm aware that it doesn't have quite the level of benefits of unrefined ("virgin") coconut oil, but coconut wouldn't mesh well with a lot of flavors, including maple walnut.
Maple Walnut Pull-Apart Bread
This Maple Walnut Pull-Apart Bread is made with a simple homemade yeast dough and bursting with toasted walnut pieces covered in maple syrup. This pull-apart bread recipe uses coconut oil and almond milk to keep it dairy-free, and is sweetened only with maple syrup!
Print
Pin
Rate
Ingredients
For the Dough:
2 ¾

cups

all-purpose flour,

divided

2 ¼

teaspoon

active dry yeast

(one envelope)

½

teaspoon

salt

½

teaspoon

ground cinnamon

or more to taste

2

eggs,

at room temperature

¼

cup

coconut oil

¼

cup

maple syrup

¼

cup

milk

(I used almond milk)

¼

cup

water

1

teaspoon

vanilla extract
For the Maple Walnut Filling:
1

cup

chopped walnut pieces,

toasted

¼

cup

maple syrup

¼

teaspoon

ground cinnamon

plus extra for sprinkling

2

tablespoon

coconut oil,

melted
Instructions
In a large bowl, add 2 cups of flour, yeast, salt, and cinnamon. In a separate bowl, whisk together eggs. Set aside.

Set a small saucepan over medium heat and add ¼ cup coconut oil, maple syrup, and milk. Let heat until the coconut oil has just melted completely, stirring occasionally. Remove from heat and add water and vanilla extract. Stir to combine. Before proceeding you'll want the temperature of the mixture to be between 115-125 degrees F, so you may need to let the mixture sit for a few minutes until it reaches that point.

Pour wet mixture into the bowl with the dry ingredients and stir together. Add whisked eggs and stir until incorporated. Add the remaining ¾ cup of flour and work into the dough (it'll be sticky).

Place dough in a large, greased bowl and cover with plastic wrap or a kitchen towel. Place bowl in a warm place to rise for about one hour, or until the dough has doubled in size [see note]. While the dough is rising, toast the walnuts. Preheat oven to 350 degrees. Place walnut pieces in a single layer onto an ungreased baking sheet and bake for 5-8 minutes, or until the walnuts just become fragrant. Remove walnuts from the sheet to a bowl. Add ¼ cup maple syrup and ¼ teaspoon ground cinnamon and stir to coat the walnuts. Set aside.

Once dough has risen, preheat oven to 350 degrees F. Generously flour your work surface and rolling pin and roll out dough into a large, thin rectangle. Brush 2 tablespoon of melted coconut oil over surface of the dough and sprinkle extra cinnamon over top if you like. Spread walnut mixture evenly over top to cover the surface.

Cut the dough into four evenly-sized strips, lengthwise. Stack the strips on top of one another, with the walnut sides facing up. Cut the stack into 7 or 8 pieces. Grease a 9" x 5" loaf pan and add all pieces next to one another.

Bake for 28-35 minutes, or until the top of the bread is a deep golden brown. A deep color ensures the center of the bread is fully cooked. Serve while warm or reheat prior to serving for a flaky, just-baked taste.
Notes
Prep time includes one hour for the dough to rise.
Nutrition
Serving:
1
slice
|
Calories:
275
kcal
|
Carbohydrates:
32.1
g
|
Protein:
6.7
g
|
Fat:
14.1
g
|
Saturated Fat:
6.5
g
|
Cholesterol:
27
mg
|
Sodium:
113
mg
|
Potassium:
141
mg
|
Fiber:
1.7
g
|
Sugar:
8.1
g
|
Calcium:
20
mg
|
Iron:
2.2
mg
Nutritional information is provided as an estimate. As it can vary due to many factors (brands used, quantities, etc.), we cannot guarantee its accuracy.
Food Safety and Nutrition Disclaimer
Adapted from Joy the Baker's Cinnamon Sugar Pull-Apart Bread