Maple nut almond butter cookies are flourless, lightly sweetened, and chock full of maple goodness. A variety of chopped nuts are added to the batter for a simple and richly flavored, six-ingredient cookie.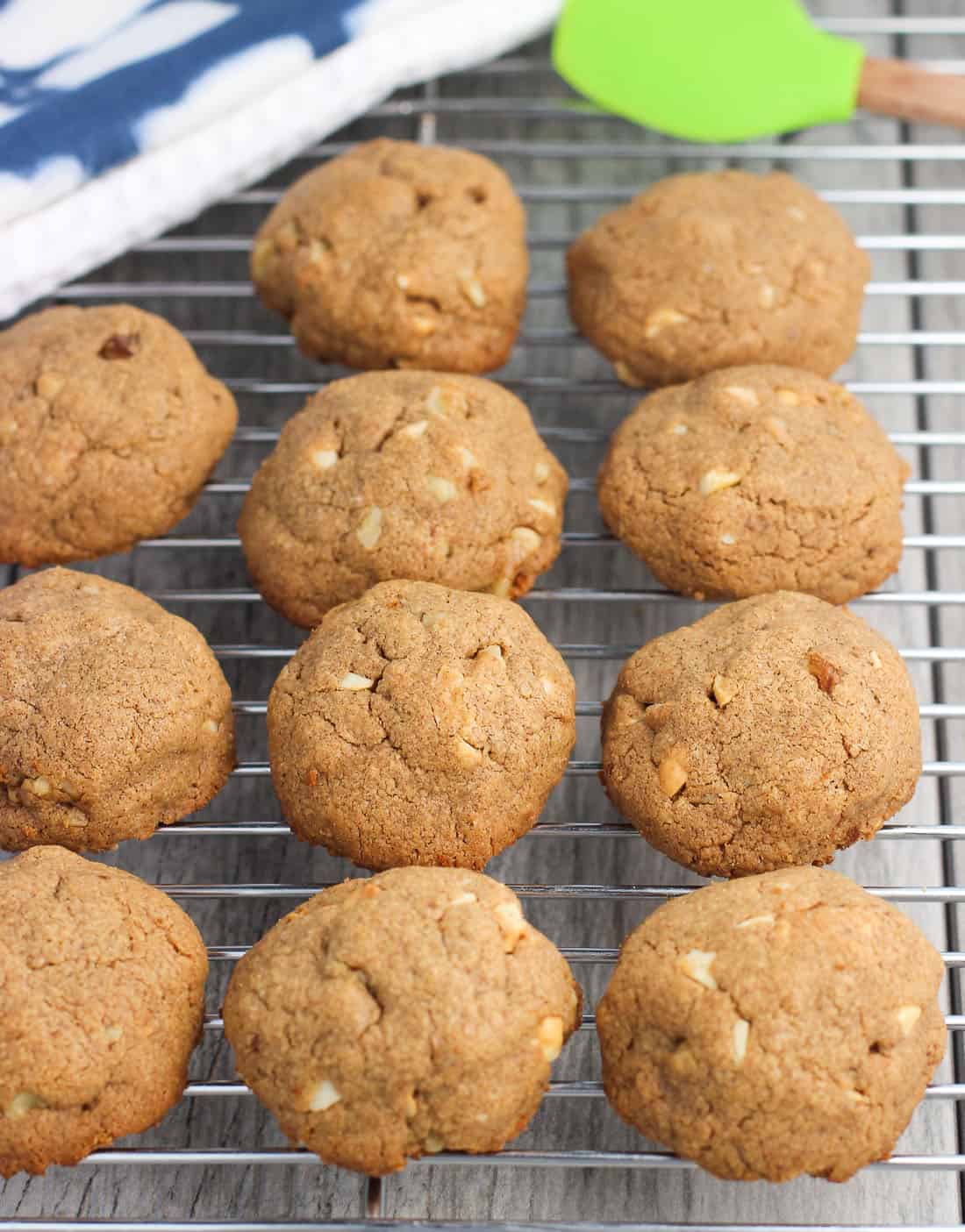 If you've been reading around here for any bit of time (thank ya!), you know I get into some serious food moods. A few weeks I'll be ALL about savory dishes and then look out – please point me in the direction of the cookies. All of them. Currently I'm in the heart-eyed emoji stage over cookies – specifically these maple nut almond butter cookies. They're flourless, lightly-sweetened, and full of maple nut flavor.
The beginning of each year tends to be a time for implementing all things new and aspirational, especially when it comes to evaluating your eats. This we know. This time around I decided to intentionally listen a little harder to my cravings when it came to my meals and snacks. Really, who's to say certain foods should only be eaten at certain times of the day? My thought was that if I gave my body what it was craving, I'd have greater satisfaction and be less likely to graze around for snacks in the kitchen. Of course everything in moderation, so if my cravings were prompting me to do two-a-days at the nearest ice cream shop I wouldn't oblige, but within reason? Yes.
Granted, this is all coming from an accountant and not a nutritionist, so take it with a flake of sea salt.
It's been a few weeks now and so far, so good! I've noticed I'm snacking less between meals which is a good thing. I've taken to bringing a kale and mixed green salad with cashews to work….for breakfast, and eggs + sweet potato hash browns for dinner. Cereal for dessert or a cookie for a mid-morning snack isn't off the table either.
Anyway, back to the ⭐️ of this post – these totally crunchable maple nut almond butter cookies. These cookies are flourless, which means almond butter is the foundation here. Something to note when it comes to baking nut butter cookies is that the oil content can sometimes cause the cookies to spread more than you'd like. When I bake with almond butter, I like to use a no-stir variety, A) because the oil tends to already be well-mixed instead of separated out at the top, and B) because it's usually a less expensive, simple kind. Save the fancy stuff like vanilla espresso almond butter for eating on its own! You can use whatever type you like, of course, but make sure the oil is really mixed in.
Just one-quarter cup of brown sugar is added to the almond butter, along with an egg and vanilla and maple extracts to form the base of these maple nut cookies. I used maple extract here instead of maple syrup because the extract has a more concentrated flavor, so you get all that great maple flavor without a ton of extra sugar from using syrup. Plus I wanted to keep the liquid ingredients in check to reduce the cookies from spreading. Extract for the win!
Technically you can stop right there and bake them up pronto, but I added a total of 1/2 cup of chopped nuts for a crunchy add-in that amps up the nut flavor big time. I had walnuts and roasted cashews on hand, so I added 1/4 cup of each. Add whatever type of nut you like! I pledge to test out multiple different versions in the coming weeks. Kinda like my food blogger duty, you know? 😉
Ingredients
1

cup

creamy almond butter

1/4

cup

brown sugar

1

egg

1

tsp

vanilla extract

1/4

tsp

maple extract

1/2

cup

chopped nuts

I used a mix of walnuts and cashews
Instructions
Preheat oven to 350 degrees F and line a baking sheet with parchment paper.

Add almond butter, brown sugar, egg, vanilla extract, and maple extract to a bowl and mix until ingredients are just incorporated. Stir in chopped nuts.

Roll dough into approx. 1 1/2-tbsp balls and place evenly spaced on prepared baking sheet.

Bake for 12-15 minutes, or until the tops have mostly set up and bottom has browned. Let cookies cool on baking sheet for 5-10 minutes, and then transfer to a wire rack to cool completely.
Nutritional information is provided as an estimate. As it can vary due to many factors (brands used, quantities, etc.), we cannot guarantee its accuracy.
Food Safety and Nutrition Disclaimer