I know, how irreverent of me. Nachos without guac.
But first, in keeping this blog real and honest and all that jazz, I think it's time to talk guilty pleasures.
#1 – I can tear through a reality TV series like it's nobody's business. My latest binge was Dr. 90210, which is sort of a head-scratcher because I can't stomach surgery scenes. At all. As in I close my eyes and cover my ears, only occasionally peeking to see if – pleaseplease – they could be at the post-op appointment already. I watched the series when it was airing on TV originally, so technically I'm rewatching a reality show, buuuut at least I'm (sort of) learning things, like anatomy and medical procedures, right? K that's a stretch, moving on…
#2 – Sporcle. Do you know about that? Maybe you did and you've since long forgotten about it, because I'm fairly certain it reached its peak in popularity four years ago. Boiled down, it's basically a website where you're time-challenged to complete tons and tons of lists, broken down by category. Nerd alert: I used to "sporcle" with pen and paper before it was even a thing. "Can I name all of the 1999 NY Yankees? Let me make a list…" The joys of being an only child.

I've completed the Countries of the World test twice. Don't judge.
#3 – Nachos. I bet a have a few takers with this one, huh? There's a restaurant nearby that makes THE. BEST. nachos that B and I will order with grilled chicken + guac and share as dinner. Basically B knows that any time I suggest going there, what I'm really asking is if he wants to share nachos with me. Most of the time he says yes. 🙂
It's hard to mess with perfection, but since nachos and Italian food are both up there on my favorite eats list I decided to combine the best of both worlds and make Italian Nachos.
These nachos use tortilla chips like the standard variety, but with all the basil, mozzarella, pepperoni, and artichokes going on, it's definitely more "ciao" than "hola".
I mean yum, right? Instead of the scoop of guacamole, I blended together cannellini beans with olive oil and Italian spices to make an Italian hummus of sorts. Geez it pained me to say "instead of guac", because I'm a really big advocate of more is more when it comes to avocado. Trust me though – these nachos are spot-on with the pseudo-hummus.
As always, we all have different taste buds, so feel free to adjust spices to fit your taste preferences. The red pepper flakes in the recipe as written below add a cautious zing; increase or decrease accordingly. Same goes for the basil, onion, garlic, oregano, etc. I happened to find artichoke hearts that were grilled (a.k.a. my latest obsession), but non-grilled ones will work just fine.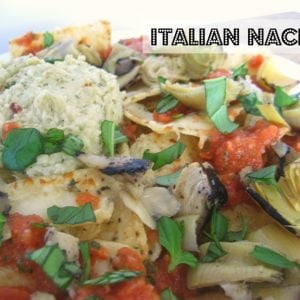 Ingredients
A few handfuls of tortilla chips

1 - 1 1/2

cups

shredded mozzarella cheese

3/4

cup

marinated artichoke hearts

drained and roughly chopped

Roughly-chopped fresh basil leaves

for topping
For the Cannellini Hummus:
2/3

cup

canned cannellini beans

about half of a 15-oz can

1 1/2

tbsp

olive oil

1

tbsp

chopped fresh basil

or more to taste

1 1/2

tsp

minced garlic

1/2

tsp

minced onion flakes

1/4

tsp

dried oregano

salt and pepper

to taste
For the Spicy Tomato "Salsa":
1 14.5-

oz

can stewed tomatoes

1

tsp

olive oil

1 1/2

tsp

minced garlic

2

tbsp

chopped fresh basil

1/8

tsp

red pepper flakes

3/4

tsp

dried oregano

1

tsp

minced onions

10

slices

of pepperoni

or more to taste
Instructions
To the bowl of a food processor, add cannellini beans (with liquid drained), 1 1/2 tbsp olive oil, 1 tbsp basil, 1 1/2 tsp minced garlic,1/4 tsp oregano, and salt and pepper to taste. Blend until beans are fairly smooth and blended. Transfer "hummus" to bowl and set aside.

Now add tomatoes, 1 tsp olive oil, 1 1/2 tsp minced garlic, 2 tbsp basil, 1/8 tsp red pepper flakes, 3/4 tsp oregano, 1 tsp minced onions, and pepperoni to the (now empty) food processor. Blend until pepperoni slices are diced into small pieces and tomatoes are to the consistency of salsa.

Cover a medium-sized baking sheet with aluminum foil, then place tortilla chips in a thin layer over top. Sprinkle mozzarella cheese on chips and place under the broiler for just a few minutes until cheese is gooey and melted. Watch closely so that the cheese doesn't burn.

Remove baking sheet from oven, and transfer chips with melted cheese to a plate. Over top of chips, layer spicy tomato salsa, remaining chopped basil leaves, and artichoke hearts. Place a big scoop of the Cannellini Hummus in the middle of the nachos. Serve immediately.
Nutritional information is provided as an estimate. As it can vary due to many factors (brands used, quantities, etc.), we cannot guarantee its accuracy.
Food Safety and Nutrition Disclaimer