This Irish cream chocolate mug cake is rich, gooey, and EASY. Simple pantry staples are mixed together and cook for just one minute, with no egg needed. Top with hot fudge for a sinful treat!
Has anyone ever searched Pinterest for "mug cake fails"? I'm pretty sure each and every one of the results added to the reason why I'd never attempted them before. I cried from laughter the first time I saw the one where the mug cake jumped out of the mug.
In my mind, making a mug cake would either destroy my microwave or result in a baked good-like thing that was so far below my expectations that I didn't even want to go there. I like my microwave functional and my cake edible, thanks.
Obviously the best use of my time a few days before leaving on vacation (we're headed to Nashville!) is perusing Pinterest and attempting kitchen experiments, hence this mug cake. I'm proud to report that my microwave is in mint-condition, my sweet tooth's chocolate craving is satisfied, and my laundry basket is still overflowing. Better get on that…
But first, this St. Patty's-inspired Irish cream chocolate mug cake.
Recipe ingredients
At its base this Baileys mug cake uses a brownie mix, which makes the recipe even quicker. It also includes (dry) instant chocolate pudding mix to keep things moist.
Eggs can be a tough spot when doctoring up a small-batch recipe. Instead of measuring out half of an egg here, I used a flax egg as a binder. This tip helps me out so much when it comes to small-batch baking. If you don't mind having a partial egg left over, you can use half of a large egg (about 1 1/2 tablespoons) instead. Just whisk it well before measuring and adding to the recipe.
Espresso powder complements and enhances the chocolate, while the Irish cream liqueur adds a delicious and festive flavor. I used one-and-a-half tablespoons of Baileys and was happy with the flavor intensity. It wasn't too strong, but if you're a big fan of Irish cream then be my guest with a little extra glug-glug.
Technically the hot fudge topping is optional. Or as optional as extra chocolate goodness tends to be in your house. Around here the definition of that "optional" is "mandatory", but you do you.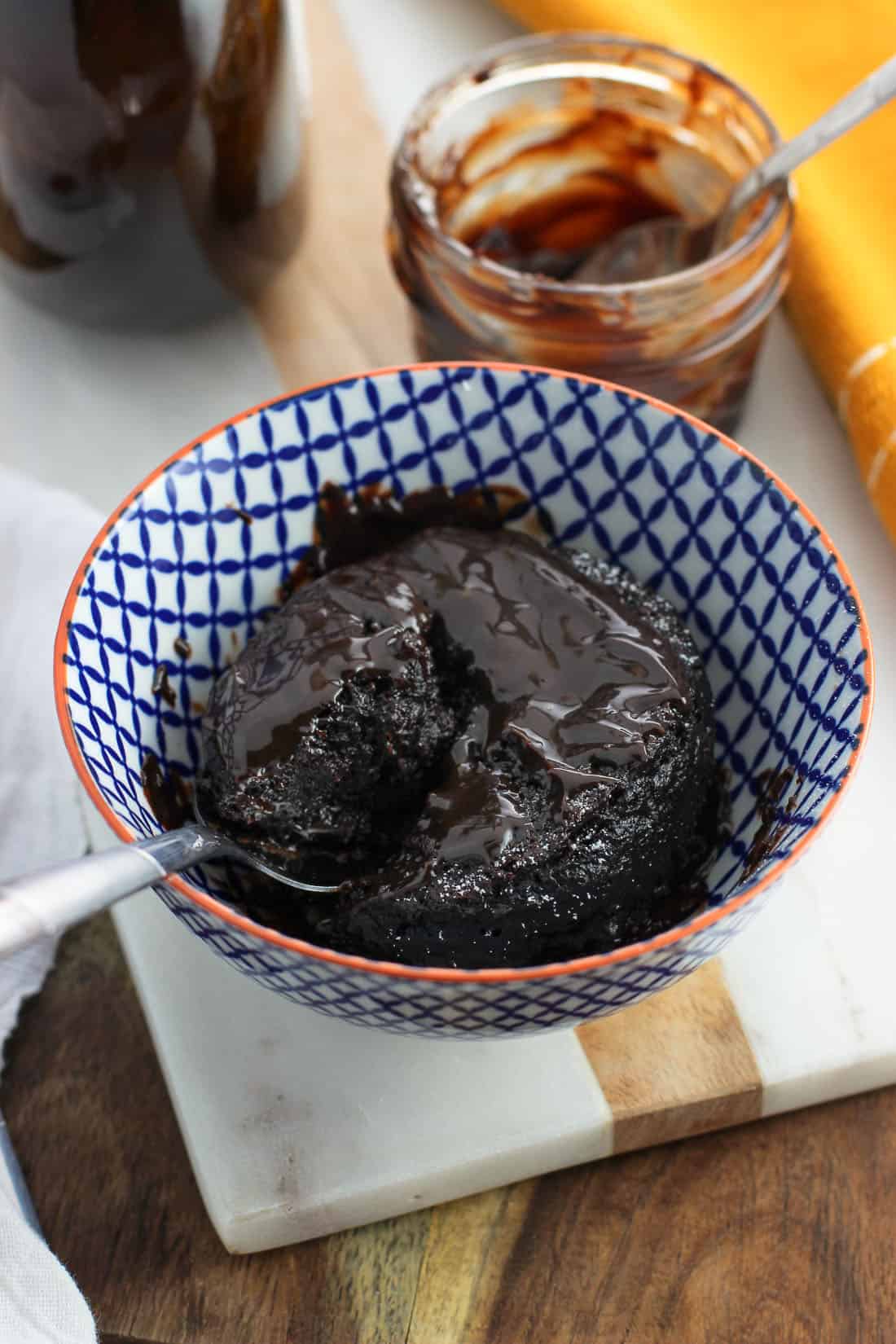 Easy steps
If using the flax egg listed in the recipe card you'll want to set that up first. As the ground flaxseed and water sit, it will thicken up and provide the binding characteristic we rely on eggs for in baking. (Or in this case, microwaving).
As for what comes next, it's pretty simple. Stir together all of the ingredients and pour them into a large, ungreased, heat-safe mug.
You'll want to use as large of a mug as you can to prevent spillover. I used a clear 16-ounce mug so I could see the mug cake as it cooked. It'll rise as it cooks…but please don't grease your mug! On one attempt of this chocolate mug cake with a greased mug, it rose way too quick/too much and almost jumped out of the mug. Not greasing is the way to go.
After a minute on full-power in the microwave, let it cool off so it's not dangerously hot and then dig in. You can eat it right out of the mug or you can attempt to be fancier by carefully inverting it into a bowl like I did for these pictures. A dusting of powdered sugar or hot fudge make excellent toppings.
Related recipes
Baileys (or generic Irish cream liqueur) is such a fun ingredient to bake/cook/create recipes with. It especially pairs well with chocolate! Chocolate Irish cream marshmallows are a seriously good pairing to hot chocolate. And don't be afraid if you haven't made homemade marshmallows before! I'm not an advanced candy maker or anything and have had my marshmallows turn out every time.
But for something easier and quicker that will still satisfy your sweet tooth, look no further than these Irish cream truffles. This is another small-batch recipe that yields just six regular-sized chocolate truffles with delicious Baileys flavor.
Recipe notes
I used the most basic (read: least expensive) store-bought brownie mix I could find. You don't need anything fancy with how decadent this recipe is!
Ingredients
1 1/2

tbsp

water

1 1/2

tsp

ground flax seed

1/4

cup

dry brownie mix

1

tbsp

dry instant chocolate pudding mix

1

tsp

espresso powder

optional

1/4

tsp

baking powder

1/4

tsp

vanilla extract

2

tbsp

milk

I used 2%

1

tsp

vegetable oil

1 1/2

tbsp

Irish cream liqueur

1

tbsp

semi sweet chocolate chips

1

tbsp

hot fudge

optional
Instructions
Measure out water in a small bowl and add ground flax seed. Stir and let sit for 10 or so minutes. The mixture should thicken up and become egg-like in consistency.

In a bowl, mix all ingredients except for hot fudge. Pour into a microwave-safe mug, taking care not to fill mug more than half-way. Microwave on full power for one minute. Remove and drizzle hot fudge over top. Serve immediately.
Notes
Important: Don't grease the mug!
Nutritional information is provided as an estimate. As it can vary due to many factors (brands used, quantities, etc.), we cannot guarantee its accuracy.
Food Safety and Nutrition Disclaimer
The photos in this post were updated March 2017.