This shop has been compensated by Collective Bias, Inc. and its advertiser. All opinions are mine alone. #StimulateTheSenses #CollectiveBias
It's easier than you might think to make homemade dish soap with essential oils. Just using household products, you control the ingredients and the scent!
This is a slightly different kind of post here on My Sequined Life, but one that is certainly related to the 250+ recipes this site houses (geez - 250 already!?). While I mainly talk about food, a lesser-discussed area of interest that has grown for me over the last year or so has been making my own home fragrances and household supplies. You can customize them any which way you like, and you can pick and choose the ingredients that are used. That works for a semi-control freak like me! 🙋
One big part in these DIY projects are essential oils, of which I'm excited to be sharing ways in which Nature's Truth Essential Oils can easily integrate into your holiday preparations. They're versatile in home fragrances, homemade soaps, homemade candles (which are on my to-do list for holiday gifting), cleaning supplies, and more.
Essential oils can be used in aromatherapy through a variety of diffusers, in a roll-on bottle diluted with a base oil for topical application (*always dilute before applying topically*), or in even more household uses than I mentioned above. Lately I've been making my own dryer sheets by adding a few drops of an oil or oil blend to a piece of terrycloth and adding it to the dry cycle. I love to use an oil that features a soothing scent like lavender (in the Nature's Truth Good Nite™ blend) for drying blankets and sheets - especially for overnight holiday guests! Nature's Truth offers a diverse line of oils and oil accessories, including both single oils and oil blends, that can work in many different areas of your life.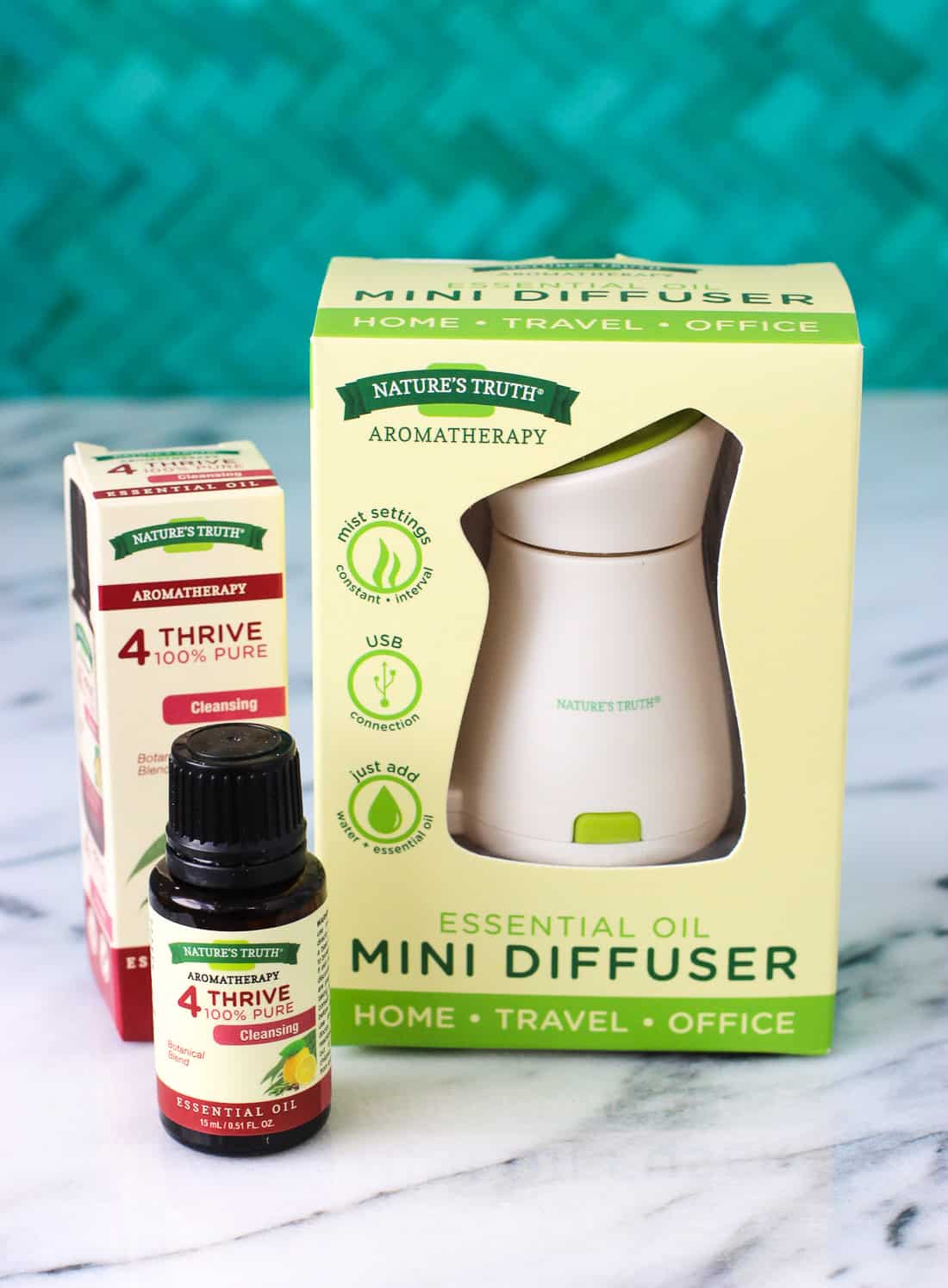 If you've been a reader of My Sequined Life for some time, you'll know that I rarely fry things. I've been burned - literally and figuratively - by recipes that result in soggy, overly-saturated bites. And that's besides the fact that fried things aren't exactly the healthiest...
However when the holidays roll around, my family must make struffoli, a traditional Italian dessert recipe consisting of fried dough balls that have been coated in honey and sprinkles. Over the years we've perfected the process to result in perfectly crispy dough balls that we love to share with family and friends, but there's one thing that crimps our style when it comes to inviting people over to partake - that 'fry' smell.
The worst! Without fail it overtakes the kitchen and lingers for some time...not the most inviting environment for guests stopping by for holiday sweets. This year though I'm prepared with Nature's Truth 4 Thrive Essential Oil, a warmly-scented blend of lemon, rosemary, clove, and eucalyptus oils, that will kiss away kitchen odors in a hurry. Once added to your diffusing mechanism of choice, the spiced fragrance quickly wafts around your kitchen and mitigates the need for you to be apologizing to your guests for a less-than-savory kitchen.
I made a test-batch of struffoli earlier this month as I wanted to bring the recipe to the blog this year (check back after Thanksgiving!), and afterwards I added distilled water and Nature's Truth 4 Thrive Essential Oil to the Nature's Truth Mini Diffuser according to the package instructions. The Mini Diffuser plugs into a USB port, which makes it ideal for traveling and on-the-go uses. I always have my computer with me in the kitchen, so I was able to position it wherever without cords running across the floor. Love that portability! Goodbye, fry smell. 👋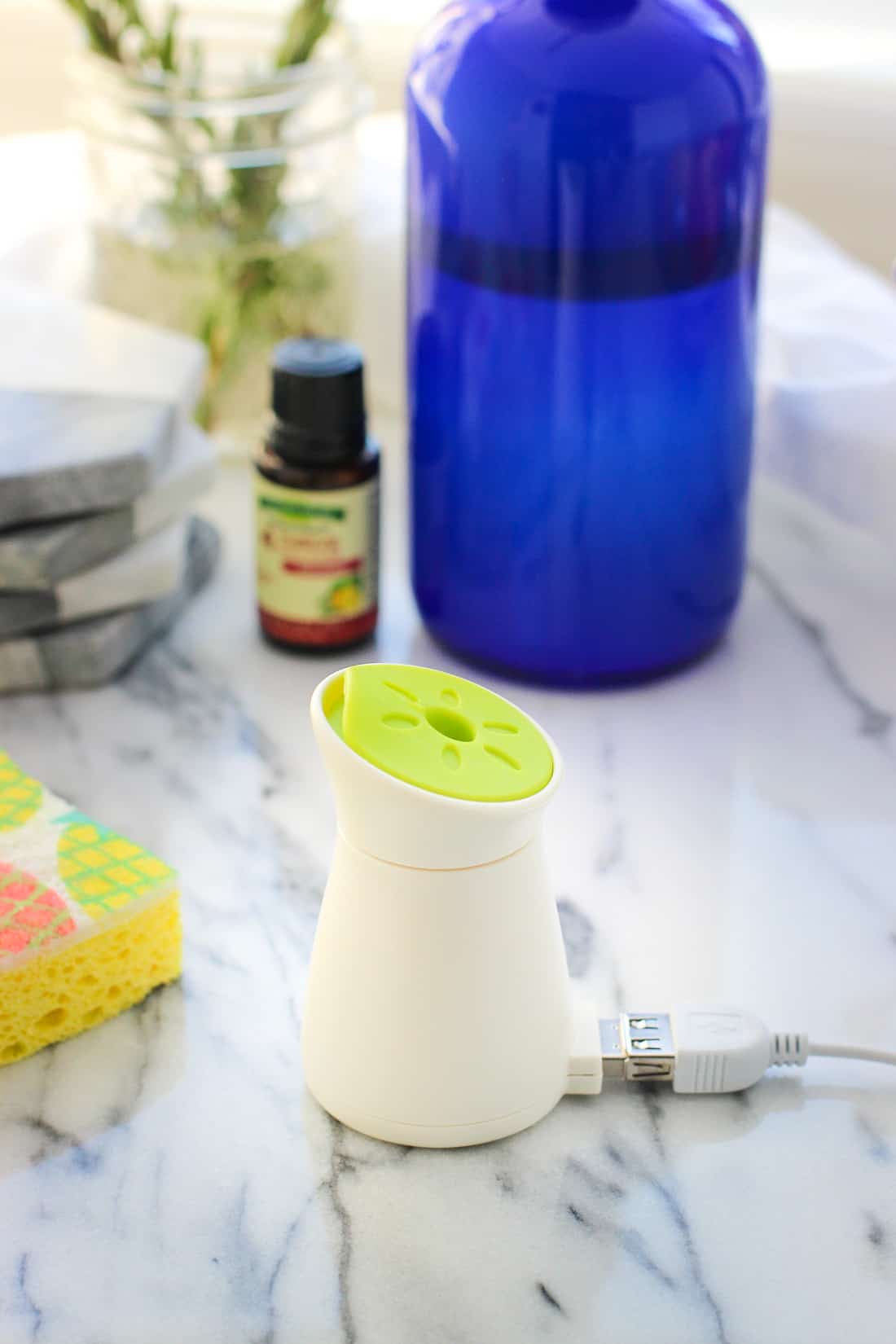 The recipes on my site are varied, from appetizers and drinks all the way through to desserts, but there's one thing in common with with all of them: DISHES. Is there anyone out there who truly enjoys washing the dishes? Don't think I've met anyone. As a food blogger and an avid homemade food consumer, the dishes pile up quickly and without remorse.
Another way I've worked Nature's Truth products into my kitchen tasks is by making homemade dish soap with essential oils. Have you ever tried it? It's so easy! Equal parts water and unscented liquid castile soap are mixed with baking soda for some degreasing action and your essential oil of choice for fragrance. With its warm, spicy scent, 4 Thrive is my essential oil of choice as it lends a holiday-like and refreshing crispness to your cleaning that works for this time of year. Plus using it in dish washing and a diffuser? That's a one-two fragrance punch I like.
You can find Nature's Truth Essential Oils in the vitamin aisle, or on Target.com like I did. You can learn more about Nature's Truth on their website, Facebook page, or Pinterest, and receive a $1.00 off coupon to Stimulate Your Senses.
How to Make Homemade Dish Soap with Essential Oils
This "recipe" yields 16 oz of soap
You'll need:
8 oz unscented liquid castile soap
8 oz warm water
2 tablespoon baking soda
20 drops Nature's Truth 4 Thrive Essential oil, or more
Instructions:
Whisk together all ingredients until baking soda dissolves, then pour into your dispense of choice. Use for hand washing only, aka don't put this in the dishwasher!