Meet beer bread's cousin, hard cider bread.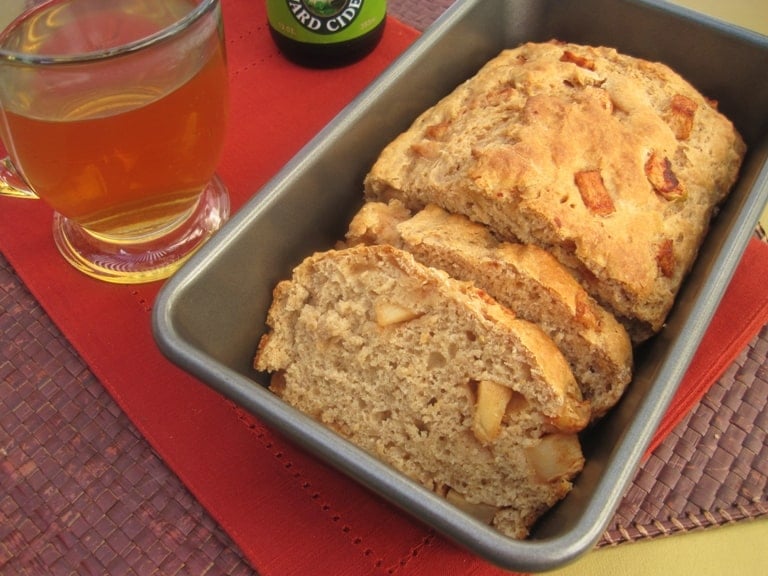 It was only a matter of time before this loaf made itself known in my kitchen. We've been enjoying a whole lot of its inspiration, an awesome honey beer bread, for awhile now, and you know how "they" say not to fix what's not broken? (Who are "they" anyway?) Most of the time we don't subscribe to that.Case in point – the evolution of this bread.
We're big beer lovers around here, so our fridge usually has a few different kinds. Did I ever tell you about the beer bar that was on the corner of my college campus? It was super small and a total dive, but their selection was in-freakin-credible. I tend to be indecisive on things, but trying to choose a drink here was almost unbearable. Do you go with the pecan ale you've never heard of before? The IPA you know you love (heeeey Dogfish 90 Minute <3)? Or what about that one on-tap that's being served in what looks like a chalice?
It was hard, guys.
ANYWAY, we started out making beer bread with a mild lager. It was delicious. Then we increased the honey. Yes. Then we moved on to using IPAs. Ohh yes. This bread was unstoppable.
While sipping on a hard cider recently, I stopped mid-sip as the apple cider bread light bulb went off in my head. Then I thought of the sauteed apples I added to homemade apple pie gelato. And then I jumped up off the couch to put the oven on preheat because this had to happen immediately.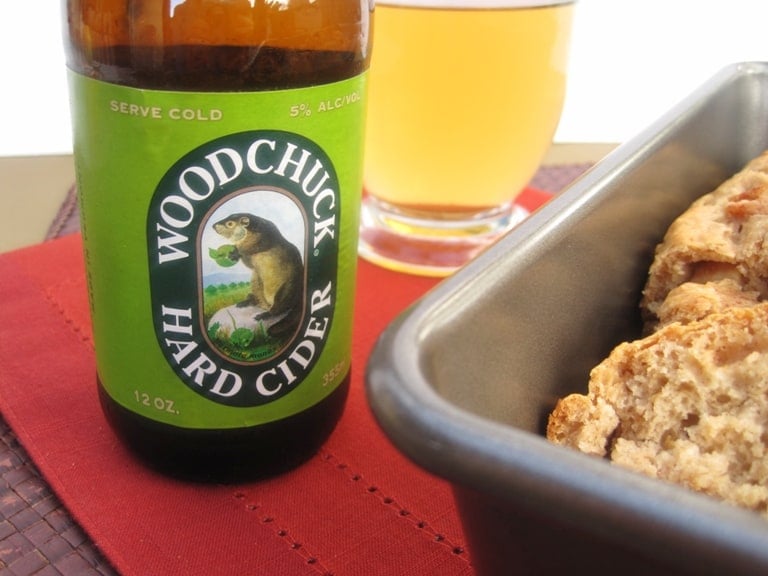 This bread is chewy, dotted throughout with crisp sauteed apple chunks, and develops a crave-worthy crust (if you're into crusts, that is). It also only calls for the tiniest bit of butter – just 1 tbsp to saute the apples – and is totally customizable to your preferences. As the recipe is written below, the bread has a hint of sweetness that complements the level of spice, but I wouldn't describe it as a "sweet bread". I've ripped off chunks nibbled pieces plain, toasted slices and smeared on butter, and cut off a few pieces to use as the bread in my turkey sandwich. Around here anything goes, but feel free to amp up the spices if you're looking for a bolder, more apple-pie-spiced bread, or dial them down if you're after a more neutral, all-purpose loaf.
Oh, and if you run into "them", let them know they're not always right. 🙂
Ingredients
2

apples

peeled and diced

3

tbsp

brown sugar

divided

1

tbsp

butter

2 1/4

tsp

ground cinnamon

divided

2

cups

all-purpose flour

1

cup

white whole wheat flour

1

tbsp

baking powder

1

tsp

salt

1/2

tsp

ground nutmeg

1/4

cup

honey

1 12-

oz.

bottle hard apple cider
Instructions
Peel and dice apples. Add apple pieces, 1 tbsp brown sugar, butter, and 1/4 tsp cinnamon to a pan set over medium-low heat. Stir to break up sugar and let apples saute for approximately 6-8 minutes, or until brown sugar mixture becomes slightly sticky. Remove saucepan from heat.

Preheat oven to 350°F.

In a large bowl, stir together flours, baking powder, salt, remaining 2 tsp cinnamon, and nutmeg. Add honey, cider, and remaining 2 tbsp brown sugar and mix until all is combined. Stir in sauteed apples until just mixed.

Pour mixture into a greased loaf pan. Bake for approximately 40-45 minutes, or until a tester inserted into the tallest part of the loaf comes out clean. Let cool in pan for a few minutes, then turn out onto wire rack to cool completely.
Nutritional information is provided as an estimate. As it can vary due to many factors (brands used, quantities, etc.), we cannot guarantee its accuracy.
Food Safety and Nutrition Disclaimer