Honey Apple Butter Greek Yogurt Dip is a healthy and versatile snack made in minutes with just four ingredients. This spiced dip is perfect for dipping fruit, graham crackers, and more.
When it comes to dip recipes, are you like me and immediately think of savory? Guacamole, seven-layer, hummus, spinach artichoke…so many good savory dips out there, right? But I realized I've been ignoring the sweet dip category for far too long and things had to change.
Enter honey apple butter Greek yogurt dip. It's Greek yogurt-based and features a bold hit of spiced apple flavor, thanks to the apple butter. I went searching and turns out this is the first time apple butter has been featured on the blog. Kinda weird, given how much I enjoy it, but there's a first time for everything. It makes this dip scream fall!
And by the way, have you ever eaten apple butter on cinnamon toast? YUM.
Three of the ingredients are obvious just from the title alone, but the fourth – almond butter – is sneakier. Adding a few tablespoons rounds out the flavor here and helps give this dip some heft and thickness. I used a plain variety of natural almond butter, but use your preferred kind. It doesn't impact the flavor as much in comparison to the apple butter and honey, but you can always add more if you'd like.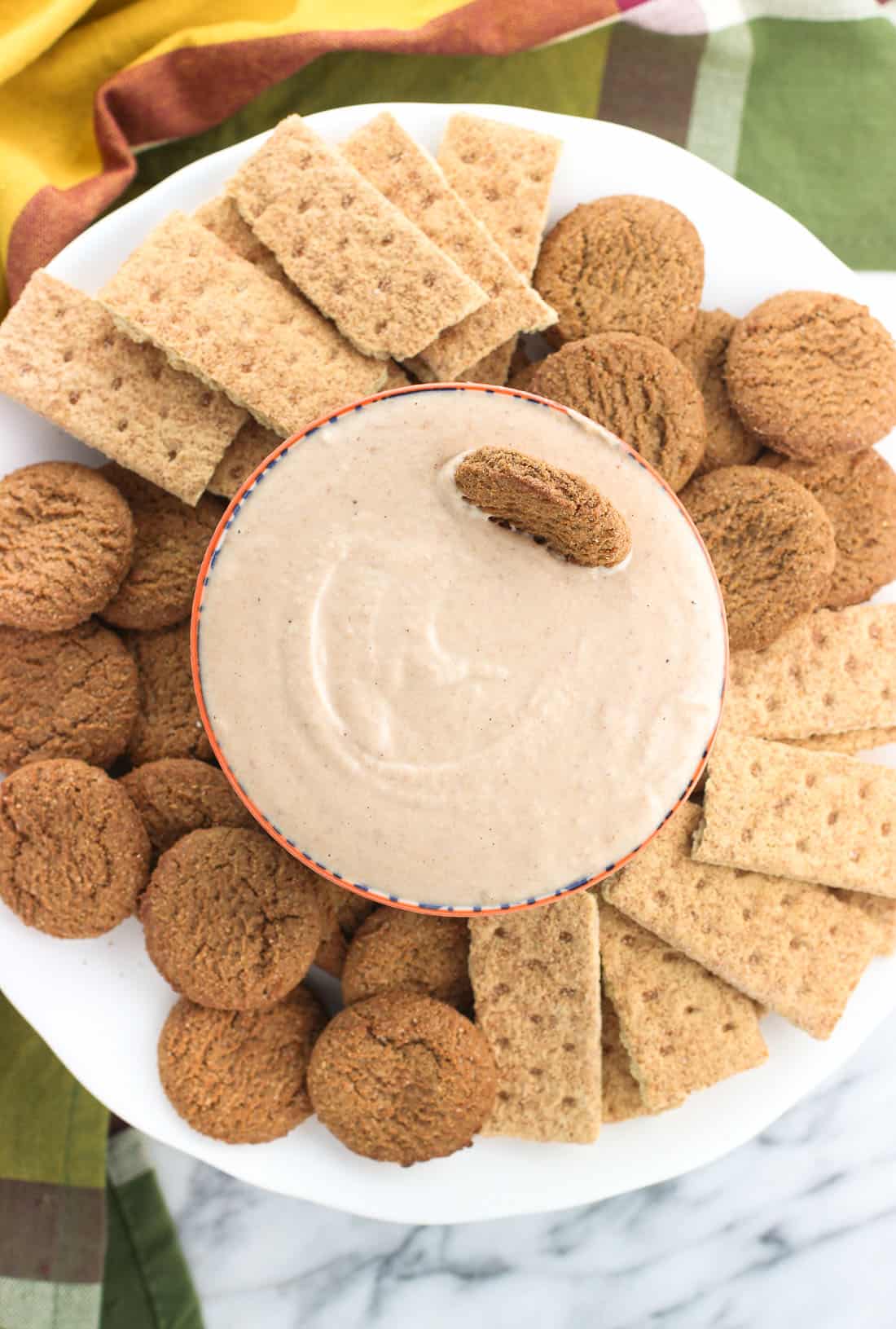 This recipe post for honey apple butter Greek yogurt dip is extra special because it's part of a collection of fall-inspired shower recipes for three of our food blogging friends, Ashley, Denise, and Kristine. They are all expecting new little ones in the coming months, and since our group of blogging friends lives, well, all over the globe, a virtual 'shower' was the way to go. Be sure to scroll down to find links to all of the other recipes – I wish this shower was happening in real life because they all sound so good! 🙂
Roasted Butternut Squash Falafel Bites by She Likes Food
Maple Walnut Twice Baked Sweet Potatoes by Savory Nothings
Buttermilk Pumpkin Donuts by A Latte Food
Easy Pumpkin Danish by Pumpkin N' Spice
Mini Pumpkin Cheesecakes by Live Well Bake Often
Pumpkin Pie Crumb Bars by Bakerita
Mini Apple Crisps by Life Made Sweeter
Spicy Apple-Tomato Salsa by Floating Kitchen
Pumpkin Spice Latte Bread Pudding by Whole and Heavenly Oven
Cinnamon Apple Brie Crostini by Flying on Jess Fuel
Apple Pie Bars by Bake.Eat.Repeat
Butternut Squash Hummus with Spiced Pepitas by Flavor the Moments
Honey Apple Butter Greek Yogurt Dip
Ingredients
1 cup Greek yogurt, vanilla or plain
2/3 cup apple butter
2 tbsp almond butter
1 1/2 tbsp honey, to taste
Instructions
Add ingredients to a bowl and stir well or mix using a hand mixer. Adjust honey to your liking. Serve alongside fruit, gingersnaps, graham crackers, etc.
Notes
If using a natural variety of almond butter, be sure to stir it up well before measuring out and adding to this dip.