Sometimes I go through phases.
Well, let me revise that. I'm usually in some phase or another. Sometimes I want to buy up everything I see at a thrift store and repurpose/refurbish until I've consumed a dangerous amount of paint fumes. Sometimes I'll buy one can of metallic gold spray paint with ideas running through my head, bring it home, and promptly let it sit dormant. A few months later it's still there next to my keys on our hall desk, taunting me every day before work. "Yeah, I thought I'd be loved here…I thought there were big plans in my future…" 🙁
I'm also like this with food. Sometimes I'll resolve to make everything from scratch, to hell with all things boxed and store-bought! When I read the Little House on the Prairie series when I was younger, I would dream about all of the produce I could can, the meat I could preserve. We would be set through winter! Then I probably walked into the kitchen and grabbed an ice pop from the freezer because, you know, refrigeration.
More than infrequently though with the rat race of work, I'll find myself reaching to a pre-packaged something or other to help me through. Apple cinnamon oatmeal packet? My good 'ol afternoon pal. Granola bar? We're friendly too. As long as I'm confessing, sometimes I reach past the fab salt and pepper whole pistachios (which I love) for the plain shelled ones in the work kitchen cupboard. Convenience.
Currently, I'm existing in a happy medium of the two, and I think this is where I'd like to stay. These Easter egg rainbow cookies brought me out the funk, as they're a total labor of love without a shortcut in sight. Then I doctored up pre-made dough for these quick onion crescent rolls. Moderation's the key, baby!
So when B was craving Pop Tarts, I took the opportunity to make them from scratch, something I've always wanted to do. I think he was a little concerned that my offering to make them, when we were standing in front of the wall of Pop Tarts at the supermarket, was really a ruse to healthify them beyond recognition. He wasn't entirely wrong, as I used white whole wheat flour and reduced-sugar preserves, but butter was still invited to the party. You can't even tell the flour mixture includes whole wheat and the preserves are lower sugar, promise.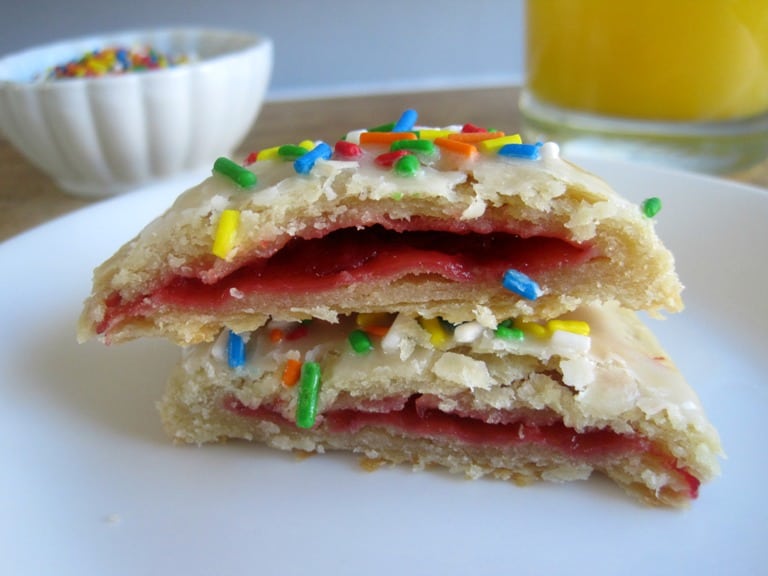 While I swung over to the Laura Ingalls side of the fence a bit with these homemade strawberry frosted Pop Tarts, I still dangled my toes on the convenience side, too. I made these the day-of for breakfast, so I wanted a quick pastry dough that didn't require much inactive time. No chilling required here!
These Pop Tarts aren't an exact dupe of the store-bought variety, but in many ways I preferred the homemade ones. The pastry is a bit more delicate, so I wouldn't risk popping them in a traditional toaster. With the flaky layers being as tender and puffy as they are, I don't think you'll need any toasting devices. Plus with these you get some serious sprinkle action – not those little sprinkle specks. 🙂
Can I tell you that these Pop Tarts flew off the plate, with the frosting just barely solidified? And Pop Tart connoisseur B would like me to tell you all that despite his initial grumbles of seeing me grab the "healthy flour", these were flaky and delicious. He would like to add that he ate three of them the morning I made these, and wanted to eat more but I made him stop. His words, folks.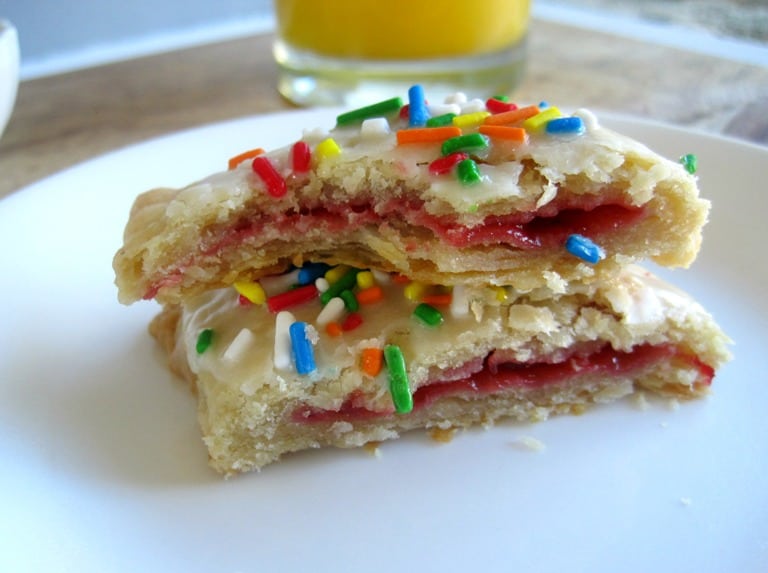 Ingredients
For the Pastry Dough:
1 1/2

cups

all-purpose flour

1/2

cup

white whole wheat flour

1 1/2

tsp

granulated sugar

3/4

tsp

salt

3/4

cup

+ 2 tbsp unsalted butter

chilled and cut into 1/2" cubes

1 1/2

tsp

white vinegar

2

tbsp

egg whites

equivalent of half an egg + 1 tbsp for brushing

1/4

cup

cold water

1/4

tsp

vanilla extract
For the Filling:
3/4

cup

strawberry preserves

I used reduced sugar

1

tbsp

cornstarch

1

tbsp

cold water

1/4

tsp

vanilla extract
For the Frosting:
1/2

cup

+ 1/8 cup confectioners' sugar

1 1/2

tbsp

milk

1/4

tsp

vanilla extract

1 1/2

tsp

light corn syrup

Sprinkles

for decoration
Instructions
For the Filling:
Stir together strawberry preserves (or preserves of your choice), cornstarch, water, and vanilla extract in a saucepan set over medium to medium-low heat. When mixture begins to bubble, let simmer for a few minutes, stirring occasionally. Remove saucepan from heat and let cool while you prepare the pastry dough.
For the Dough:
Preheat oven to 350°F. Grease a large cookie sheet and set aside.

Mix together flours, sugar, and salt. Pour dry mixture into a food processor, then add butter cubes straight from the fridge. Pulse in food processor until butter cubes have been reduced to small chunks (about 1/4" wide) and are well-integrated with the dry ingredients. Alternatively, you can add dry ingredients to a mixing bowl and cut in butter cubes using two knives.

In a bowl, stir vinegar, 2 tbsp egg whites, water, and vanilla extract together. If using the food processor method, turn out butter mixture into a mixing bowl. Pour the wet ingredients into the bowl with the butter mixture, and stir until ingredients are just combined. You should be able to press together the dough with your hands to form one large ball of dough. Divide it in two.

On a floured surface, roll out one half of the dough into a rectangular shape, approximately 1/4" thick. Using a pastry cutter or sharp knife, cut out eight equally-sized rectangles of dough (or, pretty close to equal). Place rectangles equidistant from one another on the prepared cookie sheet, then brush remaining 1 tbsp of egg whites around the edges of the dough rectangles (for adhering purposes).

Repeat the process of rolling out dough and cutting rectangles with the remaining dough. Keep these eight rectangles to the side for the time being.

Spoon approximately 1 1/2 tbsp of filling onto the bottom rectangles that are on the cookie sheet. Using the back of a spoon, slightly spread filling around dough rectangle, taking care to leave a good margin around edges to reduce the likelihood of the filling bubbling out on to the cookie sheet mid-bake. Despite the margin, a small bit of the filling busted out of a few of my Pop Tarts right at the end of their bake time, but it really wasn't a big deal. Just be cautious here (and cross your fingers!)

Press the eight rectangles cut from the second batch on top of the ones with the filling, and using your fingers or the back of a fork, press down on edges to seal. Using the tines of a fork, pierce a few holes in the top of each pastry to let air escape while baking.

Bake pastries for 20-22 minutes, or until tops of pastries are golden brown. Remove, and let cool on a wire rack.
For the Frosting:
Whisk together all ingredients, except for sprinkles, in a small bowl, adding milk a little at a time so frosting doesn't become too liquid-y. Once pastries have cooled, set them on a sheet of wax paper or on a wire rack set over paper towels. Spoon frosting over top of each pastry, then decorate with sprinkles. Frosting will harden in 10-15 minutes.
Nutritional information is provided as an estimate. As it can vary due to many factors (brands used, quantities, etc.), we cannot guarantee its accuracy.
Food Safety and Nutrition Disclaimer
Filling adapted from Smitten Kitchen