…and the word "zhush".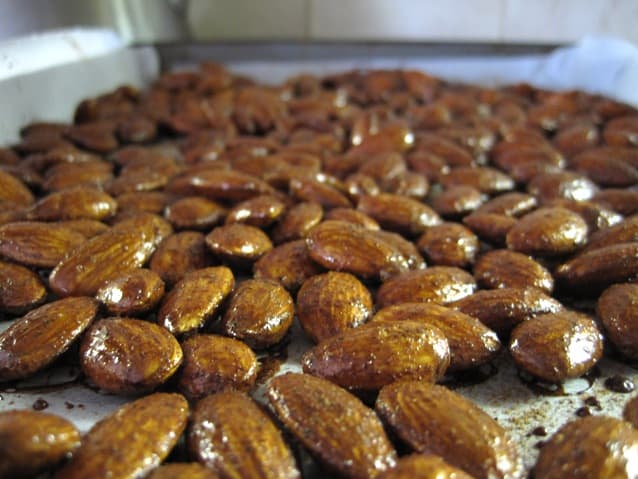 Well, it's almost here. I certainly wouldn't know it by the weather – needed the A/C in the car today (!), but the checkout line at World Market that snaked around the store and reached the back wall certainly clued me in that Christmas was near (one look at that line and I hightailed it out of there pronto – totally didn't need cellophane bags that badly).
Instead, I could think of a million ways I'd rather spend those forty minutes I saved by not standing in line. Making my Grandma's sugar cookies, playing around with royal icing recipes, zhuzhing up some almonds, wrapping gifts…even throwing in a load of laundry. Regarding the royal icing, I think this one by Alton Brown may be my favorite. I'm still a royal icing newbie, but I'll take any opportunity to make practice batches of cookies before Christmas 🙂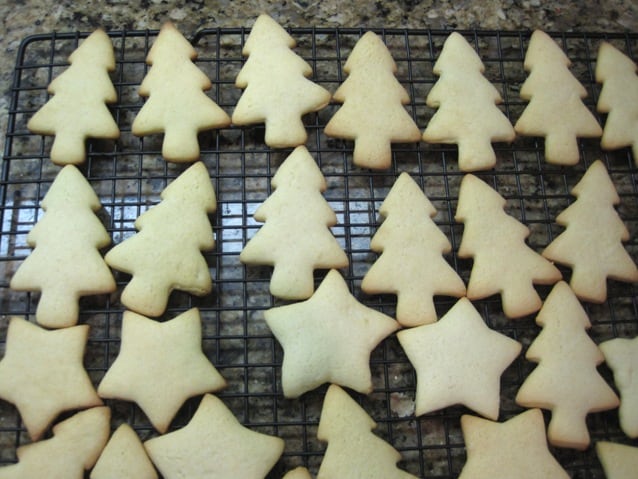 (And regarding the word zhuzh – please tell me I can't be the only one who uses that word on the regular. I mean, it does have a entry in some dictionary that isn't the Queer Eye for the Straight Guy glossary, so that's got to count for something, right?)
Anyway, gingerbread roasted almonds happened around here recently, and with Christmas fast-approaching, I guess the spotlight on gingerbread is fleeting, so I better tell you about them now. In an effort to use more of the molasses jar than the quarter-cup needed for these delicious gingerbread chai biscotti (before it sits on the shelf until next holiday season), I wanted to make something to bring to a party that was a) festive and b) protein-packed. Of course I love Christmas cookies, but I do much better when I eat something with protein and have a cookie or two (rather than Hoover the carbs off the table and still be left hungry.)
These don't take long at all and will make your kitchen smell amazing. One word of caution is to closely watch the almonds in the oven as you don't want them to burn. I was so caught up in the wonderful aroma that I kept my test batch in just a few minutes too long: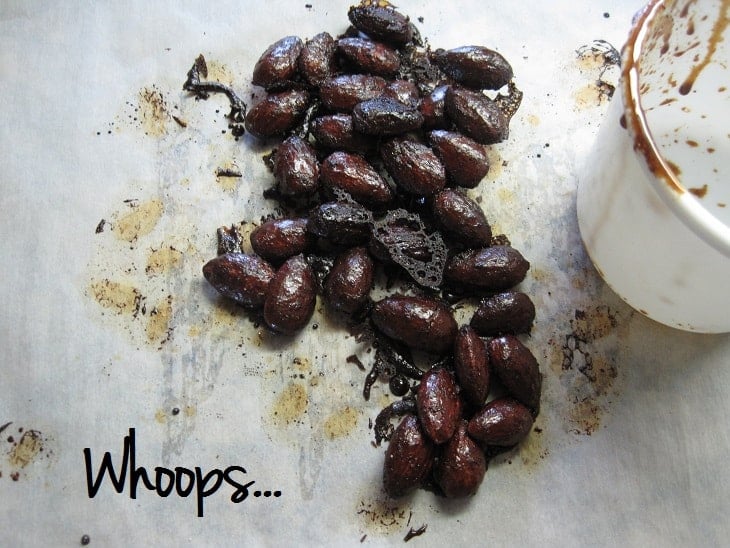 Yeah, bad. You don't want that. These however…
These you want. Crunchy almonds with a slightly-sweet-and-spicy gingerbread coating. They pop easily off of the parchment paper (and pop easily into your mouth).
Ingredients
3

cups

raw almonds

3

tbsp

agave nectar

2 1/4

tbsp

molasses

1

tsp

vanilla extract

1 1/2

tsp

ground cinnamon

1 1/2

tsp

ground ginger

3/4

tsp

ground cloves

Ground cinnamon

for sprinkling
Instructions
Preheat oven to 325°F. Lightly spray cooking spray onto baking sheets and then line with parchment paper.

Pour almonds into a large bowl. Add agave, molasses, vanilla extract, cinnamon, ginger, and cloves. Using a spatula sprayed with cooking spray, mix all ingredients together so that the almonds are evenly coated.

Using a scoop, place almonds in a single-layer on baking sheets. I used a scoop instead of just pouring because there was excess agave/molasses mixture at the bottom and I didn't want the almonds to be too goopy on the baking sheets.

Sprinkle almonds with a bit more cinnamon and bake for about 15 minutes. They make take more/less time depending on how your oven runs (mine runs a bit hot), so keep a close eye to prevent burning (you saw that warning picture, right?)

Let cool completely on tray so they crisp up.
Nutritional information is provided as an estimate. As it can vary due to many factors (brands used, quantities, etc.), we cannot guarantee its accuracy.
Food Safety and Nutrition Disclaimer