Fridays call for cocktails, amiright? I for one would like to put this week in the rear view. We headed to the weeeeekendddd.
What better way to welcome it in than by whipping up some fizzy pineapple ginger cocktails, complete with pineapple ice cubes!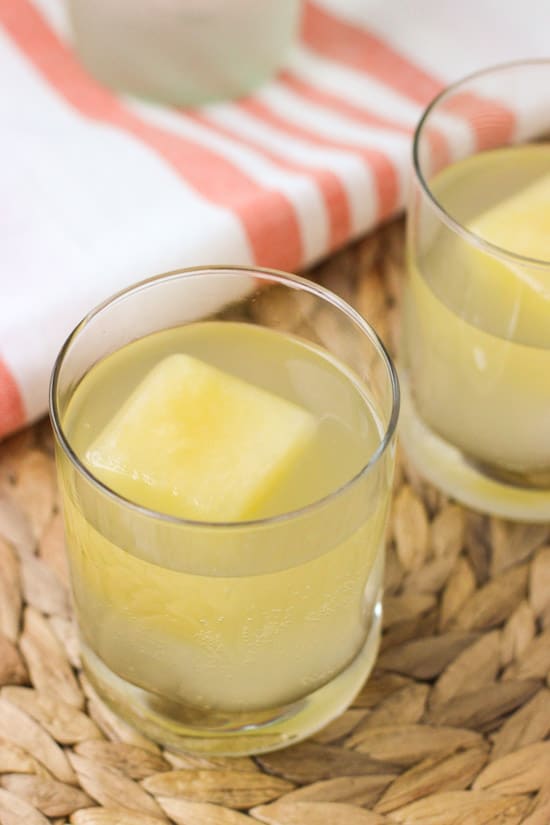 Okay, so this week wasn't all gloomy. B spent an evening away on a work trip…which meant I had free rein over our Netflix queue. THE. DECISIONS. I was in the market for starting a new series so I chose the show he'd typically put up the biggest fight about watching – Call the Midwife. Then I proceeded to stay up until 1:30 A.M. on a weeknight watching said show, and to be honest I probably would have stayed up later if my iPad hadn't run out of juice. What a way to start the week well-rested, huh? Woof.
Anyway, this week was rough and I'm 500% excited it's the weekend. If you couldn't tell. 🙂 Cocktails are on the menu for us, along with sweatpants, mutually-agreed upon Netflix watching, and sleeping in. It's the little things, right?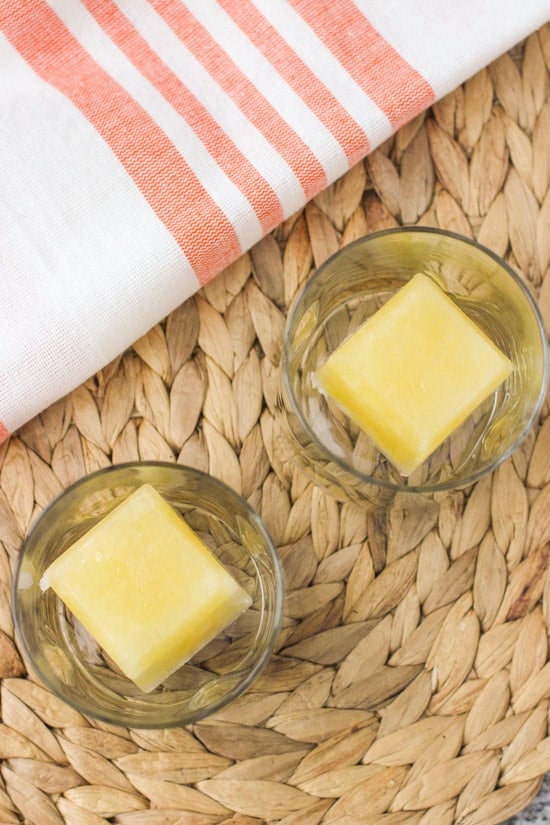 First things first, can we talk about these pineapple ice cubes? These couldn't be easier (because they're ice cubes) but they add such a special touch to these drinks. Makes ya feel fancy! Pineapple juice + ice cube tray = flavored cubes that add pineapple flavor to your drink a little at a time as they melt. They'll be no watery drinks on my watch!
In case you're curious whether that ice cube is huge or if the glasses are tiny, it's the ice. We use a BIG ice cube
for snazzing up our drinks and we love it! One cube per drink will do the trick (they're 2″ per side!), they melt slowly, and they're super easy to get out of the silicone mold. All good things.
I was introduced to ginger beer over the holidays and WHOA – what have I been missing!? I especially love it in cocktails because it adds bold flavor and bubbles all at once. It cuts through the pineapple flavored rum and the sweetness of the pineapple juice and balances all of the flavors. In fact, I think it all but makes the bite of rum disappear! I used pineapple flavored rum, but if you'd prefer to use plain light rum that's okay too! You may wish to add more pineapple juice if you go that route, though that's 100% up to you and your drink taste buds. You do you.
One final note on these cocktails juuuust to make the instructions for a very simple drink even longer. Stir these, don't shake! Carbonated beverages (i.e. ginger beer) do NOT play well in a shaker. In fact, those bubbles super pressurize the inside of the shaker and cause the lid to blow off and liquid to fly all over your kitchen.
Did that happen to me with these pineapple ginger cocktails? Thankfully, no. But I will say I've borne witness to the phenomenon and cleaning sticky drink contents from the floors, cabinets, ceiling (!) is NO way to kick off your weekend. These pineapple ginger pretties are all about relaxing!
Fizzy Pineapple Ginger Cocktails with Pineapple Ice Cubes
These fizzy pineapple ginger cocktails combine the bite of ginger with sweetness from pineapple juice (and pineapple rum!) for a refreshing drink recipe. Serve with fun pineapple ice cubes to prevent the cocktails from becoming watered down.
Ingredients
9

oz

ginger beer

non-alcoholic

3

oz

pineapple rum

2-4

oz

pineapple juice,

to taste

Pineapple ice cubes
Instructions
Prepare ice cubes by pouring pineapple juice into ice cube molds at least a few hours before you anticipate enjoying these drinks.

To make two drinks, pour 4.5 oz ginger beer, 1.5 oz pineapple rum, and 1-2 oz of pineapple juice over ice in each glass. Stir to combine (Don't shake! Ginger beer is carbonated and will burst open your shaker and create a mess for you to clean up.)
Notes
I used the excess pineapple juice from a can of pineapple chunks to make the ice cubes, pouring liquid through a strainer. A 20-oz can of pineapple chunks yields enough liquid to create plenty of ice for two drinks.
Nutrition
Serving:
1
cocktail
|
Calories:
172
kcal
|
Carbohydrates:
18.5
g
|
Protein:
0.2
g
|
Fat:
0.1
g
|
Sodium:
11
mg
|
Potassium:
76
mg
|
Fiber:
0.1
g
|
Sugar:
16.8
g
|
Calcium:
10
mg
|
Iron:
0.4
mg
Nutritional information is provided as an estimate. As it can vary due to many factors (brands used, quantities, etc.), we cannot guarantee its accuracy.