It's herrreeee! Christmas break. Ha-lle-lu-jah. Before Christmas we hit the road in search of some serious R&RR'ing (rest and rural relaxation) and we're soaking it up out here on Maryland's Eastern Shore. There's a good chance that right now I can be found 1) in sweats, on the couch, sleeping, 2) in sweats, on the couch, watching Netflix, or 3) in sweats, on the couch, snacksnacksnacking. Maybe even all three (though I don't recommend sleep eating). Anyway – life is GOOD.
I had plans to publish a few recipes in the days after Christmas, but being as I'm still full from Christmas Eve/Christmas dinner I just couldn't bring myself to do it. Leftovers are king for us right now and maybe you guys feel the same? Is there such a thing as food overload? I think yes, though I'm certain it's temporary.
So instead of chatting to you guys about how many homemade pretzels or pie bars I could eat if I wasn't still stuffed to the gills with crumbs covering my shirt (hypothetically speaking, of course), I figured now would be a fab opportunity to talk about the bites I've REALLY enjoyed this year. Really really. So consider this list my favorites posted in 2014…with a twist! These recipes are some of my very favorites of the year that aren't on my top 10 most viewed recipes list for 2014.
Wouldn't want you to miss them! ♥
1. Hearty Marinara Sauce and Meatballs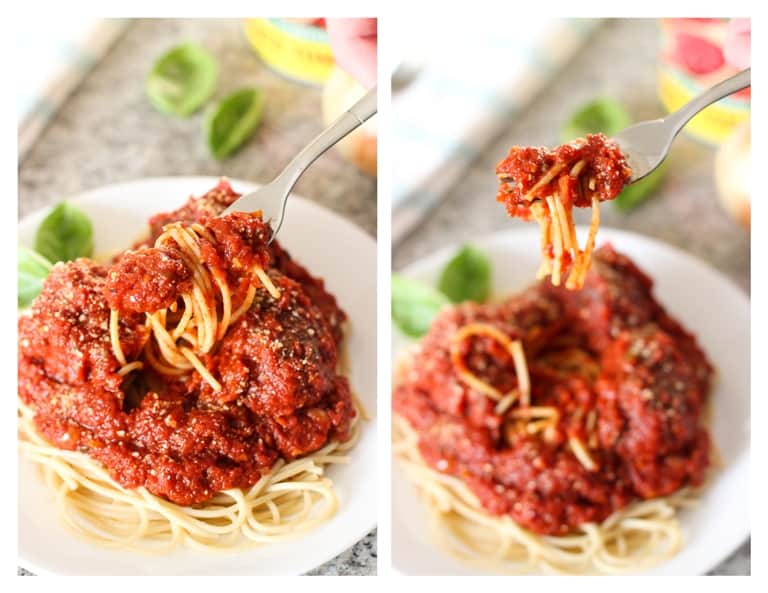 This is the ultimate Italian comfort food. Easy baked meatballs are covered with simple and thick homemade marinara sauce, then served over the pasta of your choice. I could eat this for daaaays. And sometimes I do because it makes leftovers like WHOA.
2. Buffalo Chicken Tortilla Pie
In 2014 I may have become obsessed with tortilla pies (another delish version is hanging out farther down the list). So quick to whip up after work and the flavor combinations are endless. Perfect for using up leftovers! Plus who doesn't love creamy buffalo chicken? Certainly not me.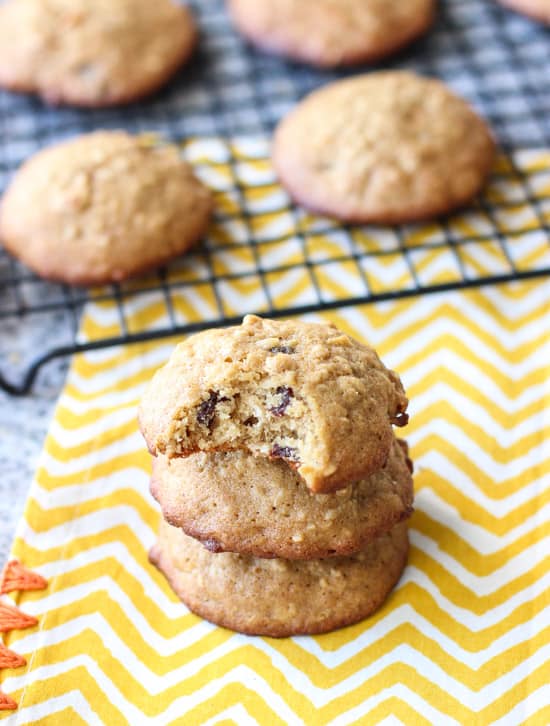 These babies are half whole wheat and are loaded up with coconut flakes, raisins, chocolate chips, and butterscotch chips. I won't tell you how many of these I ate straight from the cooling rack, but I will say it's a good thing the batch only makes two dozen.
4. Coconut Quinoa Granola Bars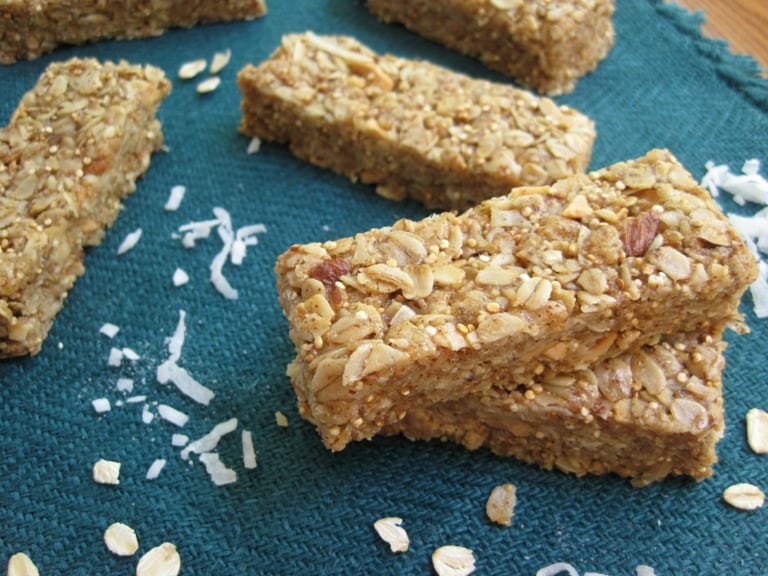 I looooove these bars. Way way more than I thought I would, and I had high expectations in the first place. They're dense and chewy from almond butter, honey, and coconut flakes, slightly crisp from puffed rice cereal, and substantial thanks to the cashews and quinoa (which, btw, you don't even taste). And they're also basically crumbless (but I'm not pointing any fingers, Shmature Talley).
5. Lemon Herb Quinoa Salad with Parmesan
#4 brought you quinoa in a sweet sense, so it's only right that savory quinoa makes an appearance, too. This lemon herb quinoa salad is what you want to eat when that 2015 health kick starts picking up speed and you just come home from a knock out session at the gym. Or if you housed a plate of nachos for lunch and can't bear the thought of eating anything but a modest dinner. I won't judge you either way.
6. Homemade Strawberry Chia Seed Jam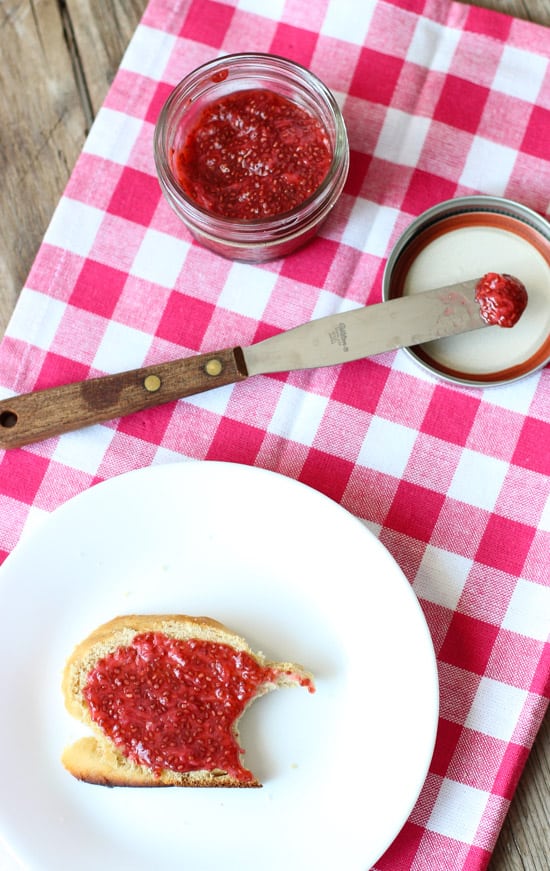 If you would have asked me earlier this year, I would have told you all homemade jams take lots of time, lots of effort, and are too complicated for the casual jam eater. Psssh. This homemade version not only takes twenty minutes or less, it calls for six ingredients including the rock stars of the health food world, chia seeds. Plus strawberries + cinnamon = YES.
7. Hint of Curry Chicken Salad with Cashews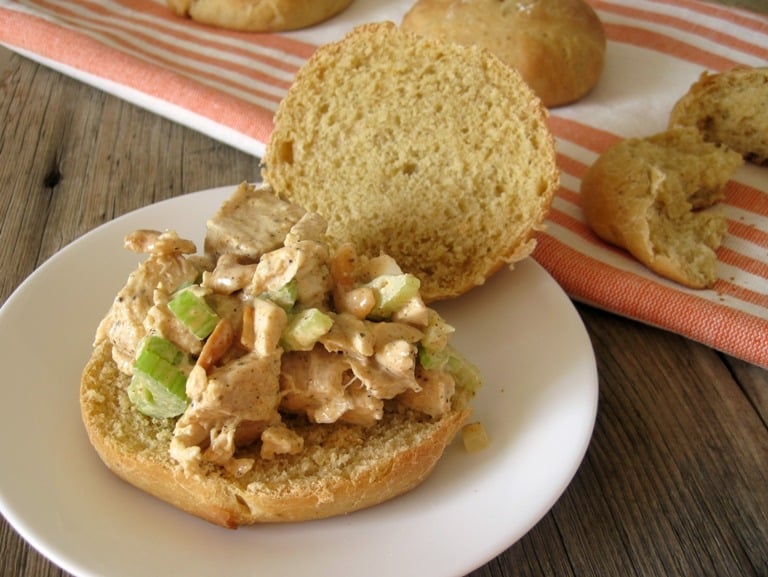 I was a curry-mayo-phobic until B convinced me to taste this chicken salad, and now it's one of my favorite ways to eat chicken, PERIOD. I even steal bites cold from the refrigerator. That good.
Italian comfort food, pt. 2, except this one is a lightened up version of itself. Yes! It tastes every bit as indulgent as the real deal and won't detour you from any health-related New Year's resolutions. And can I tell you that freezing half the batch to reheat after work one day is THE best. You'll have yourself a fancy pants dinner in no time flat!
9. BBQ Tempeh Kale Tortilla Pie
I made a tempeh and kale tortilla pie, which sounds like the perfect vegetarian dish. But then I went and put bacon in it. WORTH IT (if you're not a vegetarian, of course). Smokey, gooey, and customizable, I always make sure I have these ingredients on hand for a delish, relatively quick dinner. Plus taking leftovers for lunch at work the next day is the best. I may or may not check the clock every fifteen minutes to see if it's time to eat.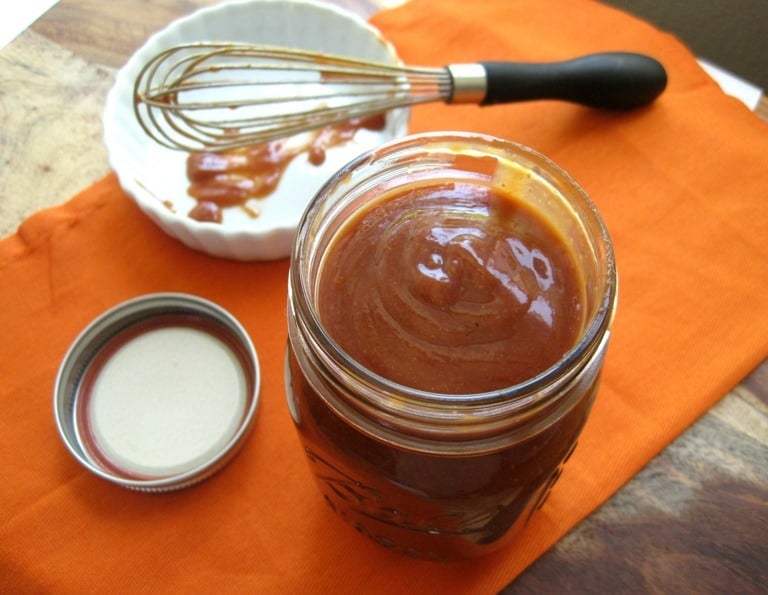 When we were planning our big road trip/move from California to Tennessee, we knew we wanted to spend some serious time in Texas (and we did – nearly half our trip!). The reason? Sure we visited a friend, but we couldn't drive through without gorging ourselves on BBQ. Lots of BBQ. This homemade BBQ sauce is B's favorite (if you couldn't tell) and lends a little of this and a little of that from a bunch of different styles. We put this on everything!
11. Guacamole with Feta, Pistachios, and Pomegranate Seeds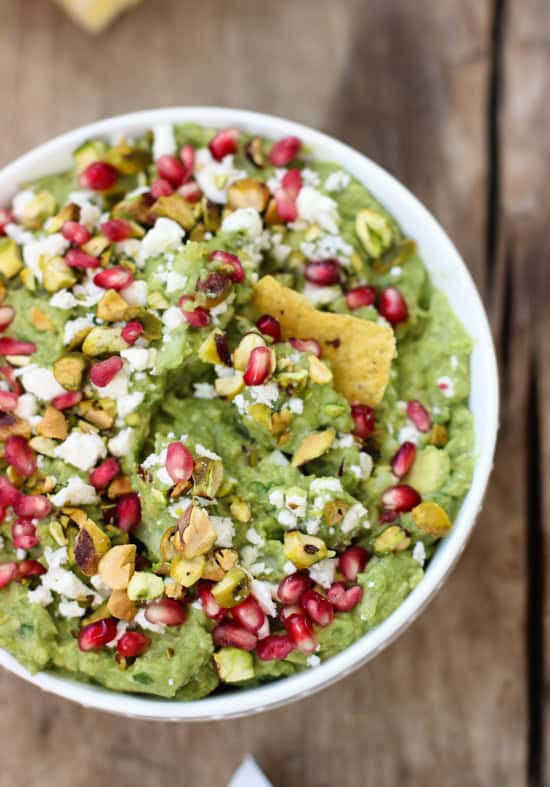 It is as it sounds: homemade guacamole, feta crumbles, pistachios, and pomegranate seeds. Creamy, tangy, salty, fresh and crunchy. And addicting.
12. Quick Onion Crescent Rolls
These crescent rolls have the same gooey onion and poppy seed filling as store bought rolls, just in a smaller, more waistline-friendly size. For an onion roll lover, these are practically instant gratification without having to leave the house! I love having a roll of refrigerated dough on hand for those times I'm running late or think I have more time to bake something than I really do (which happens more than infrequently). In those situations nine times out of ten I make these rolls.
So there you have it – twelve of my favorite recipes of the year! 2014 has been an incredible year – from moving to a brand new city, finding new jobs, fiiiiinally getting my hands on a DSLR camera (♥), and beyond. I'm super excited to dig into 2015, but until then I've been immensely enjoying a little time away from the usual grind in the outdoors. Aaaand I've been enjoying cookies. More cookies than I can count.