If all is going according to plan, we're somewhere in west Texas right now. If that's true (please please be true), we've toured scenic Joshua Tree National Park, sweated our way through Arizona ("but it's a dry heat"), and driven through Lincoln National Forest in New Mexico. Up ahead are a few nights in Austin, where we plan to gorge ourselves on BBQ brisket and visit the Stevie Ray Vaughn statue. Then it's Houston, where we're visiting a college buddy, a night in the French Quarter of New Orleans, and then finally our new apartment in Nashville.
Whew. One super hot and sweaty, exciting and scenic, 2,000+ mile road trip. I'll post a road trip recap once we're all settled in, but you can check out my Instagram for some snippets along the way!
Because of the serious time we're spending driving through Texas, I felt it was fitting to blog about B's favorite BBQ sauce.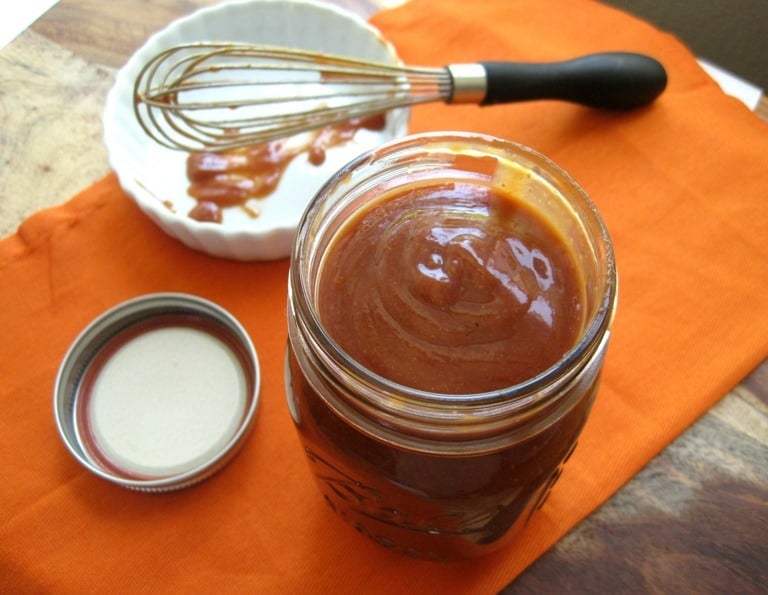 Also fitting is what a mismatch of geographical BBQ styles this barbecue sauce is. But really, it's pretty spot-on given our history. B and I are from the East Coast, have lived on the West Coast, and are moving to the South. While this BBQ sauce isn't a mix of NJ/MD/CA/TN, it's got the vinegar-y base from North Carolina, brown sugar sweetness a la Kansas City, mustard from South Carolina, and even mayonnaise, giving a nod to Alabama's take on a classic. BBQ sauce from all over – kind of like us!
This BBQ sauce is so flexible it's ridiculous. It's tangy from the vinegar, but you can tone it down if that's not your style. The mayonnaise contrasts the spiciness, though you can increase or decrease the quantity depending on your preferences. And the mustard is up to you! While I love to blow out my sinuses on horseradish mustard on sandwiches, the horseradish type of hot wasn't what I was going for here so I used dijon, which is what I recommend.
It's also SO easy to make. Basically, combine all ingredients in a sauce pan and wait until it begins to simmer. Once it's cool, stir in a few more things. Simple, right? We've used this sauce in a million ways – first as a marinade and serving sauce for grilled chicken drumsticks. Sooo, so good. We also used it as a spread on sandwiches, from turkey sandwiches to grilled cheeses. It's a fab complement for both!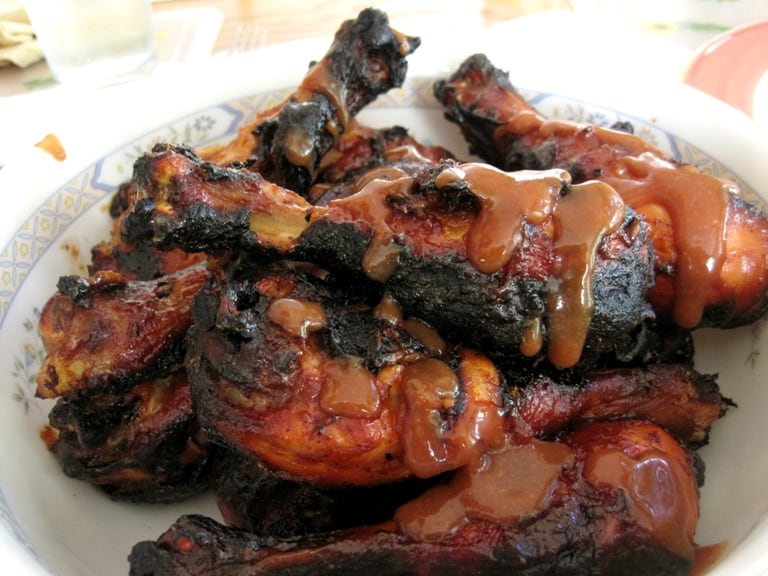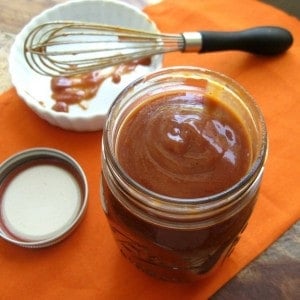 Ingredients
1 1/2

cups

ketchup

3 1/2

tbsp

brown sugar

4

tbsp

Worcestershire sauce

1

tsp

hot sauce

4

tsp

garlic powder

3/4

tsp

salt

1

tsp

liquid smoke

optional

1/2

cup

white vinegar

3

tbsp

light mayonnaise

1

tbsp

mustard

I used dijon
Instructions
In a small saucepan set over medium-low heat, add ketchup, brown sugar, Worcestershire, hot sauce, garlic powder, salt, and liquid smoke, if using. Stir well and allow mixture to begin to bubble around the edges, approx. 3-4 minutes. Remove from heat and let cool to room temperature.

Once BBQ sauce base has cooled, stir in white vinegar, mayonnaise, and mustard. Sauce can be used warm or cold. Refrigerate any unused portion.
Notes
You can substitute store-bought BBQ sauce for the first seven ingredients (ketchup through liquid smoke), and just mix in the white vinegar, mayonnaise, and mustard to whip up this sauce in seriously no time at all.
Nutritional information is provided as an estimate. As it can vary due to many factors (brands used, quantities, etc.), we cannot guarantee its accuracy.