This easy salsa verde with seasoned tortilla chips is a quick and simple dip with customizable spice levels and is made using just the food processor! It pairs perfectly with these three-ingredient homemade tortilla chips that couldn't be easier.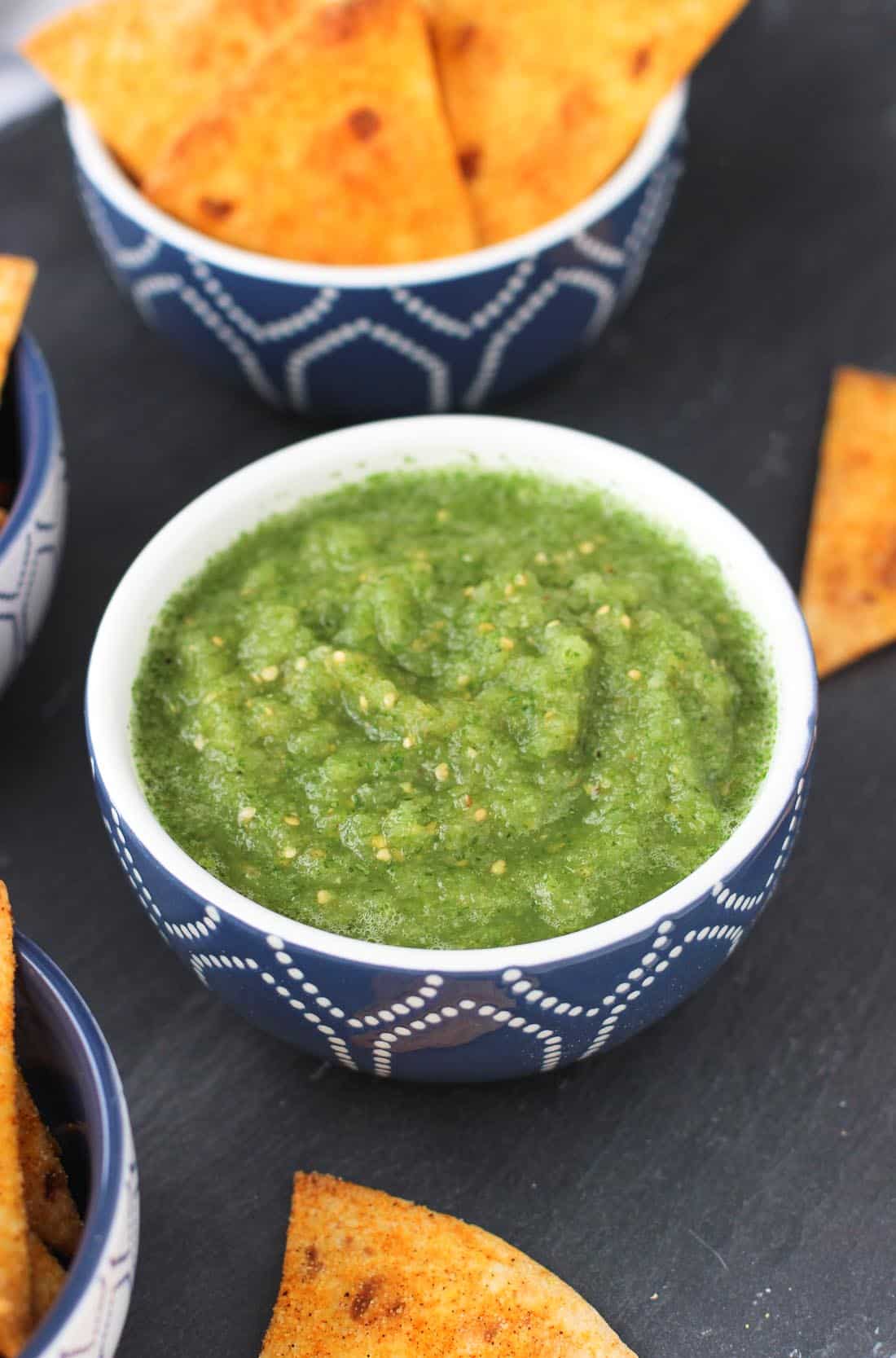 Since treating myself to the gift of a lifetime (a.k.a. Amazon Prime), I rarely head out to shopping centers or malls. Rarely! I only make the trip to smell everything at Lush or return things in person so I don't have to pay for return shipping. Buuut one day lately I couldn't resist the siren song of Target and BAM. An onslaught of sweaters! Boots! Backpacks! Fall food! I'll happily browse boots (and broody fall nail polish) every day of the week, but as for everything else? Ummm, please come back when it's September. Pretty please.
That trip to Tar-jay got me thinking that the exciting/horrifying #PSLisback announcement will probably be smacking us in the face any day now. Oof. Not ready for that. BUT I can't ignore the fact that it's only acceptable to share summertime eats + drinks for a few more weeks, so it's time I kicked my booty in gear and shared the ones I have left before I go and do something crazy like post about ice cream on the first day of fall.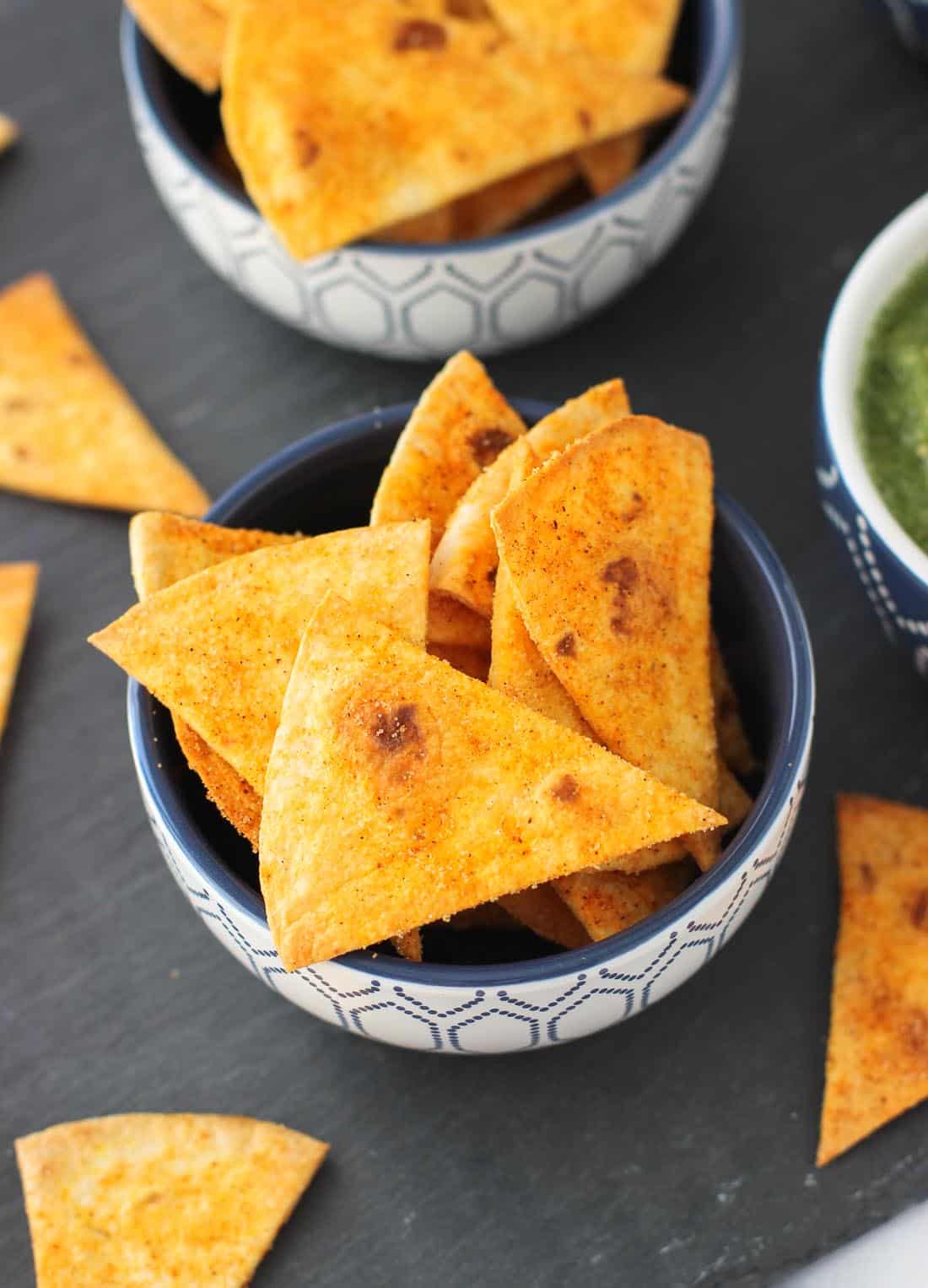 Speaking of, would you mind an ice cream recipe (or two...) sprinkled throughout the other three seasons? I know I wouldn't because ice cream is a year-round treat for me, but I know it tends to be a deeply personal preference. Kind of like chips and salsa. When I think of chips and salsa, I envision an outdoor deck at sunset, twinkle lights, margaritas - pretty much my ideal summer night. Even though I can do serious work on a bowl of chips and salsa on any day that ends in 'y'.
So, just in case you most enjoy chips and salsa in the summertime, this recipe for easy salsa verde with seasoned tortilla chips (homemade!) is for you.
I live near a Mexican restaurant that makes chips and salsa that are to dieeeee for. Three types of salsa come with homemade tortilla chips that never fail to distract me from choosing an entree because I don't have enough hands to simultaneously shovel chips into my mouth and open the menu. Plus the waiters/waitresses never have those judgy eyes when they bring a family-sized refill for a table of two. 🙂
The first cup of salsa to vanish is the salsa verde, without a doubt. For me it's the Goldilocks of salsas, the perfect medium between mild and hot, which is how this recipe rolls. Because we have grocery store problems, the produce section didn't have tomatillos stocked on a few trips, but I was able to find canned tomatillos in the canned vegetable aisle - and I love how they work in here! They're easy to stock up on and it couldn't be simpler than opening the can, draining the liquid, and adding them to the food processor with the rest of the ingredients. That easy! I left a little bit of texture in this salsa verde, but if you're into a thinner variety, add a little bit of water as you see fit to the food processor until it reaches your preferred consistency.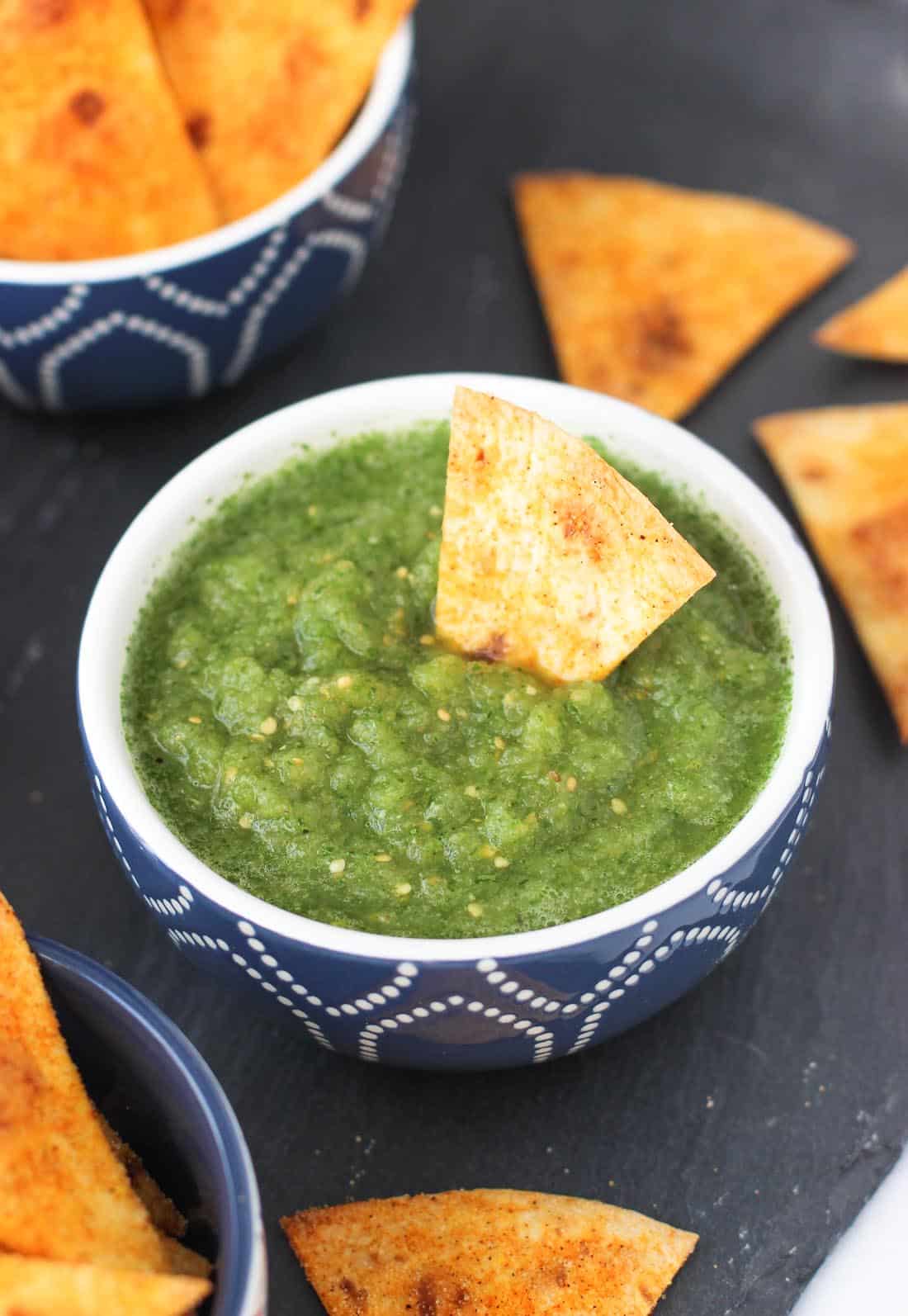 Now let's talk about these chips! Plain flour tortillas are gussied up with a brush of olive oil and a bit of seasoned salt for bold flavor.They're baked and once cool, are CRISP! Crisp, baked, homemade tortilla chips - yesssss. One time-saving tip I like to do is to brush olive oil on both sides of a whole tortilla, sprinkle the seasoning on both sides, and then stack two or three tortillas on top of each other. Then I'll grab a pizza cutter and cut through all of the tortillas to make wedges. Much less work than first cutting the tortillas, then wrangling little wedges to brush/season.
I suggest using a light touch with the seasoned salt as even the smallest bit too much makes them too salty (in my opinion). If you add a little bit too much, which is what I did on one batch, you can easily shake off some of the excess seasoned salt after they've been baked.
These seasoned chips + that salsa verde = one of my favorite summer (and fall, and winter, and spring...) appetizers.
Easy Salsa Verde with Seasoned Tortilla Chips
This easy salsa verde with seasoned tortilla chips is a quick and simple dip with customizable spice levels and is made using just the food processor! It pairs perfectly with these three-ingredient homemade tortilla chips that couldn't be easier.
Ingredients
For the Salsa Verde:
¼

cup

chopped cilantro

½

onion,

diced (about ¾ cup)

2

jalapeno peppers,

seeds removed and finely chopped

1

serrano pepper,

seeds in and finely chopped

1

11- or 12-oz

can tomatillos,

drained and sliced

2-3

teaspoon

minced garlic

¼

teaspoon

cumin

¼

teaspoon

black pepper

¼

teaspoon

salt
For the Seasoned Tortilla Chips:
8

8-inch

tortillas

(I used flour)

1

tablespoon

olive oil

Seasoned salt

(enough to sprinkle over chips)
Instructions
For the Salsa Verde:
Combine all ingredients in a food processor. Blend until mostly smooth.
For the Seasoned Tortilla Chips:
Preheat oven to 350 degrees F. Brush front and back of each tortilla with olive oil (you may want to work in batches). Lightly sprinkle seasoned salt on front and back of each tortilla. Use salt sparingly.

Cut each tortilla into eight equally-sized wedges. To make this easy, I stack a few on top of each other and slice into all of them at once with a pizza cutter. Place wedges with a few centimeters between them on a greased, foil-lined baking sheet.

Bake for about 6 minutes, or until tops of the tortilla wedges are beginning to turn golden brown. Remove sheet from oven and flip wedges. Return sheet to oven and bake for an additional 5-6 minutes, or until golden brown and fairly crisp. Keep a close eye on them during the second bake to ensure that they don't burn. Remove wedges from oven and place on a wire rack to cool completely. Wedges will continue to crisp as they cool.
Notes
To regulate the spice level to a nice 'medium', I removed the seeds from the jalapeno peppers and kept in the seeds of the serrano pepper. If you're looking for a spicier version, add another serrano pepper - either remove the seeds of this second pepper (for a moderate bump up in spice) or leave them in for a hot salsa verde.