Double chocolate espresso cookies are simple to make and feature a deep chocolate flavor that's brought out even more by espresso powder. Chocolate chunks round out these soft, hearty cookies.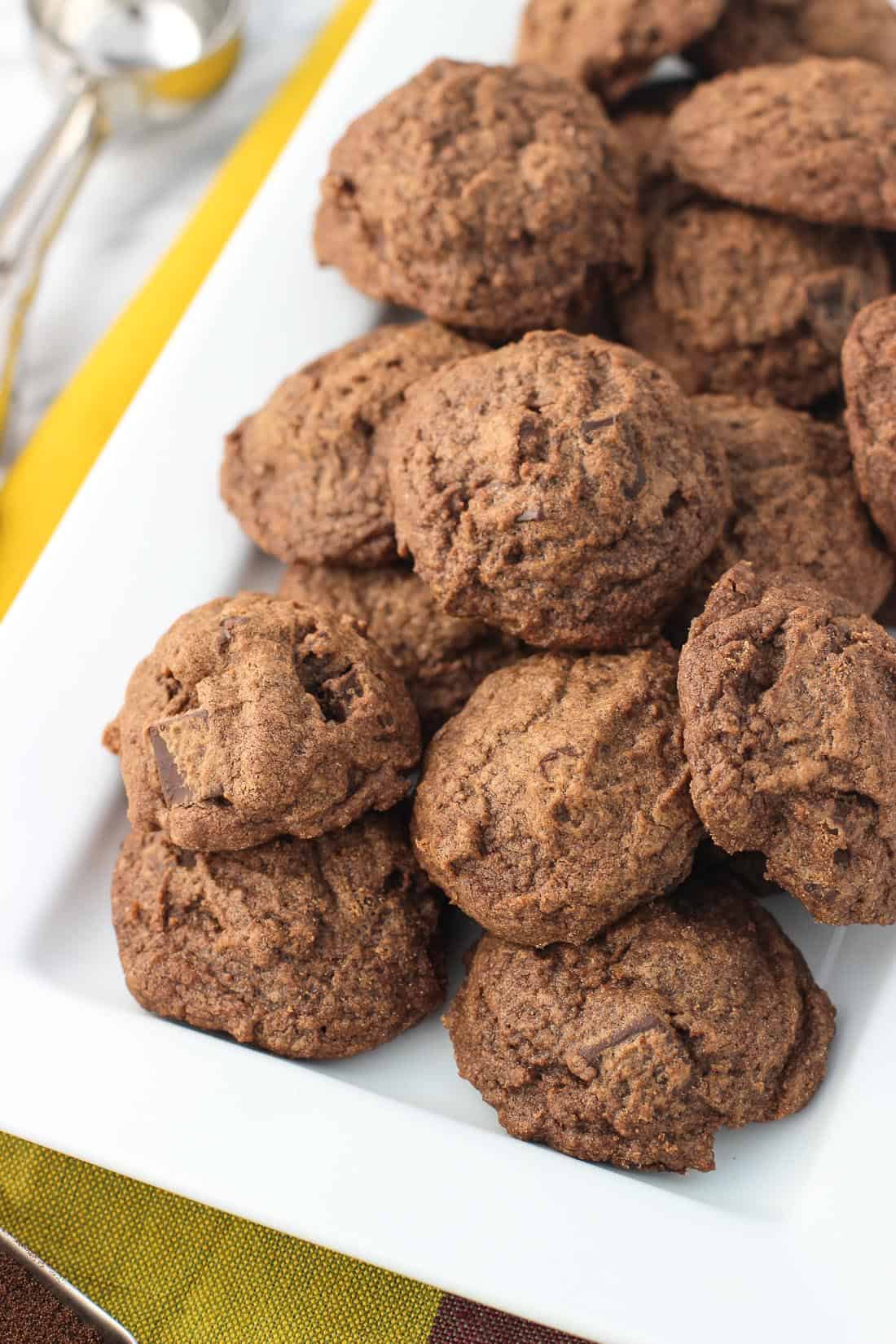 Given that five out of the last six recipes on this blog are savory, if there was ever a time to share a good, old-fashioned cookie recipe with you – this would be it. If you've been reading around here for awhile, 1) thank you! and 2) you may have noticed I have a thing with espresso. To date I've put it in almond butter, chocolate syrup, chocolate bark, and healthy cookies. And that's all besides the given of drinking it in some form or fashion. Love love love espresso.
These double chocolate espresso cookies are thick and chewy, with an ultra rich chocolate flavor. One of my favorite little tricks when baking chocolate-flavored things is to add a little bit of espresso powder. In smaller quantities it doesn't impart much of a coffee flavor, but it has a knack for intensifying the taste of chocolate. Always a good thing, right?
For these cookies however, I wanted the taste of espresso to shine through in the end result. I added two teaspoons of espresso powder for a deep, dark flavor that pairs so well with the chocolate dough and dark chocolate chunks studded throughout. These cookies may be on the smaller side but they're packed with flavor!
If you're curious about espresso powder, I've used this espresso powder in particular for my baking recipes for years. I can usually find it at the grocery store without issue, and a little goes a lot way. One jar will last you awhile for sure!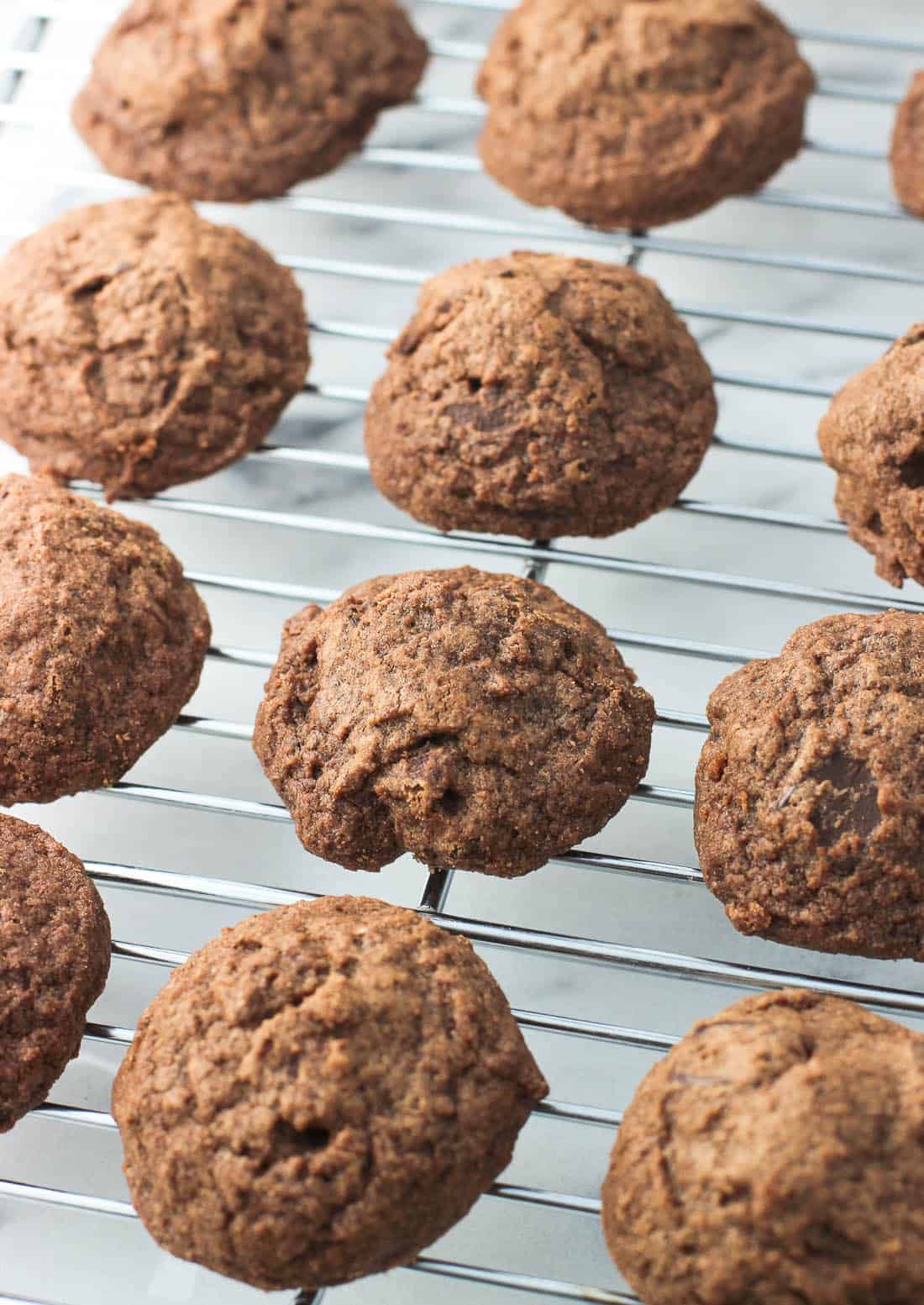 These double chocolate espresso cookies are on the smaller side as I used a one-tablespoon capacity cookie scoop. While the thought of a BIG cookie is always appealing, keeping these guys small was intentional as I'm envisioning them as a fab addition to a holiday cookie plate or a dessert tray any time of year. In those instances maaaaybe you're like me in that you like to sample a little bit of everything. Smaller cookies mean you get to try more varieties of them (at least by my logic). Of course, feel free to use a bigger cookie scoop if you'd prefer!

Double Chocolate Espresso Cookies
Ingredients
1/2 cup plus 2 tbsp unsalted butter, room temperature
2/3 cup granulated sugar
1/2 cup brown sugar
1 egg
1 1/2 tsp vanilla extract
1 1/2 cup all-purpose flour
1/2 tsp baking powder
1/4 cup plus 2 tbsp unsweetened cocoa powder
2 tsp espresso powder
1 cup dark chocolate chunks
Instructions
Preheat oven to 325°F. Cream together butter, sugars, the egg, and vanilla extract in a bowl until light and fluffy.
Add flour, baking powder, unsweetened cocoa powder, and espresso powder and mix until just combined, taking care not to overmix.
Stir in chocolate chunks.
Using a cookie scoop or a spoon, scoop rounded cookie dough balls about 2"-apart from one another onto an ungreased baking sheet. Bake for 11-12 minutes, or until the tops are mostly set. Let cookies cool on the baking sheet for 5-10 minutes before transferring to a wire rack to cool completely.
*this post contains affiliate links