Please meet my summertime crush. Don't worry – Brian is (more than) okay with it. Homemade double chocolate butterscotch crunch bars.
Like I said – we're both more than okay with it.
What else I'm more than okay with? The fact that this dessert is SO. SIMPLE. So simple it requires caps. You'll need three types of chips and a box of puffed rice cereal. And some sprinkles for zhushing over the top. Which I suppose are optional on a technical level, but somehow make everything taste better, so I say add them.
Really, these bars are incredibly versatile. You can use any type of chips you wish – I'm already envisioning a chocolate + PB combo. And how about those dairy-free chips? Bring 'em on! A mix of semi-sweet and white chocolate will do, or for the purists, solely one or the other will be crispy delicious. I mean, it's chocolate, period. Can you go wrong?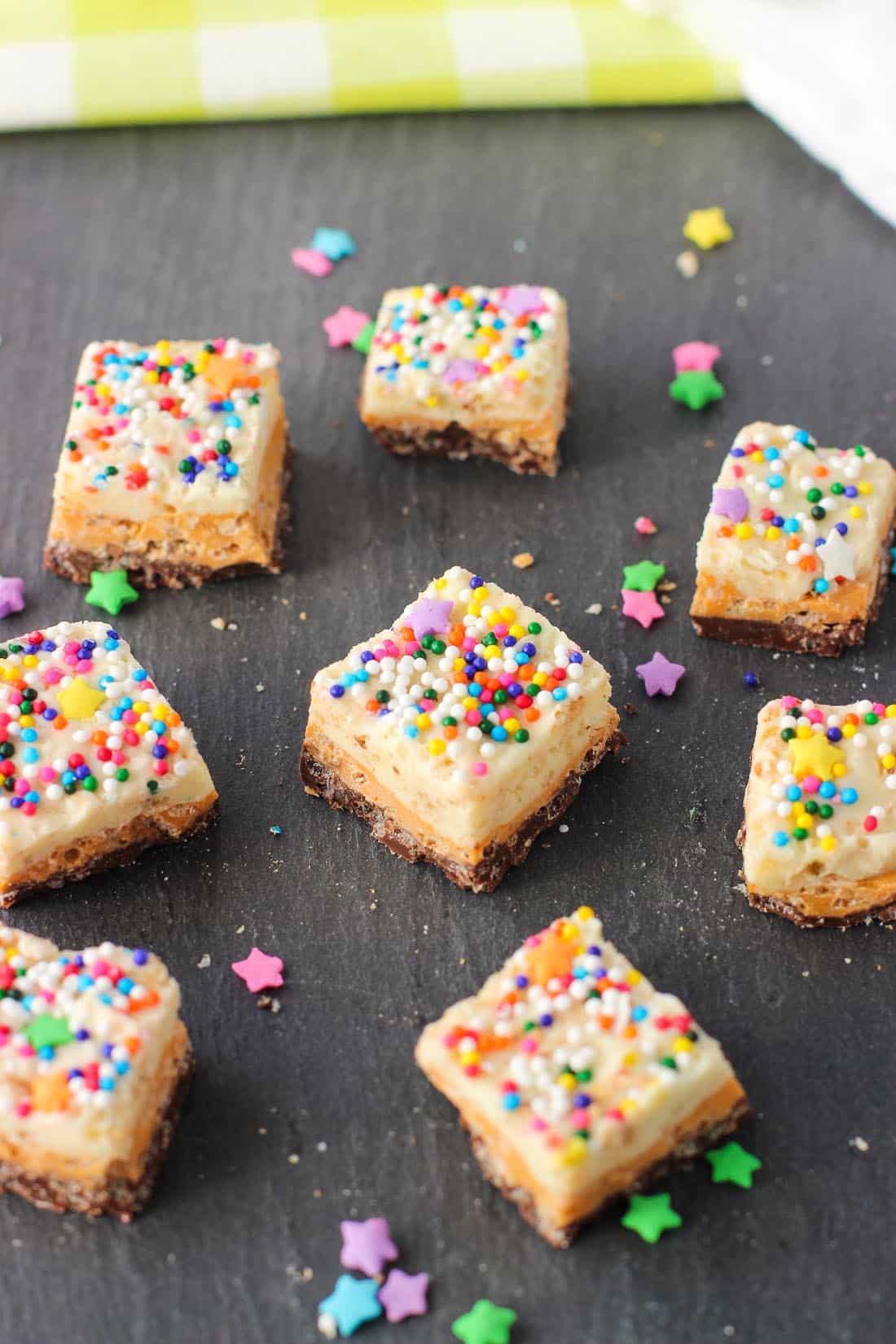 These bars are no-bake and are just the thing for satisfying your sweet tooth if you're also craving a little crunch. I love that these bars are total chameleons for whichever season or holiday is coming up next. All dependent on the type of sprinkles or toppings you use! For the bars in these pictures, I used colorful nonpareils and star-shaped sprinkles for a bright and cheery, all-year-round dessert. Adding orange and black sprinkles just screams Halloween party treats, as does red and green sprinkles for Christmas.
Double chocolate butterscotch crunch bars any time of year!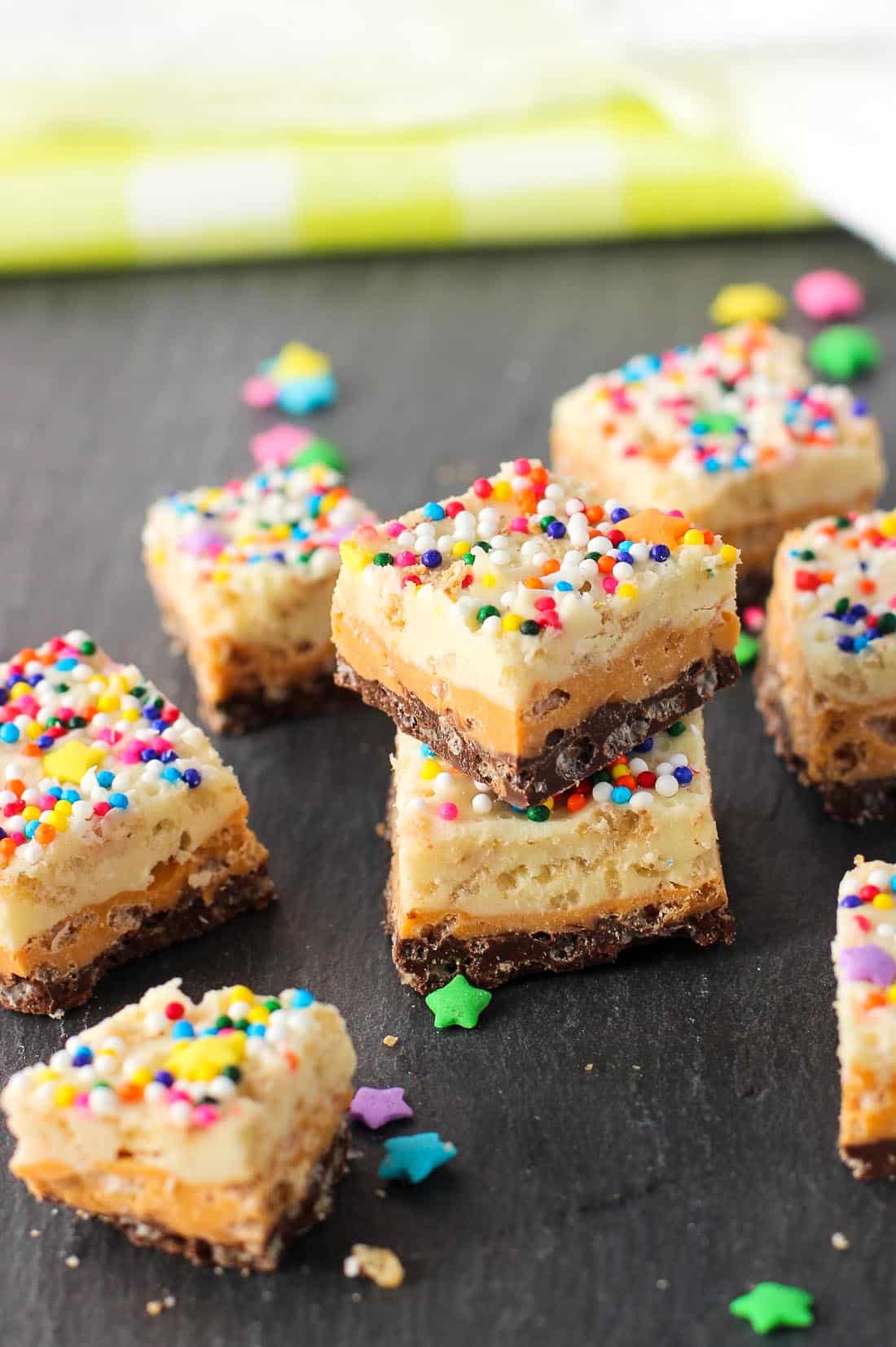 One little trick when it comes to making these crunch bars is to refrigerate each layer of melted chocolate/butterscotch chips + puffed rice for just the right amount of time between layers. For instance, after spreading the melted semi-sweet chocolate and puffed rice mixture on the parchment-lined baking sheet, I popped the sheet in the refrigerator until the chocolate was solidified enough to withstand spreading another layer on top of it without blending into the original layer entirely, but not 100% solidified. Does that make sense?
Basically on a few batches, I experimented with leaving the sheet in the refrigerator for a significant amount of time, allowing the most recent layer to harden completely (about 30 min+). For instance, let's say after I spread the butterscotch mixture on the semi-sweet layer, I left the baking sheet in the refrigerator until the butterscotch layer was completely hardened (30-45 min). When it came time to cut the bars, in a few instances I noticed that the white chocolate layer separated from the butterscotch layer. Still edible? Of course! But not a singular three-level bar like these pictured.
It's my thought that allowing the layers to slightly blend into one another helps the layers adhere and prevents separating while cutting them into bars. But no stress – if the layers do separate, sticking a little bit of melted chocolate between the separated layers to act as glue will bring them back together.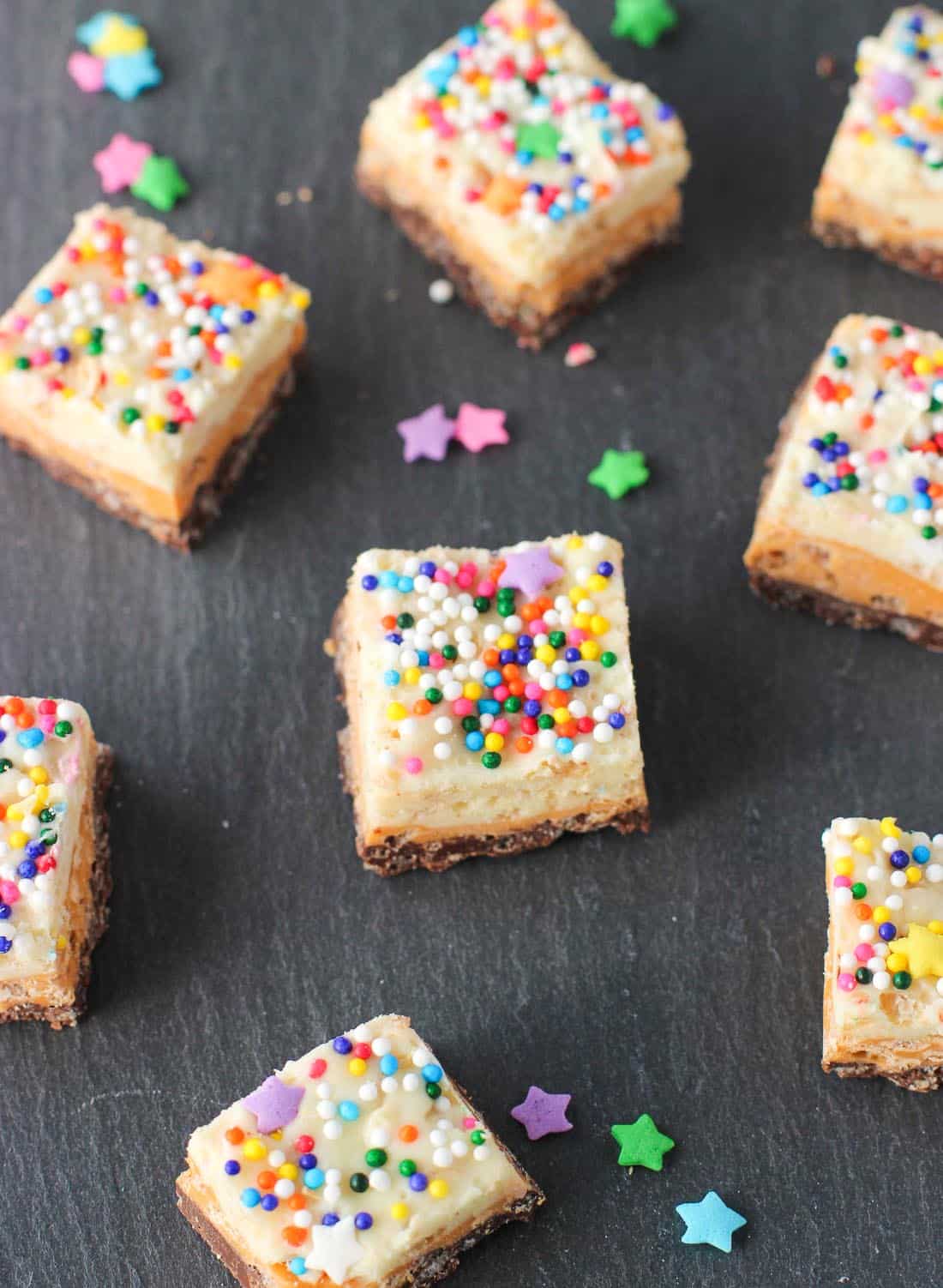 Double Chocolate Butterscotch Crunch Bars
Three types of baking chips and puffed rice cereal are all you need for these easy, no-bake butterscotch crunch bars. Sprinkles are optional but encouraged!
Ingredients
1/2

cup

semi-sweet chocolate chips

1/2

cup

butterscotch chips

1/2

cup

white chocolate chips

3/4

cup

puffed rice cereal,

divided

Sprinkles

for decoration
Instructions
Line a baking sheet with parchment paper. Parcel out three types of chips into separate microwave-safe bowls.

Starting with the semi-sweet chocolate chips, melt in microwave over a few intervals at half power until smooth, stirring between intervals.

Once smooth, stir in 1/4 cup of puffed rice cereal until cereal is fully coated. Using a spatula, spread chocolate and cereal mixture in a rectangular shape onto lined baking sheet, to 1/4"-1/2" thickness.

Repeat steps 2-3 with the butterscotch and white chocolate chips. To help maintain distinct layers, place baking sheet in the refrigerator between chip layers so that the previous layers harden (see note in post text above).

After spreading white chocolate layer, add sprinkles and slightly press down so that they adhere. Refrigerate until all chocolate has hardened completely.

Once chocolate has solidified, chop into squares. Store in refrigerator.
Nutrition
Serving:
1
bar
|
Calories:
127
kcal
|
Carbohydrates:
16.1
g
|
Protein:
1.1
g
|
Fat:
6.7
g
|
Saturated Fat:
4.5
g
|
Sodium:
23
mg
|
Potassium:
1
mg
|
Fiber:
0.5
g
|
Sugar:
13.3
g
|
Calcium:
10
mg
|
Iron:
0.2
mg
Nutritional information is provided as an estimate. As it can vary due to many factors (brands used, quantities, etc.), we cannot guarantee its accuracy.