Juicy dill and ginger pork burgers are flavored with simple ingredients for a bold and balanced taste. These burgers can be grilled or baked on a rack in the oven for an all-weather meal. Serve with red cabbage and two-ingredient creamy chili garlic sauce.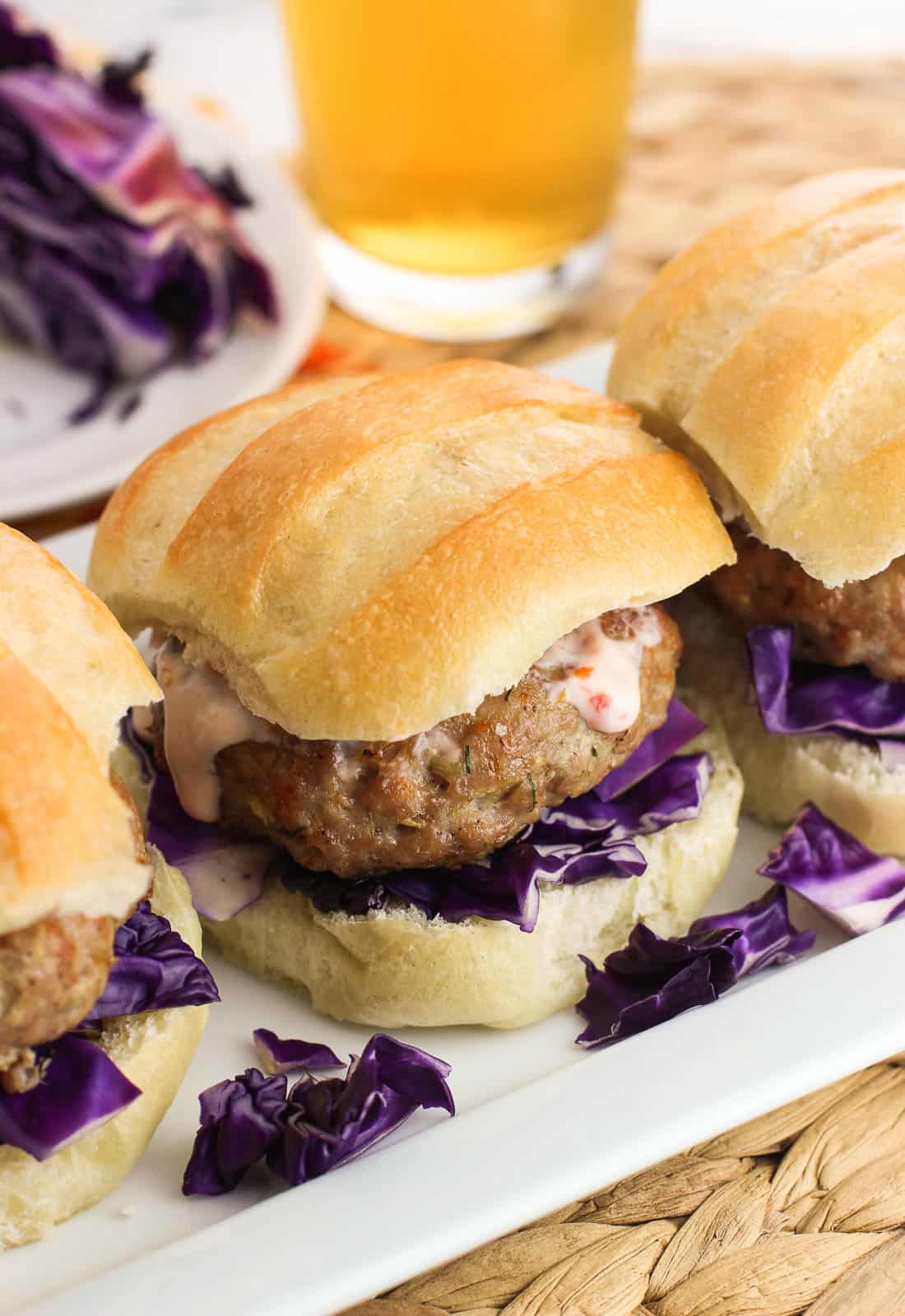 If there's an air of truth to 'April showers bring May flowers', then here in Nashville we're in t-r-o-u-b-l-e, because our plants and my herb garden are already growing at an insane rate. Which – don't get me wrong – is not a bad thing! But I wasn't quite ready for a large quantity of basil, oregano, parsley, cilantro, mint, dill, and rosemary to be ready to roll so quickly.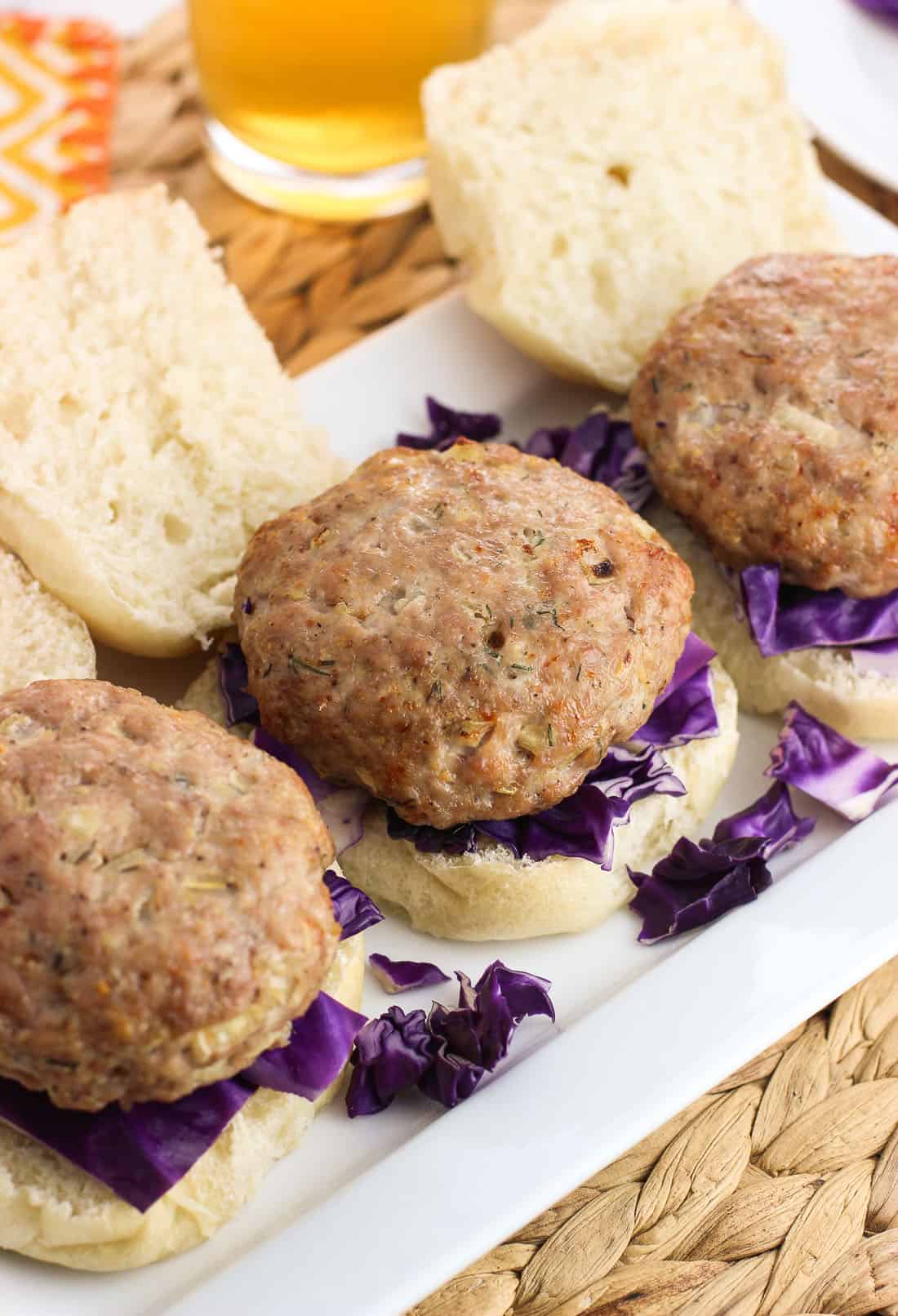 There are many worse problems to have ovviamente, so I'm looking forward to sharing plenty of recipes that make use of fresh herbs in the coming months. I started things off by taming my dill plant and whipping up these dill and ginger pork burgers for dinner recently and they were a HIT. The ginger/garlic/dill flavors meld together where one ingredient doesn't dominate the others. Instead you've got a boldly flavored but balanced burger that is super juicy and a nice change from the typical beef or turkey burgers you tend to see more often.
After years of apartment living where grills were not allowed on the premises, I don't take a single second with it here at our house for granted. That said Mother Nature seems to want to send us a torrential downpour at precisely dinnertime each night, so for these photos I prepped these dill and ginger pork burgers in the oven. I suggest using an oven-safe wire rack set over a baking sheet lined with foil for two reasons. The first being with the rack, that there's no need for you to flip the burgers partway through baking. Second – using the foil, there's a good chance that it'll catch all of the drippings and you'll be able to get away with tossing the foil and not have to wash the baking sheet. A win-win!
Dill and Ginger Pork Burgers
Ingredients
1 lb ground pork
1/3 cup diced onion
2 garlic cloves, minced
1 1/2 tsp grated ginger
1 tbsp chopped fresh dill, or to taste
1 tsp salt
1/2 tsp ground black pepper
4 hamburger buns
Red cabbage, sliced thin
Instructions
Preheat oven to 400°F, with one oven rack situated in the middle of the oven, and one near top. Line a baking sheet with foil and place an oven-safe wire rack on the sheet. Spray rack with cooking spray.
Add ground pork, onion, garlic, ginger, dill, salt, and pepper to a bowl and mix with a spoon or with hands until evenly combined.
Form mixture into four evenly-sized burgers (about 4 oz each) about 1 1/4"-thick, and place evenly-spaced on wire rack.
Bake for 23-25 minutes, or until the center of the thickest part reaches 160°F.
Remove burgers from the oven and set it to broil, at 500°F.
Place them back in the oven and broil for 1-2 minutes, or until the burgers are golden-brown on the exterior.
Serve with sliced red cabbage on hamburger buns, along with creamy chili garlic sauce (see note).
Notes
I topped these dill and ginger pork burgers with chili garlic sour cream. Just mix a your preferred amount of chili garlic sauce into light (or regular) sour cream. 🙂
Speaking of burgers…
…check out these Five-Spice Turkey Sliders with Creamy Chili-Garlic Sauce