December 3rd. Whaaat?
I just got back from an amazing-but-way-too-short trip to the East Coast to be with B's family for Thanksgiving, and I must admit that this silly 75°F San Diego weather is not my BFF right now. Sure, it was nice to unpack my winter clothes and head out to the gym in a t-shirt and leggings without giving outerwear so much as a second thought. I also paused for a moment of appreciation that my hands didn't instafreeze when I grabbed my car's steering wheel. But there's something about this time of year that has me feeling all kinds of nostalgic, and having grown up in an area where December was cold and you wore your PJs inside-out on weeknights (to increase your chances of a snow day from school), this weather just isn't doing it for me.
So, even if I can't have the weather that gets me all holly jolly, I can still have the food. Love that 🙂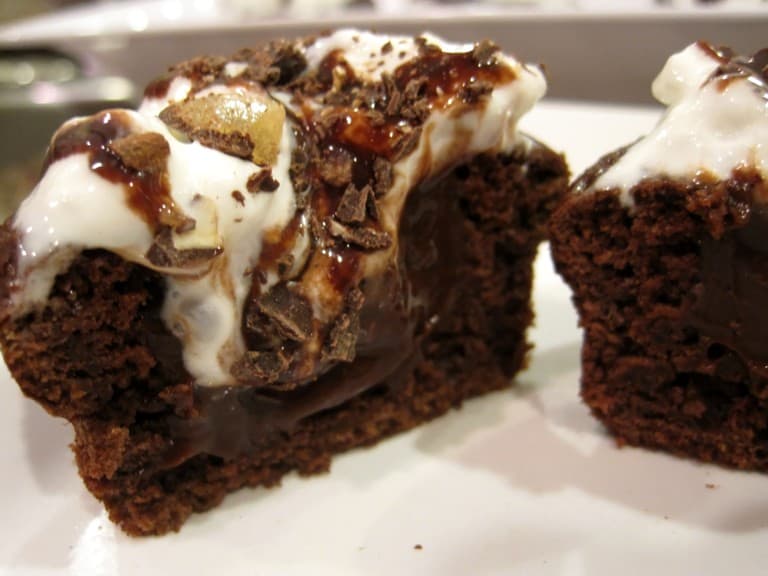 My mom's death by chocolate was one of my favorite desserts growing up. I don't think the recipe was anything overly-complicated, and the presentation certainly wasn't (everything layered in a trifle bowl), but a scoop of the finished product would have you thinking differently. Unlike the original, these death by chocolate cupcakes are in individual portions, so you get to skip the step where you justify using a soup bowl for your serving. Everything else about these cupcakes stays true to the non-fussy inspiration, so I used a boxed cake mix and a package of instant pudding mix (two ingredients there's a good chance you already have in your pantry). Nostalgia on the fly!
Before you start, you may want to chop up the chocolate bar and taste a piece or two (or three...), especially if you had come across this baby while just "stopping by" the supermarket for milk and eggs. Yum.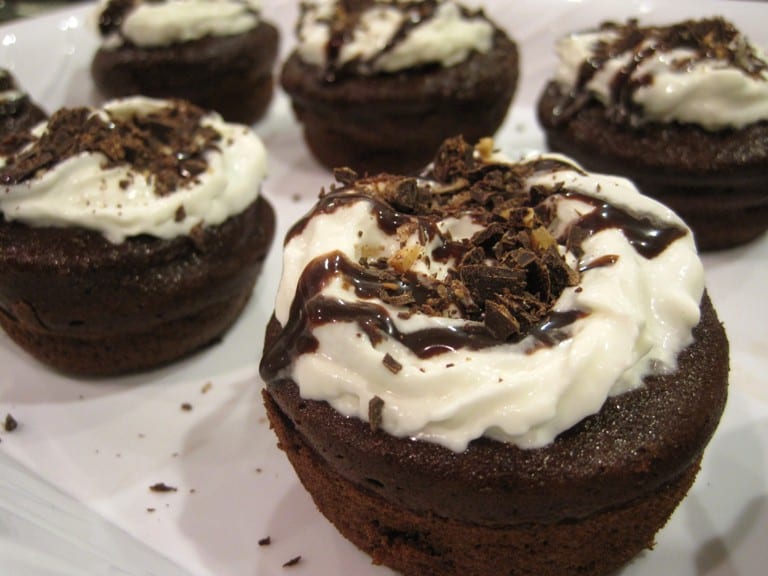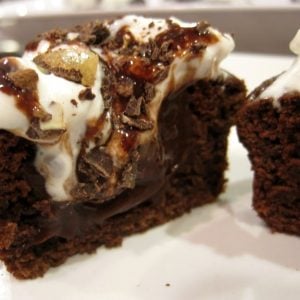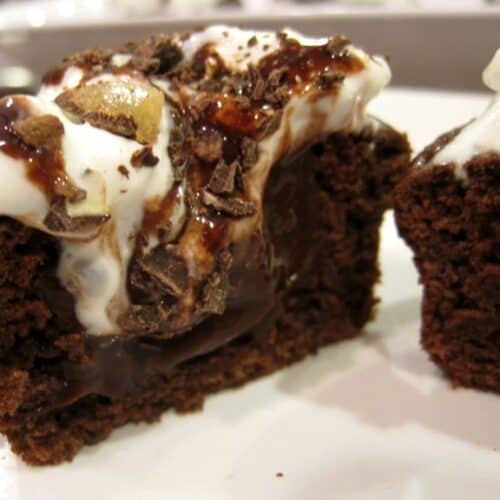 Ingredients
1 ½

cups

milk

1

pkg instant chocolate pudding

I used sugar-free, fat-free Chocolate Fudge

½

box Devil's Food cake mix

4 ½

tablespoon

egg whites

equivalent to 1 ½ eggs

¾

cup

brewed coffee

room temperature

¼

cup

yogurt

I used vanilla Greek

chopped up chocolate bar

chocolate syrup

whipped cream to garnish
Instructions
Mix milk and chocolate pudding mix until smooth and refrigerate while you prepare the rest of the recipe. (I used less of a milk to pudding mix ratio than the instructions on the back of the box call for because I wanted a thicker pudding.)

Preheat oven to 350°F. Mix the ½ box of cake mix with egg whites, coffee, and yogurt and mix until all ingredients are well-integrated and no clumps remain. Note: this too is a departure from the traditional cake mix instructions on the box. No oil, no water, no problems – these modifications produce a pillowy-soft cupcake.

Grease 10-12 wells of a cupcake pan with cooking spray (depending on how much batter you have – I wasn't precise with halving the cake mix box so I ended up with ten cupcakes and not twelve). Fill each well ¾ full. Bake for 18-21 minutes or until tester inserted into tallest part comes out clean. Let cool to room temperature.

Once cupcakes have cooled, hollow out inside of each. I totally used this recipe as an excuse to go and buy a cupcake corer, but I'm sure a knife and a spoon will do the trick.

To fill the cupcake, layer 1-2 tablespoon of chocolate pudding, a sprinkling (or more) of chopped chocolate, a drizzle of chocolate syrup, more chocolate pudding, etc. until filling is flush with cupcake edges. This isn't an exact science – the best part is that you get to call the shots and add whichever ingredients you want, in the quantities you want, as you see fit.

Right before serving, place a dollop of whipped cream atop each cupcake and drizzle with chocolate syrup and remaining chopped chocolate.
Nutritional information is provided as an estimate. As it can vary due to many factors (brands used, quantities, etc.), we cannot guarantee its accuracy.
Food Safety and Nutrition Disclaimer