Birthday cake. Is there any better kind?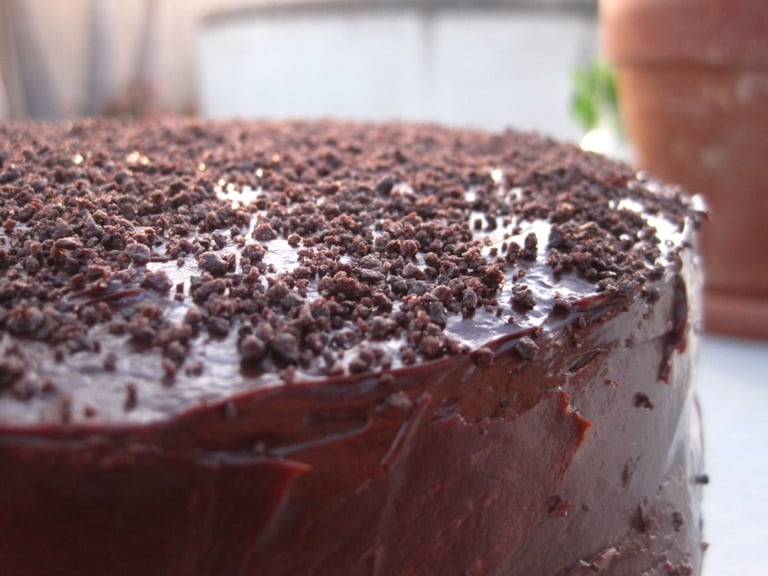 My birthday's not until the summer, but I jumped at the chance to make birthday cake for a recent family gathering. My sweet aunt knows I live for the opportunities to bake something with a million servings when there will actually be about a million people to eat it, so it. was. on. Small issue, though – my indecisive brain.
My inner dialogue was going something like I'll make a classic chocolate cake with chocolate frosting. Yeah, chocolate. Ooh what about a cheesecake. Or will that be too rich? It really doesn't matter because I'll be dumping butter and sugar into whatever I make anyway…but wait I really want to eat chocolate frosting. Okay no cheesecake. Can I frost angel food? But birthday's are a splurge occasion. I'll save angel food for any old Tuesday. Let me check Pinterest…
Typically, that's a very, very bad thing.
The very, very bad thing being that I'd usually go off into the land of refurbishing old furniture I don't even own yet or pinning hair style how-to's that I'd never in a million years be able to pull off, completely forgetting about the task at hand. But this time? I was focused. Maybe it was the prospect of chocolate frosting in my future?
I went straight to my Cakes & Pies board, and immediately was torn between two cakes I've made before. Only problem (really a non-problem) being they were both so amazing, delicious, can't stop eating, I couldn't decide which to make this time.
So I made both. Sort of.
I adapted the chocolate cake layer from Pixelated Crumb's Chocolate Raspberry Cake. I'm pretty sure I was drawn to her recipe because it included a step for melting chocolate by pouring hot coffee over it. Uhh, hello? Is that what heaven smells like? I wanted a deep, dark chocolate-y taste, so I used dark chocolate in the coffee melting step above. I reduced the sugar, though only because I added two types of chocolate chips to the batter – regular-sized AND mini semi-sweet. While the mini chips melt into the batter for a little added sweetness, the larger chips stick around and make it so you're biting into a piece of cake with little pockets of dense chocolate. If that doesn't add to the decadence factor, I don't know what will.
I've been experimenting with coconut oil over the past few months, so I subbed it in for a good chunk of the oil. It was a cross-your-fingers-hope-I-didn't-mess-it-up kind of move (for me, at least, with a new-ish ingredient), but I was very pleased with how it turned out. The cake was still as tender and moist as I could have hoped for. Coconut oil, your consistency is still confusing, but you're growing on me…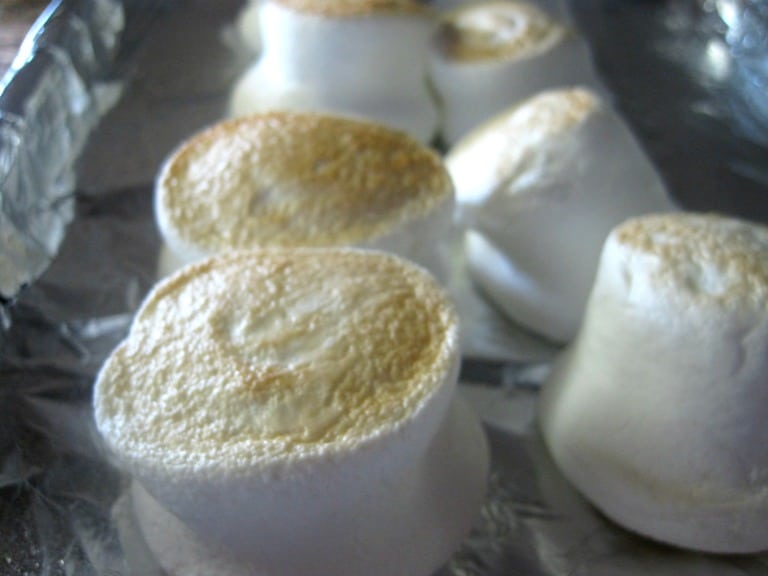 Then I adapted the filling from Brown Eyed Baker's Six-Layer Cake with Toasted Marshmallow Filling & Malted Chocolate Frosting. Obviously I had chocolate on the brain when I was making this cake, so I made a chocolate almond version of the toasted marshmallow filling. I don't think I'll ever tire of almond extract. And throwing a few marshmallows under the broiler has opened my eyes to how alarmingly quick s'mores can come together. Or a big bowl of this frosting. Pick your poison.
Bringing a cake to a birthday party means the only picture I have of the inside is an action shot, after I'd taken a few bites. Whoops! I couldn't resist. Something else to note is that this cake is heavy, but I counted lugging it around as my arm work out for the day. Obviously that means I burned off all the dark chocolate/almond/toasted marshmallow deliciousness. Errr…
Finally, the only change I made to the chocolate frosting was to use half semi-sweet and half dark chocolate (with deep dark chocolate-y results). Otherwise I followed Pixelated Crumb's chocolate ganache frosting recipe from her chocolate raspberry cake, which I highly recommend if you're in the market for a chocolate frosting recipe. Fab-u-lous. I may or may not have purposely missed a few spots while swiping the bowl with a spatula so that I had "leftovers" to taste test.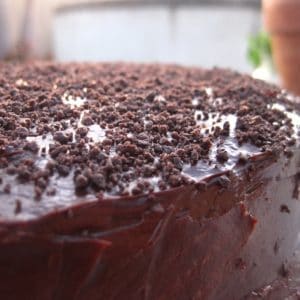 Ingredients
For the Cake:
1 3.5-

oz

dark chocolate bar

1 1/2

cups

hot brewed coffee

2 1/2

cups

granulated sugar

2 1/2

cups

all-purpose flour

1 1/2

cups

unsweetened cocoa powder

2

tsp

baking soda

3/4

tsp

baking powder

1 1/4

tsp

salt

3

eggs

1/4

cup

canola oil

1/2

cup

coconut oil

melted

1 1/2

cups

low-fat buttermilk

1 1/2

tsp

vanilla extract

1

cup

semi-sweet chocolate chips

1/4

cup

mini semi-sweet chocolate chips
For the Filling:
8

jumbo marshmallows

or approx. 16 large marshmallows

1

cup

powdered sugar

1

cup

butter

room temperature

1 7.5-

oz

jar marshmallow cream

1/4

cup

unsweetened cocoa powder

1/2

tsp

almond extract
Instructions
Preheat oven to 300°F. Grease three 9"-round baking pans. Press parchment paper into bottoms of pans, then grease top-side of parchment paper.

For the Cake: Chop up the dark chocolate bar and place pieces in a ceramic bowl. Pour hot coffee over top of the chocolate and stir for a few seconds until smooth. The chocolate should melt very quickly. Set chocolate/coffee mixture aside.

In a bowl, combine sugar, flour, cocoa powder, baking soda, baking powder, and salt.

In a separate bowl, lightly beat eggs, then add canola oil, coconut oil, buttermilk, and vanilla extract. Pour wet ingredients into dry and stir until just combined. Stir in chocolate chips.

Pour cake batter evenly into three pans. I found that the chocolate chips tended to stick towards the bottom of the bowl and not flow evenly with the batter into the pans, so use spatula to ensure that chips are evenly distributed throughout the layers.

Bake until a toothpick inserted in the center is clean. This took about 45-50 minutes for me, though the original recipe calls for less time, so I would suggest starting to check earlier.

Let layers cool in pans for a few minutes, then turn out onto a wire rack to cool completely.

For the Filling: Line a baking pan with aluminum foil, then spray foil with cooking spray. Place marshmallows on foil, then place pan in oven with the "broil" setting until the tops of the marshmallows start to expand and the tops become golden-brown. Remove pan from oven, flip marshmallows over, then broil until tops become golden-brown, as well. This step is very quick - continually watch the marshmallows because they can go from perfect doneness to burnt in a matter of seconds.

Beat powdered sugar and butter on low speed until mixture is smooth and powdered sugar is fully worked into the butter. Increase speed to medium, then add cocoa powder, almond extract, marshmallows, and marshmallow cream. Beat for a few minutes until all ingredients are well integrated and the filling as a creamy, spreadable consistency.

Once cake layers have cooled completely, place one layer onto serving dish, spread half of the marshmallow filling over top, place another cake layer, spread remaining marshmallow filling, then top with the third cake layer.

Frost using your favorite chocolate frosting recipe (I used Pixelated Crumb's chocolate ganache, link below) and decorate as you please (sprinkles, cookie crumbs, etc.)
Nutritional information is provided as an estimate. As it can vary due to many factors (brands used, quantities, etc.), we cannot guarantee its accuracy.
Chocolate cake recipe adapted from Pixelated Crumb; chocolate frosting recipe found here, too
Filling recipe adapted from Brown Eyed Baker