This chocolate mint chip ice cream is rich, creamy, and dairy-free (!!!!). It includes just the right amount of mint and espresso powder to amp up the deep chocolate flavor, and is sure to be a summer favorite whether you're limiting dairy or not.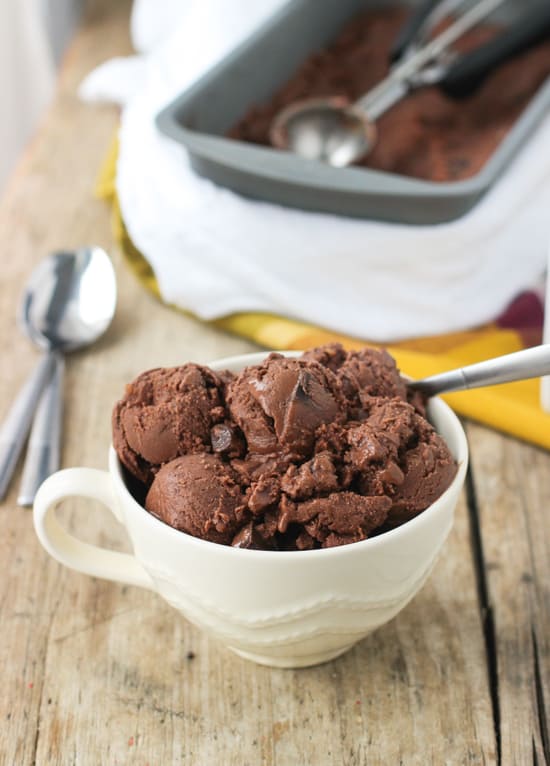 Guys, I have something to confess. In the grand scheme of things it's not anything major, but to a food blogger it's a Big deal. Capital B 'big'. I kind of, sort of, am limiting my dairy intake, JUST in time for ice cream season. 😐 Not to bore you to tears, but I've had a few tests done to see if my sneaking suspicions of food sensitivities were in fact true. Turns out they are, and limiting dairy was the suggestion handed down. NOT eliminating completely, thank goodness, because there are a few foods within the dairy realm that I'm fine to eat (yesssss!), but I'm cutting out all gratuitous dairy-eating, saving my dairy intake for the really good stuff, and experimenting with alternatives to integrate into my diet.
I say this because one time in college, I used all that medical knowledge I picked up in my accounting classes (so, none) to convince myself I had a sensitivity to peanut butter and swore off it for two years. I really liked peanut butter, too! And guess what? No sensitivity to peanuts whatsoever. I'm still a little sad thinking about all of those missed opportunities to enjoy Reese's peanut butter cups. At least that's what I tell myself when I reach into the bag for an extra one now and then. 😉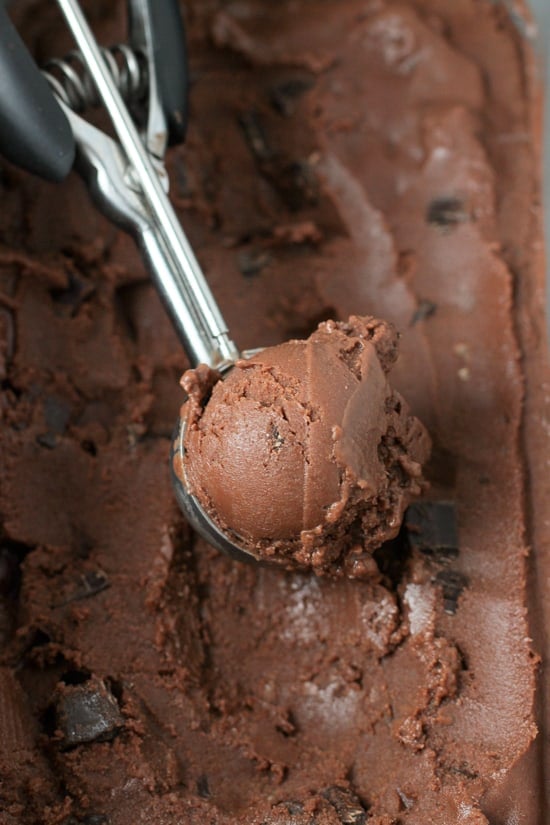 Thankfully my issues are very mild in comparison to those who need to be strict about eliminating dairy completely, but I'm a liiiittle bit excited to use this as an opportunity to cook, bake, and learn about new ingredients and techniques currently outside of my kitchen comfort zone. You'll still see recipes with milk and cheese ("but what about the cheeeeeseee??") on My Sequined Life because cheese is positively delicious, but more often than not they will probably be dairy-flexible. You can use whatever type of milk works for you, substitute or eliminate cheeses, etc.
SO, in short, I've been experimenting with dairy alternatives, starting with ice cream (because, priorities). This post is actually a recipe remix - a dairy-free makeover of the double chocolate mint chip ice cream I shared a few months ago - and geez, is it good.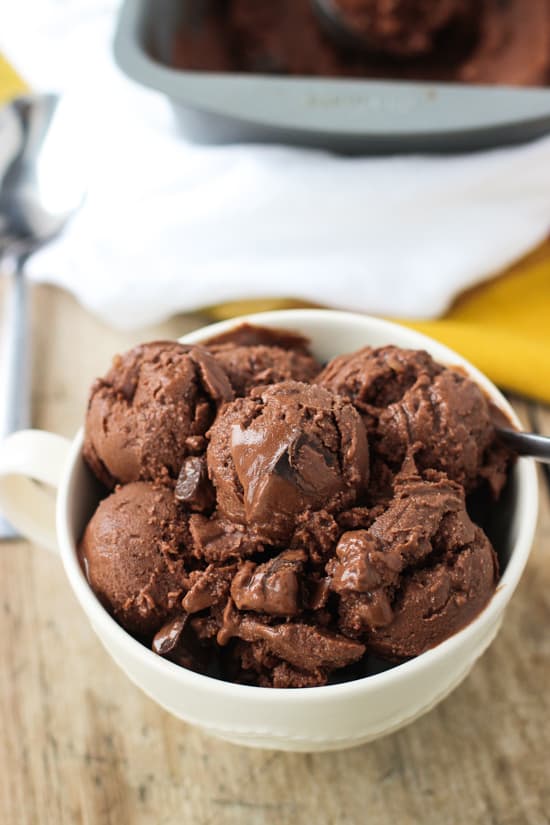 The ice cream base consists of full-fat coconut milk and unsweetened almond milk, and is creamy and has that deep, chocolate-y rich flavor that's SO one of the best things about ice cream. It has a small amount of peppermint extract (⅛ teaspoon) to give just the right amount of mint without overpowering everything. There is an optional bit of espresso powder that I find intensifies the chocolate flavor, but it wouldn't be an issue if you'd prefer not to use it. Last but not least, dark chocolate chunks are swirled into the mix to make this ice cream even more decadent. If you're truly dairy-free, you may wish to use dairy-free chocolate chips/chunks, but otherwise just use the standard variety.
No matter if your diet is dairy-free or dairy-full, this ice cream is sure to please. 🙂
Dairy-Free Chocolate Mint Chip Ice Cream
This chocolate mint chip ice cream includes just the right amount of mint and espresso powder to amp up the deep chocolate flavor. It's sure to be a summer favorite whether you're limiting dairy or not.
Print
Pin
Rate
Ingredients
1 ⅓

cup plus ¼ cup

unsweetened almond milk,

divided

4

teaspoons

cornstarch

1

13.5-ounce can

coconut milk

⅔

cup

granulated sugar

2

Tablespoons

agave nectar

¼

teaspoon

salt

⅓

cup plus 3 Tablespoons

unsweetened cocoa powder

½

teaspoon

instant espresso powder

(optional)

⅛

teaspoon

pure peppermint extract

¾

cup

dark chocolate chunks or chips

(choose a dairy-free variety if desired)
Instructions
In a small bowl, whisk together ¼ cup of the almond milk and cornstarch together until cornstarch is dissolved. Set aside.

In a pot (at least 4 quarts) set over medium to medium-high heat, pour in the remaining 1 ⅓ cups almond milk, coconut milk, sugar, agave nectar, salt, cocoa powder, and espresso powder (if using). Whisk so that ingredients combine and sugar, cocoa powder, and espresso powder dissolve. Let mixture come to a low boil, then let cook for a few minutes, occasionally stirring. After 4-5 minutes, pour in the almond milk/cornstarch mixture and stir. Let mixture come back to a low boil and cook for an additional few minutes to thicken, stirring frequently.

Remove pot from heat and stir in peppermint extract. Pour into a large plastic bag (or two small ones) and seal. Set bag(s) in a bowl filled with ice water so that ice cream mixture cools quickly. I also placed the bowl in the refrigerator to help speed the process along.

After a few hours or whenever mixture is chilled, pour into ice cream maker and prepare according to your ice cream maker's directions. Just before ice cream is finished, add chocolate chunks. Ice cream will be soft at this point, like soft-serve. Transfer ice cream to a container and freeze.
Notes
This recipe yields approximately one quart of ice cream in total.
Once frozen, let ice cream sit out of the freezer for 5-10 minutes before serving for easier scooping.
Base ice cream recipe adapted from Jeni's Ice Cream Base, as written in Saveur.
Nutrition
Serving:
0.5
cup
|
Calories:
262
kcal
|
Carbohydrates:
35.8
g
|
Protein:
3.1
g
|
Fat:
13
g
|
Saturated Fat:
10
g
|
Cholesterol:
4
mg
|
Sodium:
139
mg
|
Potassium:
181
mg
|
Fiber:
2.6
g
|
Sugar:
30
g
|
Calcium:
70
mg
|
Iron:
1.8
mg
Nutritional information is provided as an estimate. As it can vary due to many factors (brands used, quantities, etc.), we cannot guarantee its accuracy.
Food Safety and Nutrition Disclaimer