This crunchy dark chocolate almond bark is an easy three-ingredient, and no-bake dessert recipe. It's like a homemade dark chocolate Crunch bar loaded up with almonds!
Sometimes there are those recipes that carry with them a substantial backstory. Flavors inspired by a life-long dream of a trip overseas, finally nailing grandma's/great-aunt's signature recipe after multiple copycat attempts, etc. That kind of thing. Then…well, then there's this crunchy dark chocolate almond bark.
Short story made even shorter: I usually keep roasted almonds and some chocolate in my desk drawer at work. Chocolate in case of emergency, of course. One day I decided to mix together an almond and a few Bunch-a-Crunch clusters in one mouthful and quickly realized the whole was WAY more than just the sum of its parts in this case. Delicious!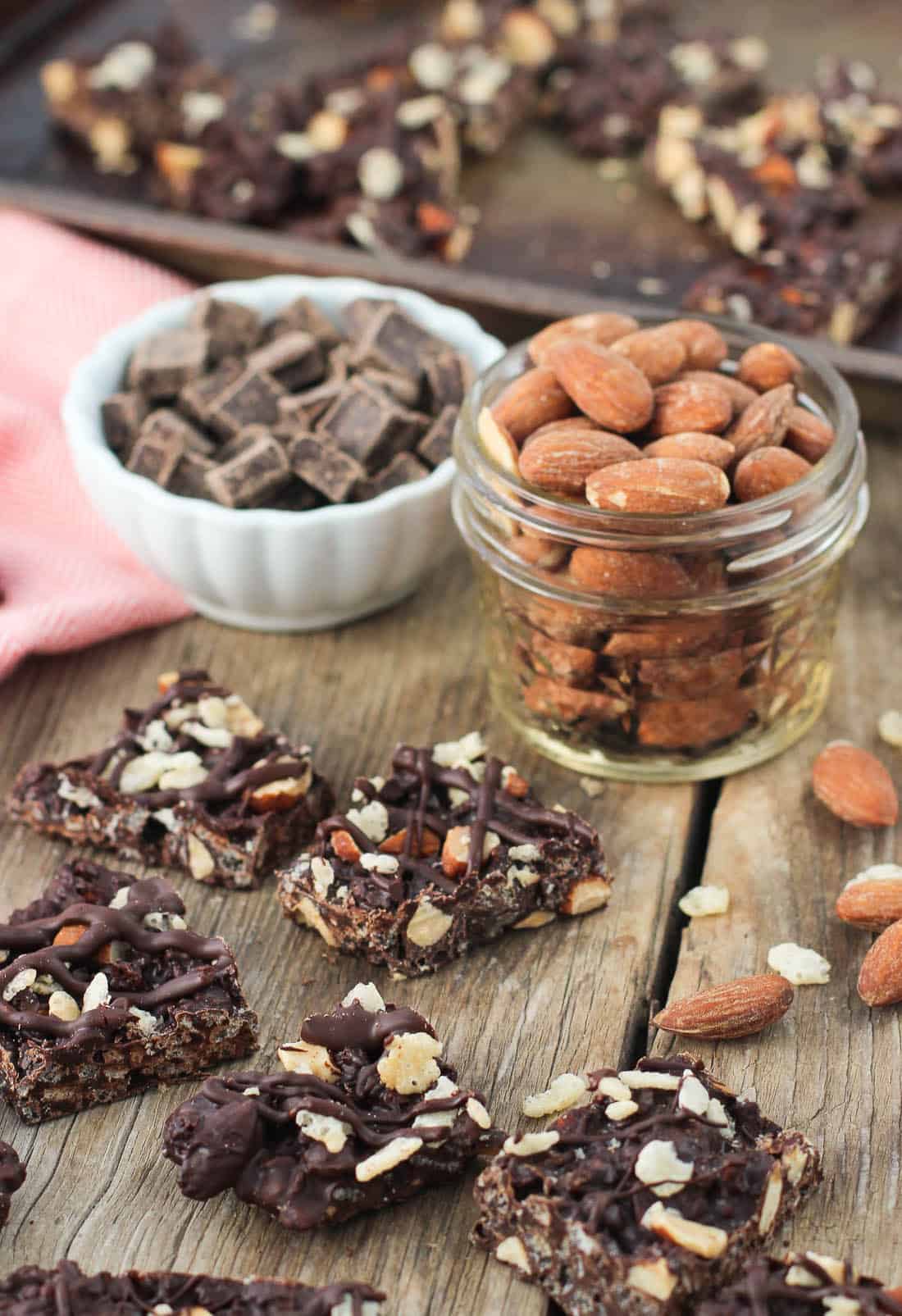 Thus in an instant the recipe for this crunchy dark chocolate almond bark (if you can call a sweet treat this simple a "recipe") was born. It uses only three ingredients – dark chocolate, roasted almonds, and puffed rice cereal – and couldn't be easier. In each bite you get the crisp crunch à la Crunch bars from the puffed rice and a rich roasted flavor (and more crunch) from the almonds, all covered with smooth dark chocolate. I took some liberties by using dark chocolate instead of the milk chocolate in Crunch bars, but that was just personal preference. Use whatever chocolate variety you like!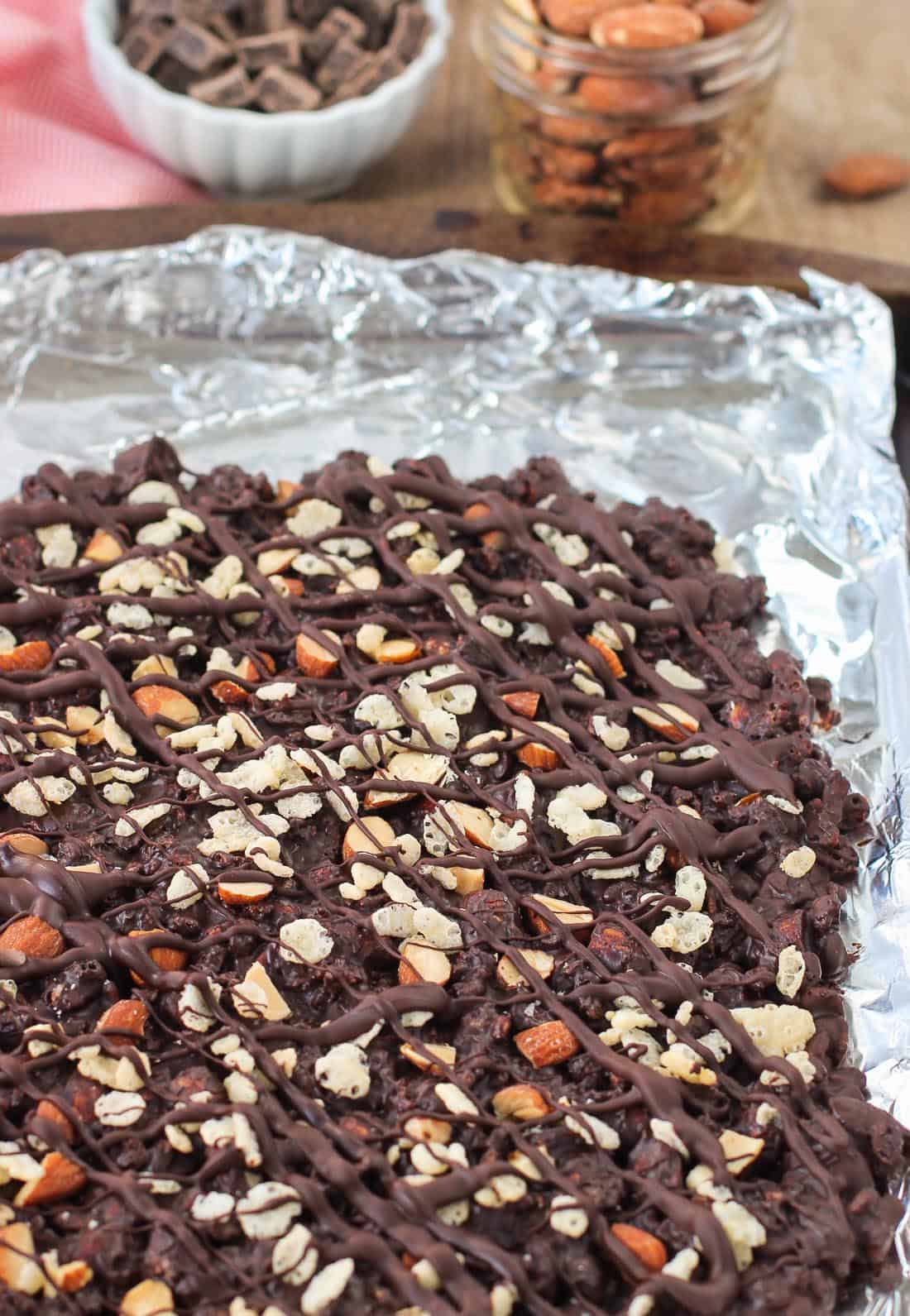 To throw a mild bit of complication into these simple recipe steps, once all of the ingredients were mixed together and spread onto the sheet, I pressed extra puffed rice cereal and chopped almonds into the top of the bark and covered it all with a melted chocolate drizzle. Totally optional, but it's a little fancied up trick. You know…in case you anticipate actually sharing this crunchy dark chocolate almond bark with friends and/or family and not hoarding it in your office desk drawer. 😉

Crunchy Dark Chocolate Almond Bark
Ingredients
1 1/2 cups dark chocolate chips or chunks
1 cup puffed rice cereal
1/2 cup roasted almonds, chopped
Extra puffed rice, chopped almonds, and melted chocolate for garnish
Instructions
In a microwave-safe bowl, add dark chocolate chips/chunks and melt in 30-second intervals on half-power, stirring after each interval until smooth and melted. Alternatively you may use a double boiler to melt the chocolate.
Once the chocolate has melted, add puffed rice cereal and chopped almonds and stir until mixed in evenly. Spread chocolate mixture thinly on a foil-lined baking sheet.
If you'd like to decorate the bark, press extra puffed rice and almonds into the top of the bark. Melt a little extra dark chocolate and transfer to a piping bag (or a plain old plastic bag, seal, and snip a corner). Pipe melted chocolate in a drizzle pattern over top of the bark.
Let bark harden. To speed up the hardening process you can stick the baking sheet into the refrigerator. Once fully hardened, cut into pieces.
You may also like: