I had every intention of sharing these coconut lime curd bars before the rah-rah-eat-all-the-desserts of the holidays was over. Thennn I didn't. Whoops! But better late than never, right? Right. I'm still sticking to my leggings/yoga pants/pants with non-restrictive waistbands routine for the foreseeable future, after all (rather, afterallthecookiespiecakefastfoodroadtripfood).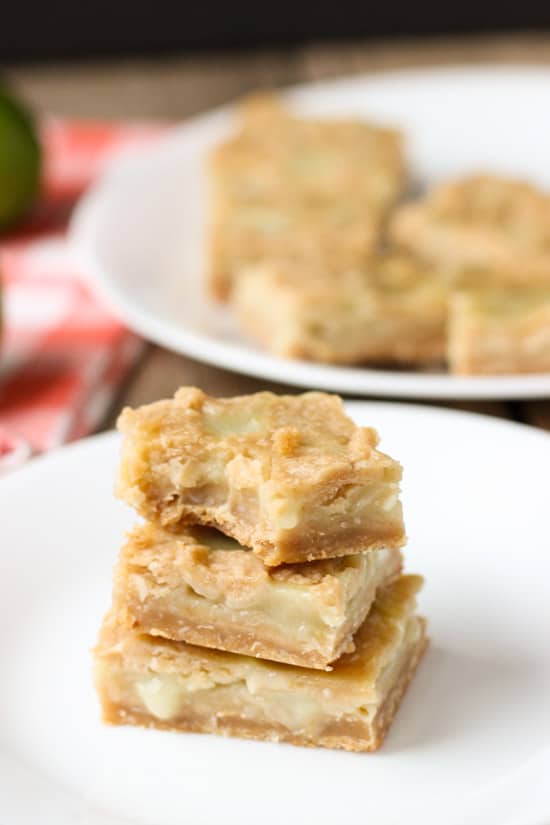 While I'm a chocolate fanatic at heart, I have a super special weak spot for citrus-y desserts. Lemon bars, lemon cheesecake, lemon meringue, you name it. And don't even get me started on lemon curd – I don't think I've been the same since I first tried it. You mean to tell me I can slather tart, sweet deliciousness on a piece of bread and call it breakfast? Sign. me. up.
These lime curd bars take that same crave-inducing tartness and serve it up smack between two buttery, coconut flavored layers. Coconutty, buttery, tart, creamy, sweet…not even going to tell you how quickly this bars disappeared with just the two of us.
And did I mention that this coconut lime curd is egg-free? Light coconut milk takes its place for a really easy alternative. Promise.
These bars come together in a few steps, but the extra minutes are well worth it for the end result. I prepared the curd first and then refrigerated it while I whipped up the crust layers. Since the curd was warm after cooking on the stove top, refrigerating it cooled it quicker (duh, Alyssa) and allowed it to thicken even more. Sneaking a spoonful or three of cooled coconut lime curd is highly encouraged. Just please save some for the recipe – I'd be sad if you couldn't experience it in bar form!
The first layer of the crust bakes first, then you spread what's left of the lime curd, and then top with the remaining crust. Since the crust dough is malleable, I sort of haphazardly added flattened sections of it to the top of the lime curd. They call that rustic, right? 😉
One of the hardest steps of these bars is allowing them to cool completely in the fridge before slicing. But once they're chilled though…game on!
Ingredients
For the Coconut Lime Curd:
3/4

cup

light coconut milk

1

tbsp

+ 1 tsp cornstarch

1/2

cup

freshly squeezed lime juice

1/8

tsp

vanilla extract

1 1/2 - 2

tsp

lime zest

amount from two limes

1/4

cup

granulated sugar

pinch

of salt

1

tbsp

unsalted butter
For the Bars:
1

cup

all-purpose flour

1/2

cup

unsweetened coconut flakes

ground

1/4

tsp

cornstarch

pinch

of salt

1

stick

8 tbsp unsalted butter
Instructions
For the Coconut Lime Curd:
Add coconut milk and cornstarch to a small saucepan and heat over low-medium to medium heat, whisking so cornstarch dissolves. Let mixture cook and thicken for about five minutes, stirring occasionally. Add lime juice, vanilla extract, lime zest, sugar, and salt and stir to combine. Let mixture cook for ten minutes or so more, until edges begin to slightly bubble and mixture has thickened.

Remove saucepan from heat and stir in 1 tbsp butter until dissolved. Let curd cool at room temperature, or place in refrigerator while you prepare the rest of the recipe.
For the bars:
Preheat oven to 350°F. Stir together flour, ground coconut flakes, cornstarch, and salt in a mixing bowl. Cut in butter. You may also use your hands to work butter through evenly by pressing together the dough to form a cohesive ball.

Line an 8" x 8" baking dish with parchment paper, leaving enough overhang on opposite sides so that you will be able to easily pull out bars when ready to slice. Spray parchment paper with cooking spray. Press a little more than half of the batter into the bottom of the pan. Bake for 16-18 minutes, or until dough has slightly browned around the edges and has firmed a bit to the touch.

Pour curd over top of the pre-cooked bottom dough, and place thin layers of the remaining dough on top of curd, in whatever pattern you prefer. Bake for 16-18 additional minutes, or until curd is bubbly and the top dough pieces have cooked. Remove from oven and let cool in pan on a wire rack. After ten or so minutes, place pan in the refrigerator to cool completely before slicing.
Nutritional information is provided as an estimate. As it can vary due to many factors (brands used, quantities, etc.), we cannot guarantee its accuracy.