These tender cinnamon raisin biscuits are a delicious spin on a classic. Perfect warm from the oven and slathered with cinnamon honey butter.
I consider myself lucky that I've been able to experience life in different places (in the US). I grew up in the northeast, then took a little jaunt to the southwest, and now I'm in the south. Where I'm arming myself with anti-humidity hair products (help! any recommendations?) and am lamenting the fact that spring has sprung and moved on after a quick two weeks. Seriously...90 degrees already? 😐
Something about the south that I can get behind though is the food. The FOOD. I've singed my taste buds on the hottest of hot hot chicken and a BBQ sauce that caused me to cry in the middle of a work meeting. I've been offered a side of mac and cheese more in the past year than ever before, and can't believe I ever eschewed the thought of eating chicken and waffles together.
So gooood.
Alongside that side of mac and cheese is usually a biscuit, which I can't exactly say no to. I really don't remember eating biscuits much growing up, but it's safe to say I'm making up for lost time nowadays.
SO with that preface, this northerner made biscuits... and loaded them up with plump and juicy raisins and a heavy-handed cinnamon swirl. Now am I the ultimate biscuit authority? No, but these babies sure didn't disappoint! From the aroma filling the kitchen as they baked to packing up the last of twelve for a mid-morning work snack, we loved everything about them. So much so that I didn't mind washing the pastry blender, which is one of my least favorite kitchen gadgets to clean (along with the blender and whisks).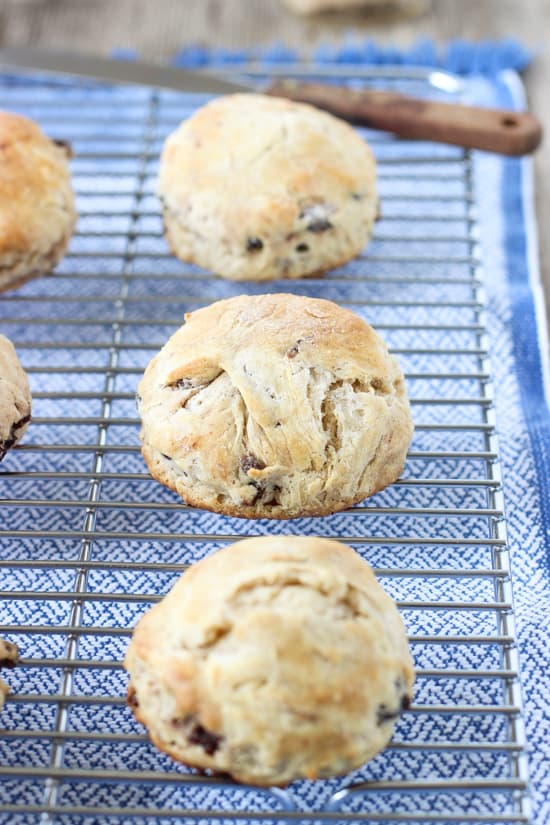 To make sure the raisins are on point in baked goods, I like to let them soak in hot water for at least 5-10 minutes before draining them and adding them to the batter. I've found that way they tend to stay nice and plump even after baking. All good things for a cinnamon raisin biscuit. And that crisp bottom crust? Yesss please.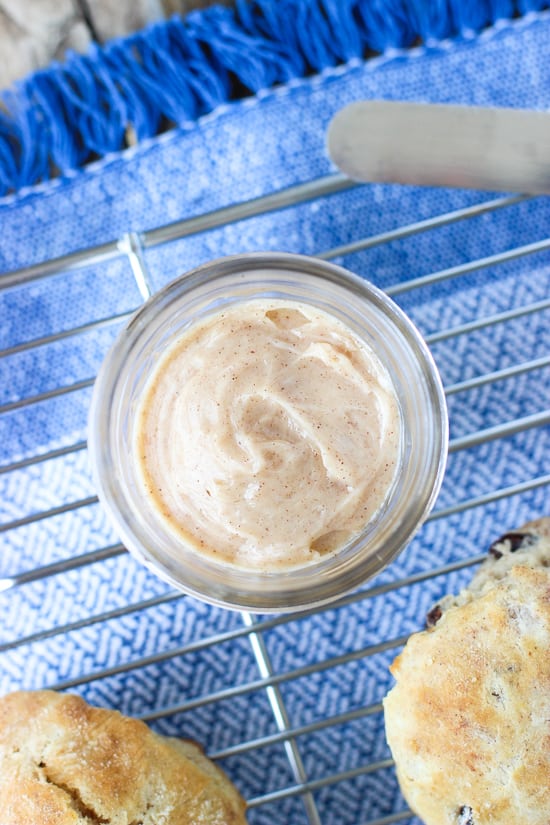 Now for this butter. It's such a simple thing to whip up but it seems much fancier than it is! I have no clue why I haven't dipped my toe in the proverbial compound butter water sooner. I may be the last person on the cinnamon honey butter train, but just indulge me for a sec. Cinnamon, honey, and a smidge of salt transform plain, old butter into a (very) lightly sweetened and spiced spread that just screams for these biscuits. And toast...pancakes...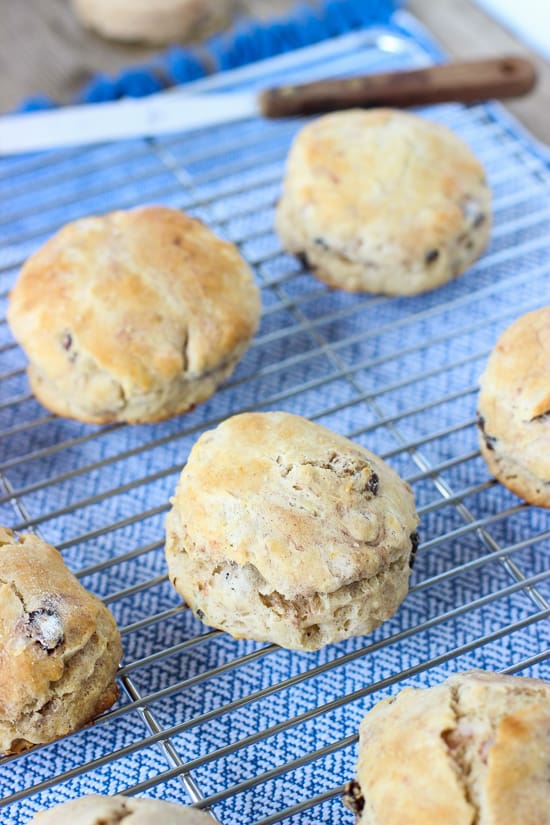 Cinnamon Raisin Biscuits
These tender cinnamon raisin biscuits are a delicious spin on a classic. They're perfect warm from the oven and especially good slathered in cinnamon honey butter.
Ingredients
For the Biscuits:
2

cups

plus 2 tablespoon all-purpose flour,

plus more for kneading

4

teaspoon

baking powder

½

teaspoon

salt

1 ½

teaspoon

ground cinnamon

8

tablespoon

unsalted butter

⅔

cup

milk

(any will do)

1

egg

2

tablespoon

honey

½

cup

raisins
For the Cinnamon Honey Butter:
4

tablespoon

unsalted butter,

at room temperature

Pinch

of salt

¾

tablespoon

honey

⅛

teaspoon

ground cinnamon
Instructions
For the Biscuits:
Preheat oven to 450 degrees F. Place raisins in a small bowl or cup and pour just enough hot water over top to completely submerge them. Let raisins sit while you prepare the rest of the ingredients.

In a bowl, add flour, baking powder, salt, and cinnamon and whisk to combine. Cut in butter until mixture has small lumps.

Add milk, egg, and honey and whisk until just combined. Drain water from raisins and pat raisins with a paper towel absorb as much excess moisture as you can. Fold in raisins.

Turn out dough onto a well-floured surface and with floured hands, knead until it comes together cohesively (30 seconds or so). You may add additional flour a small bit at a time if needed to reduce the stickiness. Press dough out evenly until it is approximately ¾" - 1" thick.

Using a biscuit cutter (mine was 2 ½" wide), cut out biscuits and place on ungreased non-stick baking sheet about 1 ½" apart from one another. Bake for 8-10 minutes, or until biscuits are golden brown and bottoms have browned. Transfer to a wire rack to cool.
For the Butter:
In the bowl of a food processor or in a bowl using a hand mixer, add room temperature butter, salt, honey, and cinnamon and process/mix until all ingredients are well combined. Store in the refrigerator.
Notes
The cinnamon honey butter recipe as written above makes a relatively small batch as it uses half of a stick of butter. Feel free to double if you're whipping up a batch for a crowd.
Biscuit recipe adapted from Taste of Home