This week I've been munching on some homemade chocolate graham crackers and sneaking a raspberry marshmallow or two when my sweet tooth calls (which isn't so infrequent). So has B. Even my dog tried to get in on the action, going so far as licking the spot on the floor where a marshmallow had previously landed. Seriously, the marshmallow was on the floor for two seconds. She "washed" the floor for two minutes. Shameless.
Having grahams and marshmallows around is all well and good, but at some point someone asks when we're making s'mores. Now, duh. Along with two other super quick, super festive Valentine's Day desserts.
Chocolate Raspberry S'mores
I can't think of many things that wouldn't benefit by some chocolate. Especially dark chocolate shavings. Mmmmm.
f it's freezing by you this time of year, you're in luck because these are indoor s'mores. I put a few marshmallows on a cookie sheet lined with parchment paper and placed them under the broiler for a minute or two, until they expanded a bit and were becoming gooey. From the bottom up, I layered a chocolate graham, the marshmallow, and chocolate shavings, then topped with another chocolate graham. And then I ate it for breakfast. Instead of adding a square of chocolate, I used a kitchen peeler and shaved a few pieces of dark chocolate so that the warm marshmallow melted the chocolate quickly. Warm raspberry + melty chocolate = ohhh baby.
Once you've got the grahams and marshmallows on hand, it's a little frightening knowing you've got the capabilities to mass produce s'mores, but I can think of far worse problems to have.
Chocolate Raspberry Hot Chocolate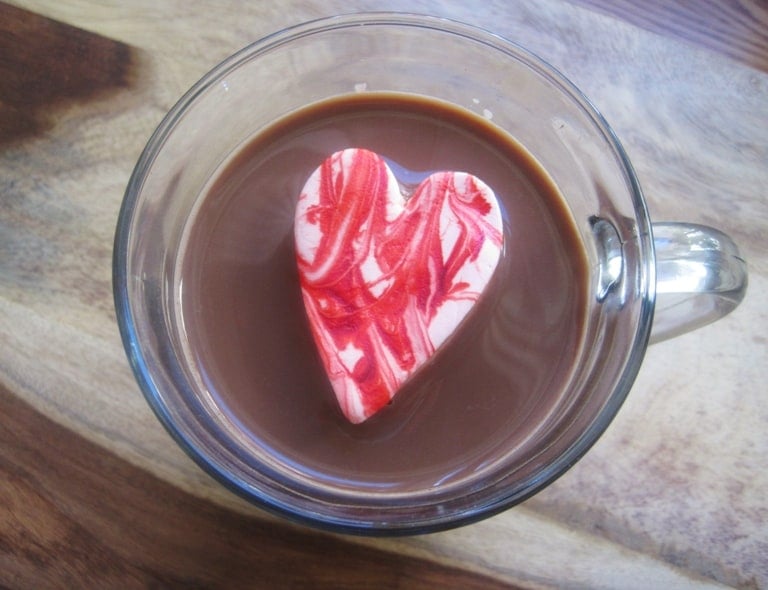 What else combines chocolate and marshmallows? Hot chocolate, that's what! I whipped up a batch of my trusty healthier hot (dark) chocolate (omitting the cinnamon), greased a cookie cutter, sliced a heart shape into one of the marshmallows, and let it set sail in my mug. Seriously, even easier than s'mores. As the marshmallow swirls around, it flavors the hot chocolate ever-so-slightly with the taste of raspberry. A raspberry hot chocolate that's not too sweet and cloying. It's a match made in heaven.
Chocolate-Dipped Raspberry Marshmallows
More marshmallow + chocolate goodness, except this time the chocolate comes in the form of melted semisweet chocolate chips. I placed the chips in a bowl and microwaved them for twenty-second intervals, stirring and scraping the sides after each time. When the chocolate was melted fully, I dipped the marshmallows, placed them on a sheet of parchment paper, and sprinkled some festive mini heart sprinkles over top. Let chocolate harden (if you're impatient like me, you can refrigerate them to speed up the process), and you're done!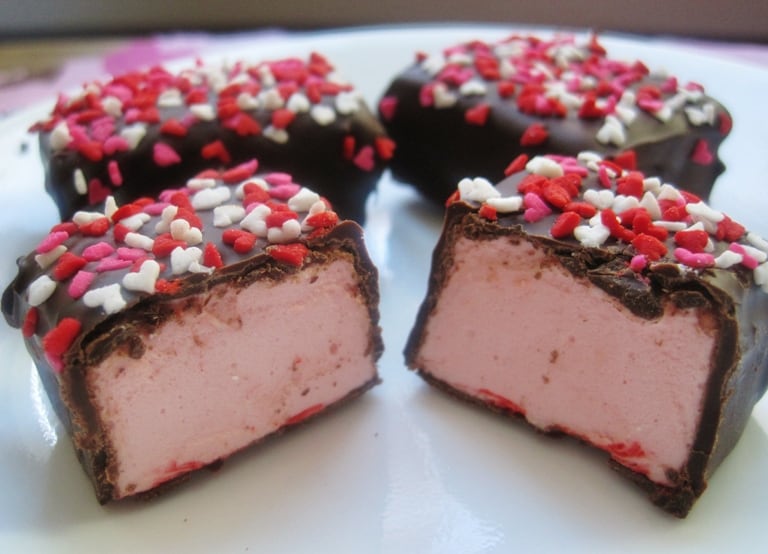 Sure, actually making the grahams and marshmallows from scratch takes more time than buying a box and a bag from the store, but I promise you the outcome is well worth the extra effort. The good thing is that both can be made a few days in advance of any of the treats above. That way, whether your sweet tooth is craving s'mores, raspberry hot chocolate, or chocolate-dipped raspberry marshmallows, you're only minutes away from your fix.
Recipe for homemade chocolate graham crackers and recipe for homemade raspberry marshmallows.