These are cookies, that are shaped like muffins, that were inspired by candies.
Confused yet? If you are, you wouldn't be the first. Someone I know may or may not have eaten a few for breakfast because he thought they were muffins. But I can't really blame him, they look preeeetty convincing to me.
I had a hard time coming up with a title for these. For starters, there are no Reese's involved, so Chocolate Peanut Butter Cup Cookies doesn't sound quite right. They are reminiscent of the candy with their chocolate cookie shell hugging the creamy peanut butter inside, but I certainly don't want to mislead anyone with false claims of PB cups (what nerve that would be). Then there's the issue of presentation. They taste like (and have the consistency of) cookies, but they look like muffins. Chocolate Peanut Butter Stuffed Cookies…Muffins? Is a Mookie a thing?
Sigh.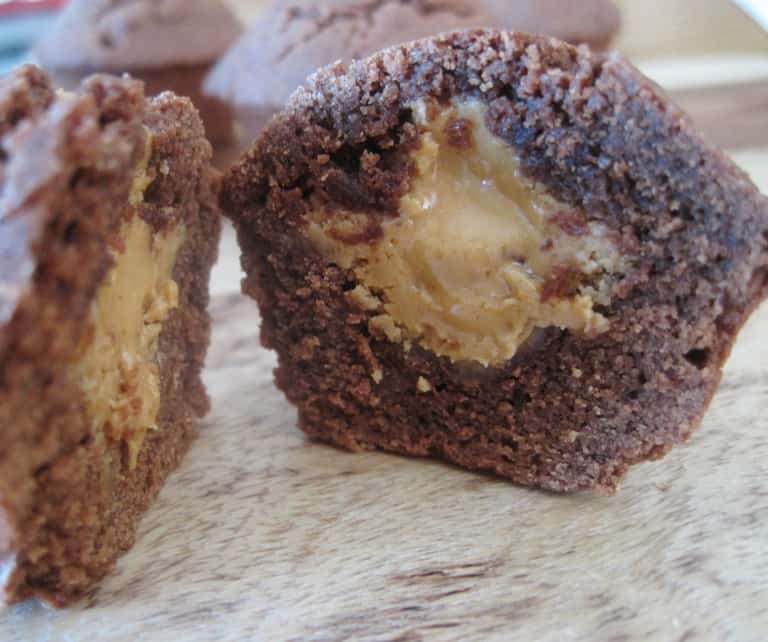 After much deliberation (and taste testing), I'm going with Chocolate Peanut Butter-Stuffed Cookie Cups, and here's why. The dough is based on my basic chocolate cookie recipe (which was tweaked in making these chocolate orange-chip cookies), and the finished product tastes and feels like you're biting into a cookie. Once cooled, they have a more structured consistency and a less tender crumb than muffins tend to have. The mini muffin tin swoops in only to play a supporting role – to hold up the sides of the cookie to reduce the odds that the filling would spread and bubble out. So substance over form wins in this one, folks – I deem these cookies. (And so sorry for the accounting principle reference – yikes).
Call them whatever you like, but take one bite and there's no hiding from the gooey, peanut buttery center that's nestled beneath the rounded cookie tops (cousin of the muffin top?). You'll need peanut butter, granulated sugar, vanilla extract, and a plastic bag, and this filling is all yours. I think your kitchen has that covered, no?
The technique is pretty simple. You line the greased muffin wells with one layer of cookie dough, pipe the peanut butter filling into the center, cover with another round of cookie dough, and press around the edges to seal. When all was said and done, my batch made fifteen mini muffin-shaped-cookies, that pre-bake were level with the top of the mini muffin well. As you can see from the rounded tops above, the dough expands while baking, so feel free to fill each muffin well with less batter/PB filling if you'd like to avoid the cookie top situation (and the corresponding explanation that these aren't muffins, so no, they're not really intended for breakfast).
Chocolate Peanut Butter-Stuffed Cookie Cups
Chocolate cookie dough envelops a peanut butter filling in these cookie cups that are inspired by Reese's.
Print
Pin
Rate
Ingredients
For the Cookie:
1

cup

all-purpose flour

3

tbsp

cornstarch

1/2

tsp

baking powder

1/4

tsp

salt

1/4

cup

unsweetened cocoa powder

2

tbsp

salted butter

melted

3

tbsp

coconut oil

melted

1/4

cup

granulated sugar

1/4

cup

brown sugar

2

eggs

1 1/2

tsp

vanilla extract
For the Filling:
3/4

cup

peanut butter

1/4

cup

granulated sugar

1/4

tsp

vanilla extract
Instructions
Preheat oven to 350°F. Grease approximately 15 wells of a mini muffin pan with cooking spray and set aside.

In a large bowl, combine flour, cornstarch, baking powder, salt, and cocoa powder.

In a separate bowl, cream together butter, coconut oil, and sugars. Add eggs and vanilla extract and mix until combined.

Pour wet ingredients into dry and mix until all ingredients are integrated. Using hands, shape dough into small rounded shapes that cover the bottom and sides of the mini muffin wells. Press mixture into wells, creating a cookie cup that will hold the filling. Take care to reserve enough mixture for covering the cookies.

In a separate bowl, mix together peanut butter, 1/4 cup granulated sugar, and 1/4 tsp vanilla extract with a hand mixer until peanut butter starts to develop a whipped consistency. Using a spatula, transfer filling mixture into a plastic bag and seal.

Snip a corner of the plastic bag, and pipe PB mixture into the cookie cups. Press piping tip into dollop to ensure there are no air bubbles.

Shape remaining dough into rounds and press on top of cookie cups, paying extra attention to pressing around the perimeter to seal the seams of the cookie cups. Repeat until all cookie cups are covered.

Bake for 12-13 minutes, or until tops of cookie cups give slightly when pressed. Remove from oven and let cool in muffin pan for 5 minutes. Remove cups and let cool completely on a wire rack.
Nutritional information is provided as an estimate. As it can vary due to many factors (brands used, quantities, etc.), we cannot guarantee its accuracy.