Or I suppose it's more aptly titled: Mixed Greens Chicken Salad with Spiced Tortilla Strips, Black Beans, Onion, Avocado, and Creamy Avocado Apple Cider Vinegar Salad Dressing. But, you know, for brevity's sake I stuck to the bare minimum. Even if it's quite lengthy.
Let's talk about routines. Are you a fan or no? I am…to an extent. Grocery shopping on Saturday mornings? Yes. Watching Forensic Files while I work on blog stuff on weekend afternoons? Yes. Eating the same old chicken salad day in and day out? No. Thankfully that's an easy one to remedy, and this chicken salad with spiced tortilla chips and and avocado dressing does the trick. Now I know you don't need instructions on how to make a salad, so go right ahead and do your own thing in terms of the recipe here. I will say that we really enjoyed this combination of ingredients and flavors, so what I made and how I made it is listed below.
First I baked chicken tenders to cook chicken in a super simple, healthy, and quick way. Chicken tenders are brushed with olive oil and coated with whatever spices your heart desires. One of my off-the-shopping-list supermarket treats to myself recently was a grinder that includes sea salt and chipotle seasoning together. Amazing! So that's what I used, but you can replicate the flavors by adding sea salt and chipotle pepper seasoning separately.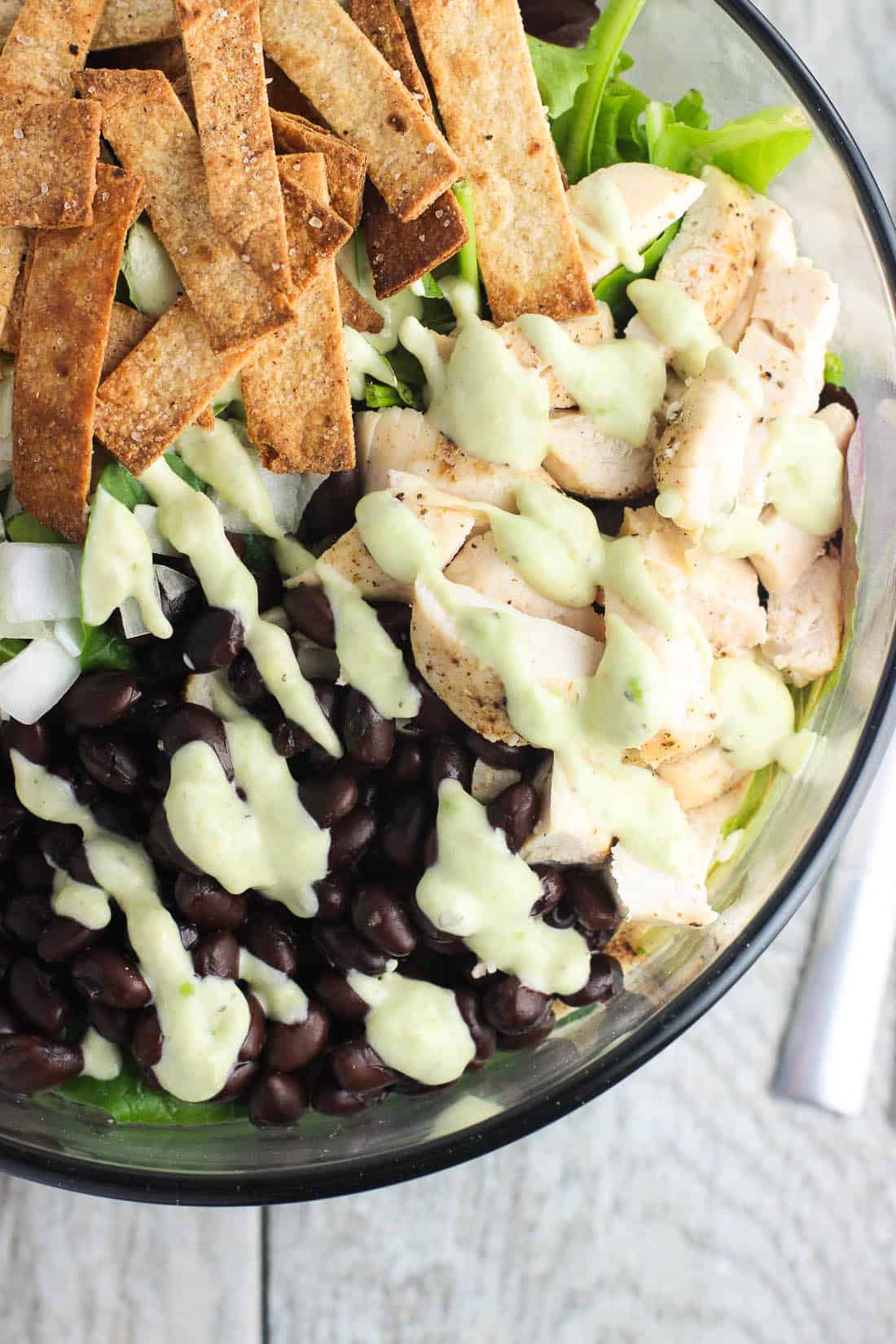 I seriously don't think I'll buy a bag of store-bought tortilla strips again with how easy, crisp, and delicious homemade tortilla strips are. These are neck-and-neck with the dressing for my favorite part of this salad. Tortillas are cut into strips with a pizza wheel and tossed with olive oil and spices. I used whole wheat tortillas and that sea salt and chipotle seasoning mix again and it was perfect. The strips are baked in a single layer and flipped over halfway through. The tough part is not eating all of the tortilla strips before they can make it onto your salads! I definitely snacked on more than a few assembling this. 🙂
Black beans and onions are added to round out the salad, which is drizzled with that creamy avocado apple cider vinegar salad dressing that I just love. After I took these pictures (and before I dug in) I added the half of the avocado left over from making the dressing on top of this salad and it was . All of the flavors together meshed so well, I've made this chicken salad with spiced tortilla strips and avocado dressing again and again to take with me to work or to stuff my face in as an easy weeknight meal. Nothing routine here!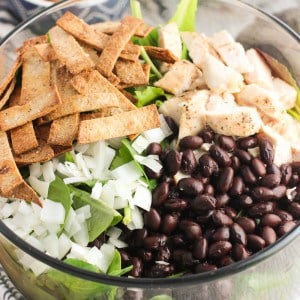 Chicken Salad with Spiced Tortilla Strips and Avocado Dressing
Print
Pin
Rate
Ingredients
For the chicken:
4-5

chicken tenders

Olive oil

for brushing

Sea salt and pepper

Chipotle seasoning
For the tortilla strips:
Two 8" tortillas

(I used whole wheat)

1

tbsp

olive oil

Sea salt and pepper

Chipotle seasoning

(optional)
For salad:
Mixed greens

Black beans

Half of one onion,

diced
Instructions
For the chicken:
Preheat oven to 400 degrees F. Spray a baking sheet with cooking spray or brush with olive oil. Generously brush chicken tenders with olive oil and place on prepared baking sheet. Sprinkle desired spices such as salt, pepper, chipotle seasoning, etc. over chicken.

Bake for 15-20 minutes, or until chicken is white and cooked throughout and reaches an internal temperature of 165 degrees F. Set aside.
For the tortilla strips:
Preheat oven to 425 degrees F. Spray a baking sheet with cooking spray or brush with olive oil. Cut tortillas into small strips and place in a bowl. Add olive oil to bowl and toss to evenly coat tortilla strips. Add desired seasoning (salt, pepper, chipotle seasoning, etc.) and toss to coat.

Add tortilla strips in a single layer on prepared baking sheet and bake for about 4 minutes, then remove pan and flip strips over. Bake for an additional 3 or so minutes, or until tortilla strips are crisp and have browned on the edges. Remove from pan and let cool.
To prepare salad:
Add all ingredients over mixed greens or lettuce of choice and enjoy!
Notes
I used chicken tenders because that's what I had available, but you can for sure use chicken breasts and just cook them the appropriate amount of extra time.
The quantity of salad ingredients here are customizable! Add as much chicken, black beans, onion, etc. as you wish!
I like to add the remainder of the avocado from making the salad dressing to the salad for serving.
Nutritional info is estimated for 1 large chicken tender, 1 1/2 cups of mixed greens, 2 tbsp black beans, half a tortilla worth of strips, a sprinkling of onion, and a tablespoon of dressing per serving. Though values will vary depending on your serving sizes.
Nutrition
Calories:
413
kcal
|
Carbohydrates:
34.8
g
|
Protein:
16.8
g
|
Fat:
22.8
g
|
Saturated Fat:
4.5
g
|
Cholesterol:
36
mg
|
Sodium:
878
mg
|
Potassium:
331
mg
|
Fiber:
5.3
g
|
Sugar:
1.9
g
|
Calcium:
120
mg
|
Iron:
7.7
mg
Nutritional information is provided as an estimate. As it can vary due to many factors (brands used, quantities, etc.), we cannot guarantee its accuracy.