Some days after work I'm excited to meet friends for a drink. Some days I can't wait to change into my sweatpants and sit on the couch. And some days all I really want to do is sit on the couch with a drink.
Then some days I just need a cookie.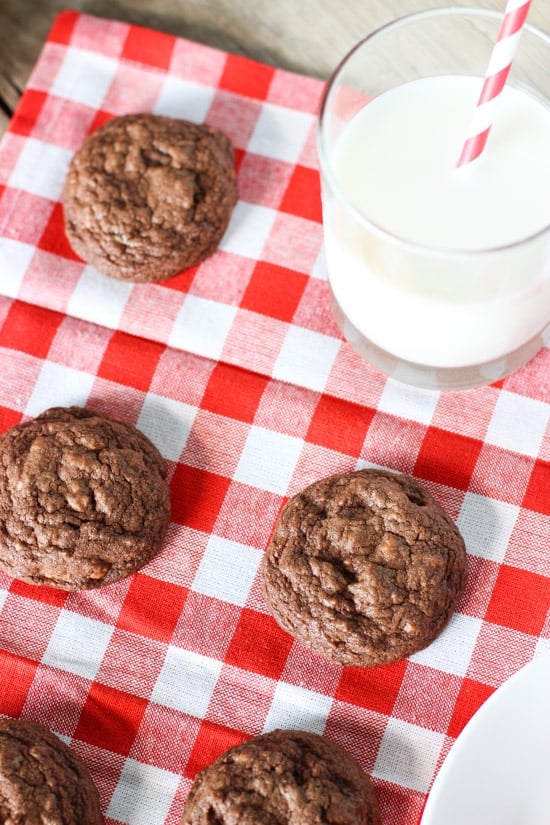 Not to get into the nitty gritty (I certainly don't want to relive it), but One Direction played to lively bunch of 50,000(!) this past Tuesday night at the football stadium smack in the middle of my commute home.
When I (finally) got home, it was an in the door, don't even take your shoes off kind of dash to the cookie jar. I may or may not have eaten one cookie for each one of those guys in the band. But surely chewy, rich chocolate cookies loaded up with peanut butter chips made any lingering it-wouldn't-kill-you-to-use-your-blinker, hi-this-is-a-one-way-and-you're-going-the-wrong-way, IT-DOESN'T-SAY-YOU-CAN-WALK-NOW stress vanish, right?
Yes. Ooooh yes.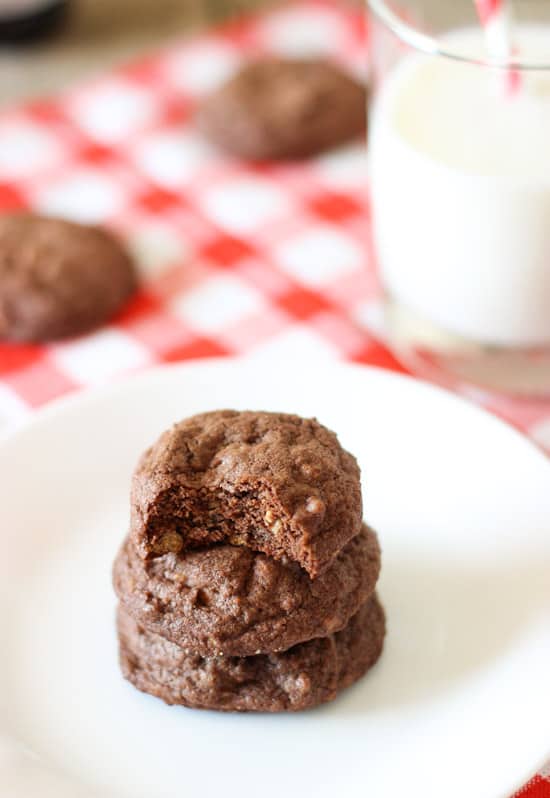 Whoa mama.
So, what makes (these cookies) beautiful? Biting into these chocolate peanut butter chip cookies will remind you of all the great things about brownies. They're super chocolatey, ultra rich, and have that same slightly-crisp top that's so satisfying to bite into. And talk about satisfying – these cookies have an impressive heft to them, meaning you won't be left rummaging around the kitchen cabinets for a supplemental snack after you've eaten one (or two).
As if rich and chewy chocolate cookies weren't enough on their own, these are bursting with peanut butter chips. Extra ammunition against the stadium pop concert commuting woes, if you will. "Somehow" peanut butter chips made their way home with me during one recent shopping trip so I used those, but I totally bet chopped up peanut butter cups could take their place with delicious results. Chocolate + PB = winner.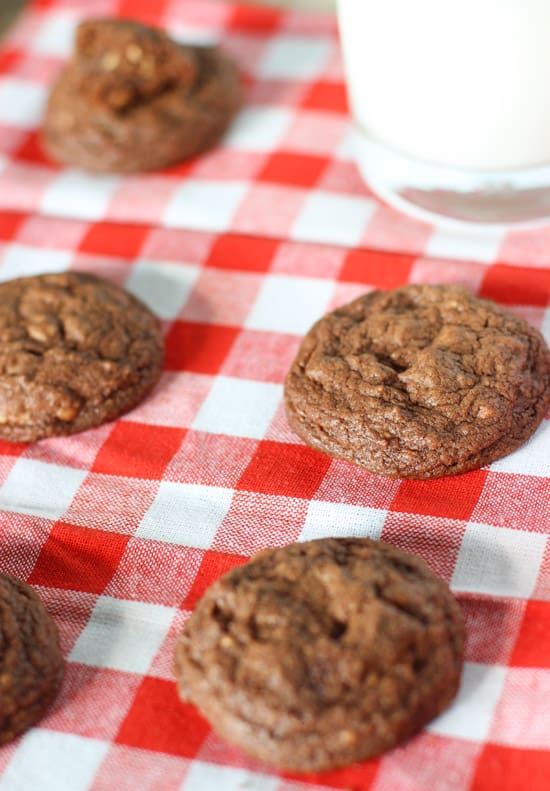 Now if Music City would calm down on those weeknight concerts I'd be a happy camper. Traffic…story of my life.
Ingredients
1/2

cup

+ 2 tbsp unsalted butter

at room temperature

2/3

cup

granulated sugar

1/2

cup

brown sugar

1

egg

1 1/2

tsp

vanilla extract

1 1/2

cup

all-purpose flour

1/2

tsp

baking powder

1/4

cup

+ 2 tbsp unsweetened cocoa powder

1

cup

peanut butter chips
Instructions
Preheat oven to 325°F. In a large mixing bowl or in the bowl of a stand mixer, beat butter, sugars, egg, and vanilla extract on medium-high speed until light and fluffy.

Add flour, baking powder, and cocoa powder and mix until just blended. Stir in peanut butter chips.

Drop 1 1/2 tbsp spoonfuls of dough onto ungreased non-stick baking sheets (or use cookie scoop). Bake for 13-15 minutes, or until edges have crisped and tops spring back lightly when pressed. Let cool on baking sheets for a few minutes, then transfer to wire rack to cool completely.
Notes
In place of the peanut butter chips, you can use chopped up peanut butter cups!
Cookie recipe adapted from B's family chocolate chip cookie recipe.
Nutritional information is provided as an estimate. As it can vary due to many factors (brands used, quantities, etc.), we cannot guarantee its accuracy.
Food Safety and Nutrition Disclaimer