Day 7 in Nashville and things are certainly looking up for My Sequined Apartment. Through some sort of Herculean effort, B and I alone moved the entire contents of our apartment twice in one day – once from our shipping box (which finally arrived!) into a big truck, and again from the truck up two flights of stairs into our apartment. A big dresser and an oddly-floppy yet heavy futon mattress included. One day later and my arms are on fire, but I'm thinking of it like a killer arm work out so all's well. Just please don't ask me to lug a pack of water bottles or something equally as weighty.
For the past few weeks, I've been missing cooking/baking. Seriously missing it. So while I get my kitchen back up to speed, pronto, one of my favorite bloggers, Consuelo from Honey & Figs, has graciously offered to guest post for me. YAY!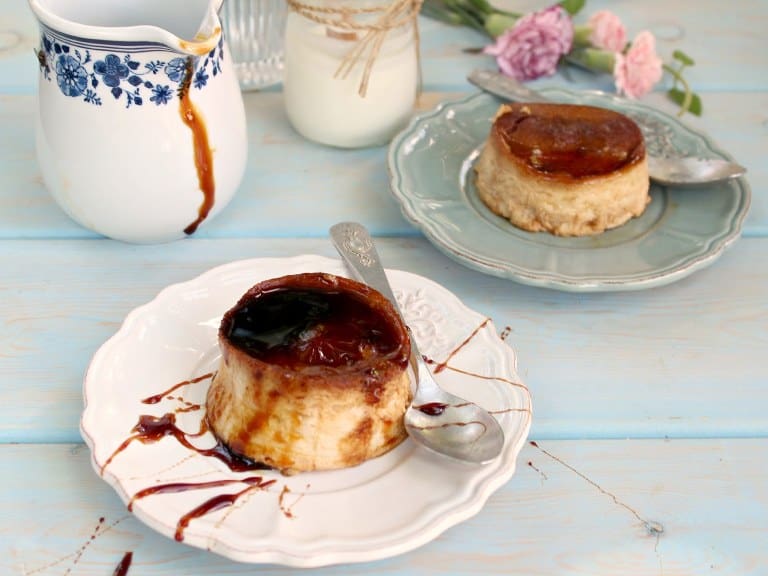 If you read Consuelo's blog, you'll know what I'm talking about, but if you don't, here's what typically happens when I see a new post on Honey & Figs:
1) Read title of new post.
2) Start drooling.
3) Click on post, look at pictures, confirm recipe is drool-worthy.
4) Gasp and/or exclaim out loud to anyone within earshot that there's NO WAY whatever goody Consuelo's made is healthy.
I do that EVERY time, guys! She has such a knack for taking those desserts you'd typically reserve for special occasions and performing magic on the recipe so they pass the test for everyday eats. Amazing! Case in point – these butterscotch cheesecake flans.
Start drooling. 🙂

Hello to all of you My Sequined Life readers!
My name is Consuelo, and I blog over at Honey & Figs, a place where I share my passion for a healthy lifestyle, wholesome recipes and nutrition.
((But mostly cheesecake))
(((And Game of Thrones. AND BETTER YET, Robb Stark)))
((((And parenthesis, I like those too))))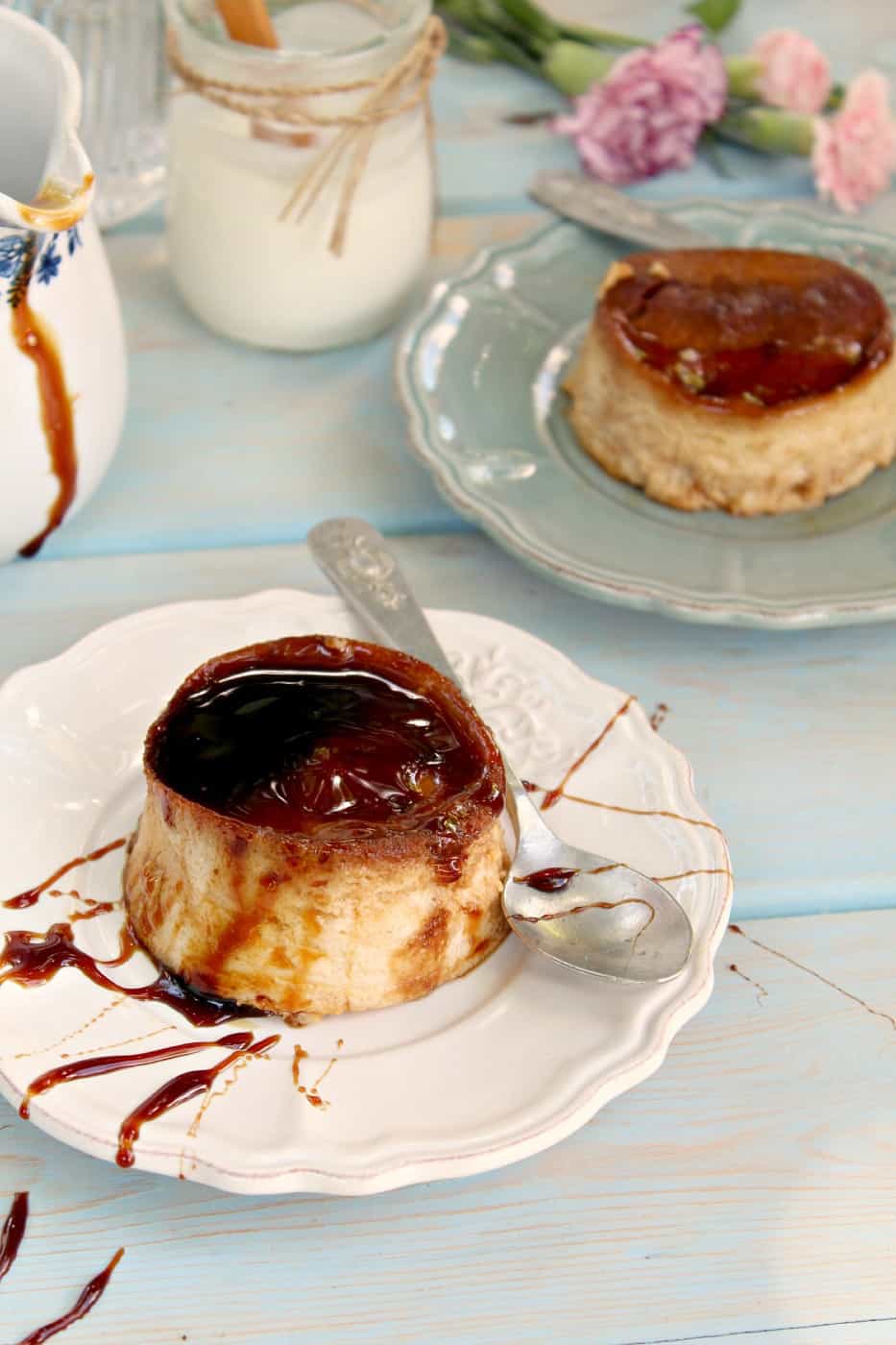 Oh hey, hey – don't run away yet. Sorry if I scared you, but bear with me and you'll be rewarded with a lovely cheesecake flan at the end of this post.
Cheesecake? Flan? Butterscotch? And it's rather healthy too? Totally my kind of thanggggggggggg.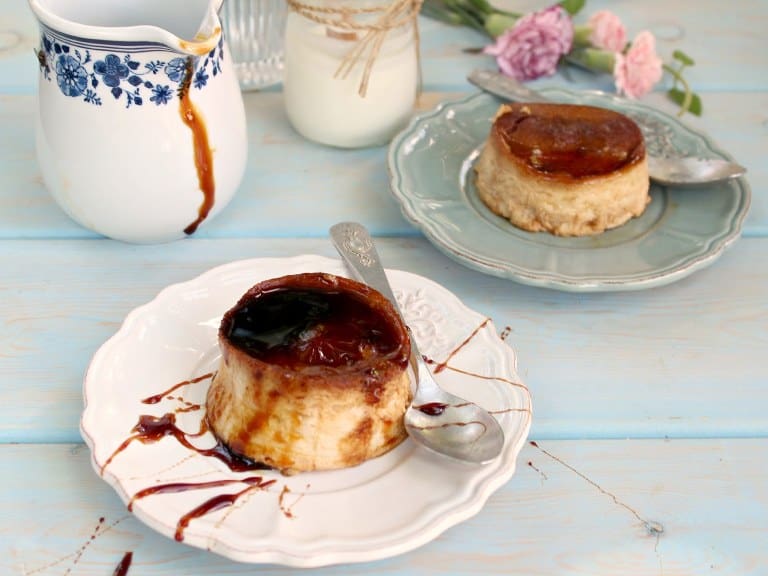 As I was saying before I got distracted by my obsessive GoT loving thoughts, I'm here to guest post for my friend Alyssa, who just moved to a new town. Aaaaand I think we all know how exhausting moving can be.
Especially when you're a food blogger and have lots of props to pack.
Been there, done that
Or even worse, if the truck where all your goodies travel gets stuck on its way.
Sorry girl!
So that's why I'm here today. Oh well, apart from that, I also want to make the whole world know about these cheesecake flans because, hello – smooth, velvety custard drenched in a creamy butterscotch sauce? You need to hear about it.
End of the story.
These custards are also super easy to make, as long as you remember the golden rule #1, which is *can I get a drum roll?*, DO NOT OVER MIX.
Overmixing incorporates lots of air into the batter, making these more like a souffle, and not cheesecake. Anyway, the souffle version tastes wonderfully but… it looks… difficult. Which shouldn't be a problem as long as you like ugly, deformed, little things.
Aka not Robb Stark.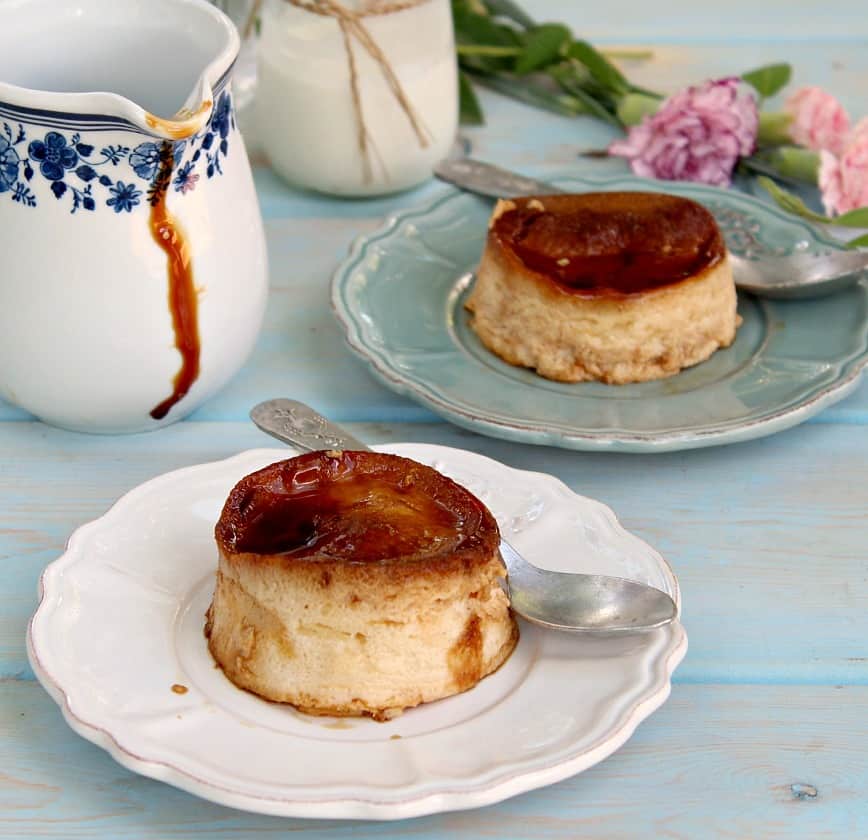 Aaaaaanyway. That was golden rule #1 – follow it and you'll get custard perfection: a smooth, dense, velvet-like dessert that will make you cry with joy. Try to use your food processor to make these and you'll get a monster. A really tasty, delicious one anyway.
Golden rule #2 is "try not to eat them all by yourself"… easier said than done, though. One bite and you will not want to share these I must warn you.
Not that it happened here or something.
Butterscotch Cheesecake Flan
Ingredients
500

grams

light cream cheese

at room temperature

5

eggs

1

tbsp

vanilla extract

or liquor of choice

150

grams

raw sugar

you may sub brown sugar

300

grams

half-skim milk

120

grams

butterscotch caramel sauce
Instructions
Mix cream cheese and milk with a hand whisk or fork. When it's creamy, add in sugar and vanilla and mix until smooth. Texture might seem grainy because it's brown sugar after all, but that's ok.

Whisk eggs in a separate bowl. Do it SMOOTHLY so you do not incorporate lots of air into the batter.

Mix cream cheese and whisked eggs by hand until mixture is smooth. Again: do not overmix.

Prepare a bain-marie (ie: fill a baking tray with warm water and place your molds here). Preheat oven to 200ºC (400F).

Grease molds with the caramel sauce and pour mixture on them.

Place them in the baking tray with the water.

Bake for 30-35 minutes or until they have set. Time depends on your oven.

Let them chill for at least 6 hours before you unmold them.

Eat cold and enjoy!
Notes
Allow the cream cheese to soften to room temperature so it's easier to mix.
Nutritional information is provided as an estimate. As it can vary due to many factors (brands used, quantities, etc.), we cannot guarantee its accuracy.
I shall leave you now, lovely people. Check out my blog to find more recipes like this one. If there's anything I'm really passionate about, it's healthy cheesecake.
((And Robb Stark, but alas, I don't have a collage on that))

From left to right:
Brown Sugar Vanilla Cheesecake
Strawberry Swirl Cheesecake Ice Cream
All of them made healthier so you can enjoy seven pieces if you'd like to 😉
If you still want more recipes like this (seriously, who doesn't want more cheesecake recipes?), you can also find me on:
Instagram – @honeyandfigsblog
Twitter – @honeyandfigs
Pinterest – @honeyandfigs
Google + – Consuelo Morcillo
Facebook – Honey & Figs
That's all for now! I hope you all have a great day!