San Diego did a very un-San-Diego-like thing recently. It rained.
All weekend.
Not that I'm complaining! After spending 20+ winters in the Northeast and knowing how serious the Southern Californian drought is, a rainy weekend is a) a walk in the park for many of you facing a brutal winter and b) welcome relief from the all the dusty dryness we've been dealing with. Plus I got to wear my pink and white floral rain boots, which haven't seen much action since moving west. 🙂
Whoever was doing the rain dance this past weekend really must have been busting some moves (the sprinkler, maybe?) because geez, did it come down.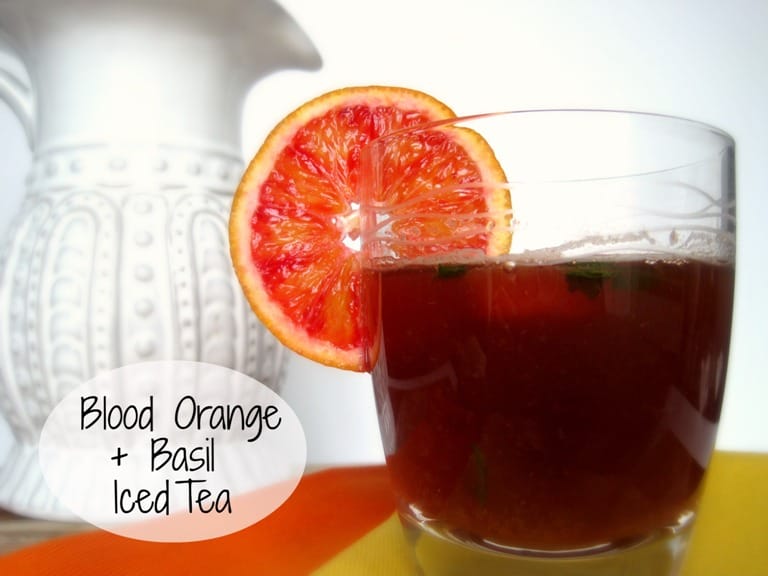 I had the best of intentions to enjoy this fruity and refreshing orange iced tea sitting out on the patio and soaking in some sunshine, but that would have been super obnoxious for anyone dealing with a true winter, so Mother Nature put the kibosh on that real quick. Probably for the better, because now I can vouch for the day-brightening effects this iced tea has.
For one, it's incredibly easy. The part I struggled with the most was searching high and low in my kitchen for an ice cube tray. I came up empty handed, but using a mini muffin pan worked just fine. Just make sure it'll fit in your freezer!
Once you've located your preferred ice-cube-making vessel, it's a matter of brewing some tea, juicing a blood orange, chopping some basil, and sprinkling some sugar. I tend to shy away from drinks that are too sweet (the thought of drinking sweet tea – next week on our vacation – makes me a little nervous), so feel free to omit or be heavy-handed with the sugar in accordance with your taste.
As the ice cubes melt, the blood orange juice cuts the iced black tea with a warm, citrus-y flavor and a gradual sweetness from the sugar. The basil pieces eventually break free from the cubes and swirl around the glass, adding just a slight herb-y tang that plays nice with the bold tea and blood orange flavor.
Basically, whether your winter blahs come from feet of snow or small bits of rain, this tea has got you covered.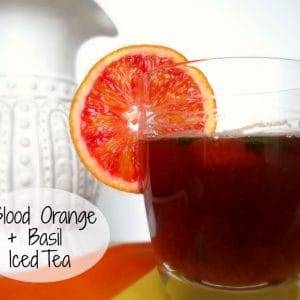 Ingredients
4

black tea bags

4

cups

boiling water

1/2

cup

freshly-squeezed blood orange juice

approx. juice from one orange

3-4

fresh basil leaves

chopped

1 1/2

tsp

granulated sugar

to taste
Instructions
Boil four cups of water and pour over tea bags in a heatproof pitcher. Once tea has cooled off some, place pitcher in refrigerator to chill.

In a ice cube tray (or mini muffin pan), fill spaces with blood orange juice. Add a few pieces of basil to each cube, then sprinkle granulated sugar over top of each cube. Freeze cubes for a few hours.

Once tea is chilled and cubes are frozen, pour over ice cubes to serve.
Nutritional information is provided as an estimate. As it can vary due to many factors (brands used, quantities, etc.), we cannot guarantee its accuracy.
Food Safety and Nutrition Disclaimer