I'm from New Jersey, B's from Maryland, we went to college in Pennsylvania, and we live in California (for now, anyway). You all already know about the foods I miss from home (bagels, sigh…<3), but B dreams at night about steamed crabs, crab cakes, cream of crab soup, and Old Bay. All the Old Bay. On everything, all the time.
The first time I visited B at home on Maryland's Eastern Shore, dinner consisted of a bucket of steamed crabs, mallets, and knives, all set over a newspaper-clad table. Now the combination of never having picked a crab before, being seated among pros, and wanting to make a good impression meant that the pressure was on. I may have used one thousand napkins, but I picked with all my might and took in valuable lessons along the way (don't eat the mustard!). I must have passed the test, because we're coming up on a full five years (!!) since that dinner. Does time fly or what? Eeesh.
As far as recreating Maryland classics out here in California, occasionally we'll splurge and track down fresh lump crab meat, but Old Bay is hands down the quickest way for B's taste buds to reminisce. These baked fries (some are more "potato wedge" than "fry") are crisp, due in part to a few special steps that really make a big difference to the finished product. They also have a slight zing from being tossed in Old Bay that may or may not be addictive, and that's coming from a Jersey girl (that phrase…cringe).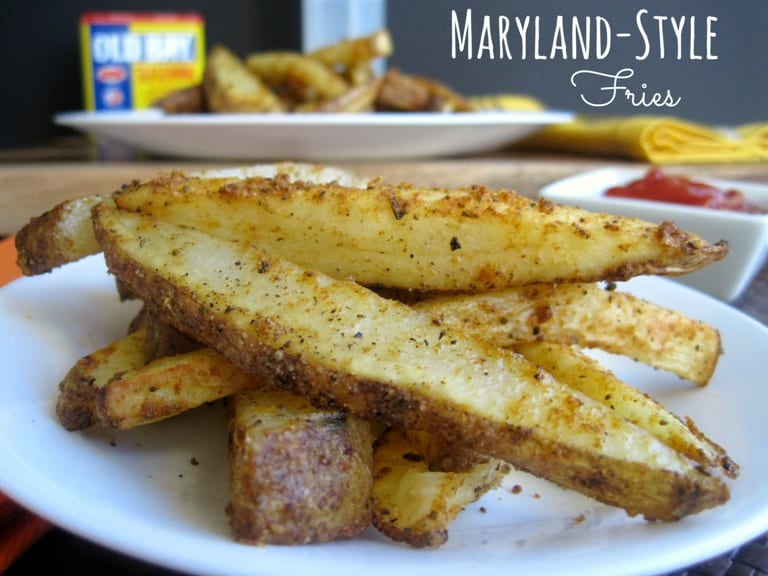 After I chop the potatoes, I soak them in cold water for…awhile. Sometimes all the time I have is an hour, sometimes I forget I'm going to cook fries so they swim all afternoon. Forgetting I'm going to cook fries. As you can imagine that scenario happens rarely. Point being, soaking the potatoes releases some of their starches, and helps them cook up golden brown and crispy. All good things.
While water is great for soaking, it's not great for baking. Soggy fries = no bueno. After draining the soaking water (and marveling at the cloudy, starchy water being poured down the drain), I blot each fry dry with a paper towel. These fries get a lot of personal attention, but they're so worth it in the end that I don't mind.
Next they're tossed in cornstarch, which adds valuable bulk to the seasoning mix, allowing the coating to crisp up in the oven. Olive oil and a team of spices led by Captain Old Bay also join the party. If B is somewhere nearby, it's at this point that he'll mosey over to see what I'm up to. He's like a bloodhound when the scent of Old Bay hits the air.
My last little trick when it comes to crispy, baked fries is baking them on a wire rack set over a cookie sheet. Allowing each fry to have its own personal space prevents one-sided sogginess and eliminates the need for you to meticulously flip each tater. That works for me, because I have an inordinate dislike for flipping individual things (exceptions: pancakes and homemade biscotti). No idea why.
If Old Bay is the star of the show here, then olive oil spray is the solid closer. Before I put the fries in the oven (and halfway through baking), I spray the fries with olive oil spray. I've used both an olive oil sprayer that you pour the olive oil into yourself, as well as olive oil cooking spray for this step. Both do the trick, so use whatever you have available. This creates the bubbly, crisp fry surface that you're hoping for. It's also a perfect complement to the tang of the white vinegar we love to drizzle on top of the fries for serving, but the vinegar is totally optional (but recommended). Mmmm.
Soaking, blotting, tossing, spraying. You've got this. And if you've got a bowl of water, some potatoes, and a spice that calls an ubiquitous yellow-and-blue tin box home, then you've got these, too.
Psssst! If you're looking for more Maryland staples, check out Sally's homemade crab pretzel recipe. B's still talking about these babies three months later. Totally swoon-worthy.
Ingredients
4

Idaho potatoes

skins cleaned

4

tbsp

cornstarch

1/4

tsp

salt

1/4

tsp

pepper

1

tsp

garlic powder

3 1/2

tbsp

Old Bay seasoning

4

tsp

olive oil

Water

for soaking

Olive oil cooking spray

White vinegar

for drizzling (optional)
Instructions
Cut potatoes length-wise into thin strips. Soak in a bowl of cold water for approximately two hours (or at minimum, one).

Preheat oven to 425 degrees F. Blot fries with a paper towel to remove as much moisture as possible. In a large bowl, toss fries with cornstarch, salt, pepper, garlic powder, and Old Bay seasoning. Add olive oil and toss again to coat fries evenly.

Spray an oven-safe wire rack with cooking spray. Arrange fries in rows on wire rack set over a cookie sheet, taking care to reserve a little space between each fry. Spray fries liberally with olive oil spray.

Bake for fifteen minutes, then remove from oven and spray fries again with cooking spray. Place fries back in oven and cook for an additional fifteen minutes, or until fries reach your desired doneness. Serve immediately, and if desired, drizzle white vinegar over top of fries.
Nutritional information is provided as an estimate. As it can vary due to many factors (brands used, quantities, etc.), we cannot guarantee its accuracy.