Enjoy the candy bar favorite in a new way with this Almond Joy Bark! Chewy, almond-flavored coconut flakes and almonds are covered with melted chocolate. A no-bake dessert that'll be your warm weather favorite!
It's Friday, and it's been a long week. Isn't it always a long week? If you're anything like me, it's time to dig out those yoga pants, nestle into the couch in your favorite (super old) sweatshirt, and spend half the night browsing Netflix trying to find something new, interesting, and non-cheesy to watch. Sometimes that really does take half the night! Then despite your best efforts, you'll have to call it quits on your carefully chosen movie because despite it being the. weekend!!! it's 10:30 pm and you're falling asleep on the couch.
That may or may not describe ALL my Fridays.
Since Friday nights are obviously all about laziness relaxation for me, most of the time some sort of dessert is involved too. I'll usually have a few goodies left over from the past couple of days in the pantry/freezer (the perks of being a food blogger) BUT sometimes we're all out. That's where quick, no-bake treats like this almond joy bark come in! You'll have a pan of chocolate-almond-coconut goodness ready to roll in thirty minutes, with a good chunk of that inactive time as the chocolate hardens in the refrigerator.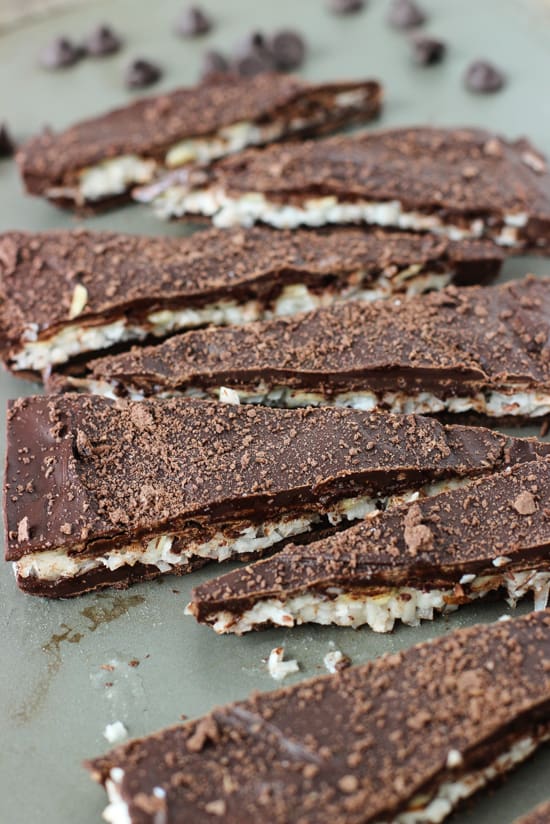 Inactive time = more time on the couch = yes, please.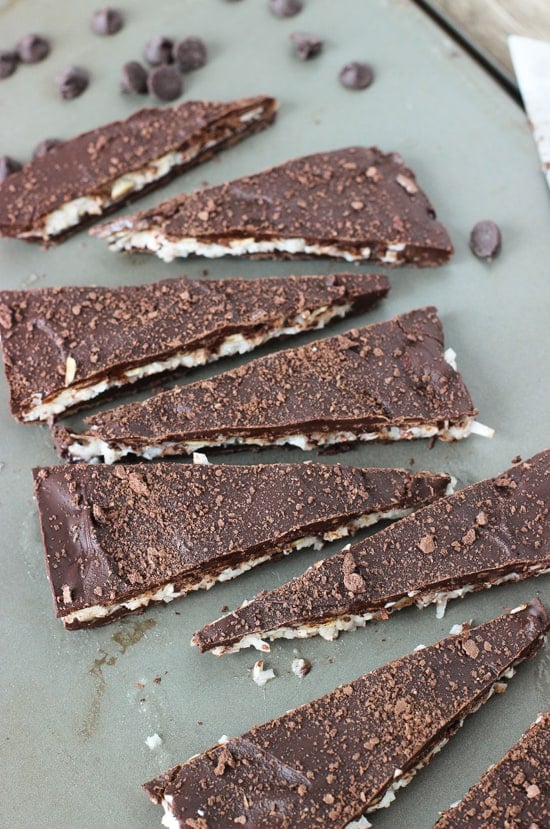 This bark has all of the great flavors of Almond Joy, without a) needing to run to the store after you've already changed into your PJs (or that old sweatshirt) and b) taking the extra time to dip individual coconut balls in chocolate. All you need to do is line a 9" x 5" pan with foil, spread melted chocolate on the bottom and cool it to harden, spread coconut mixture evenly on chocolate, add a layer of slivered almonds, and spread more melted chocolate on the top. Pop the pan in the fridge so all the chocolate has hardened and there you go!
As with a lot of my recipes, there's ample room for customization here. First off you can use whatever type of chips you've got on hand. I used unsweetened coconut flakes as that's what I had in the pantry, but sweetened coconut flakes would also work. If using those, you may wish to reduce the sugar. I'd add it gradually starting with a tablespoon or two and do a taste test to see if more is needed.
This bark magically transforms into Mounds bark if you've got some picky eaters hanging around if you omit the almonds (and/or add dark chocolate!), and top this baby with whatever you please! I used chocolate cookie crumbs, but chocolate shavings, sprinkles, extra coconut flakes would all work. It's hard to go wrong here.
I recommend saving some bark for Saturday night too...those also tend to be heavy on the relaxation. 😉
Almond Joy Bark
Ingredients
1 ½

cups

semi-sweet chocolate chips

divided

¾

cup

unsweetened coconut flakes

3

tablespoon

lite coconut milk

¼

cup

confectioners'

powdered sugar

pinch

of salt

¼

teaspoon

vanilla extract

⅛

teaspoon

almond extract

Approx. ¼ cup slivered almonds
Instructions
Line a 9" x 5" loaf pan with aluminum foil. In a microwave-safe bowl, heat ¾ cup of the chocolate chips in thirty second intervals on half-power until smooth and melted, stirring after each round in the microwave. Pour melted chocolate into prepared loaf pan, spreading so it's in an even layer lining the bottom of the pan. Stick the pan in the refrigerator until the chocolate hardens.

In a bowl, add coconut flakes, coconut milk, sugar, salt, vanilla, and almond extracts. Stir to combine all. Mixture should be just moist, but should not be too wet or liquidy.

Once the chocolate base has hardened, remove from refrigerator and spread coconut mixture evenly over top of it, leaving an edge of about ½" on all sides of the pan. Place almond slivers in an even layer over top of the coconut.

Melt the remaining ¾ cup chocolate chips in the same manner as above, pouring over top of the coconut mixture/almonds. Try and make sure the chocolate reaches the very edges of the bark. Refrigerate bark until top layer of chocolate has hardened, then cut into pieces. Store in the refrigerator.
Recipe adapted from Epicurious